As Cong men face trial, cases against SAD leaders cancelled
Govt gives info on pending cases to EC in run-up to 2014 General Election
Devinder Pal
Tribune News Service
Chandigarh, December 8
Be it a co-incidence or otherwise, while most criminal cases registered during the run-up to the 2009 Lok Sabha and 2012 Punjab Vidhan Sabha poll against SAD leaders have been cancelled or declared "untraced", those against Congress men have ended up for trial in courts.
Among those against whom cases have been cancelled or declared "untraced" are Revenue Minister Bikram Singh Majithia, Education Minister Sikandar Singh Maluka, former SGPC president Bibi Jagir Kaur, Chief Parliamentary Secretaries Inderbir Singh Bularia and Amarpal Singh alias Bonny, SAD leader from Tarn Taran Alvinder Pal Singh Pakhoke and SAD sitting Moga MLA Joginder Pal Jain.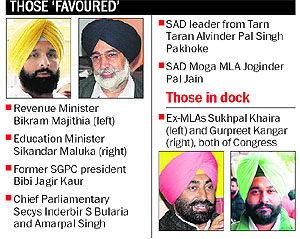 On the other hand, cases against former MLAs Gurpreet Singh Kangar and Sukhpal Singh Khaira have been pursued vigorously by the police in courts.
This fact emerged when the Election Commission sought information on pending cases against political leaders from all states in the run-up to the 2014 General Election. The Punjab Government informed that about 75 criminal cases had been registered against politicians of different parties since 2007. Most of these pertained to the previous elections.
In case of Education Minister Maluka, a case was registered at the Dayalpura (Bathinda) police station under Sections 336, 148, 149 and 427, IPC, and under the Arms Act on January 11, 2012. Sukhpal Singh, a village panch, had in his complaint alleged that SAD workers were seen distributing money for votes. As Congress workers objected, the Akali candidate Sikandar Singh Maluka arrived with about 200 supporters and fired in the air. However, the police filed a cancellation report in the court of Judicial Magistrate, Rampura Phul on April 12, 2013. This has not yet been accepted by the Court.
The complainant, Sukhpal Singh, said that he will move court to seek justice as the FIR against Maluka was being cancelled without hearing him.
In another case, sitting Bolath MLA Bibi Jagir Kaur and her supporters were booked under Section 171-B, 171-C, 171-H, 506 (threatening to kill) and 188, IPC, at police station Begowal (Kapurthala) on January 13, 2012. The FIR said that they were distributing illicit liquor to voters. In fact, 183 cases of liquor were recovered from the spot. In this case too the police found no evidence and filed a cancellation report on January 6, 2013.
In the 2009 parliamentary poll, some Congress men were allegedly attacked by SAD workers led by Bikram Majithia near Talwandi Sabo. An FIR was registered against Majithia and others under Sections 307 (attempt to murder), 148 and 149, IPC, and the Arms Act. The FIR, registered on May 7, 2009, was declared "untraced" on November 11, 2009. This was accepted by the Judicial Court of Talwandi Sabo on June 11, 2012.
The next day (May 8), a case was registered against Congress MLA Jeet Mohinder Singh Sidhu under Sections 341, 342, 353, 186, 148, 149 and 188, IPC. This was also declared "untraced" for "lack of evidence". Sidhu is among the few Congress men against whom cases have been declared "untraced". Efforts to contact him proved futile. Majithia too did not respond to telephone calls and an SMS sent to him by The Tribune. The police also filed a cancellation report on March 2, 2013, in the case involving Chief Parliamentary Secretary Inderbir Singh Bularia. He was charged under Section 420, IPC, (cheating) and 144 (PR Act) on January 28, 2012.
In the case of SAD leader Alvinder Pal Singh Pakhoke, a case under Sections 326, 323, 427, 148 and 149, IPC, was registered on January 28, 2012. Though the police prepared a cancellation report in April 2012, it is yet to be submitted in court.
In the case registered against Amarpal Singh Bonny on January 30, 2012, under section 341, 342, 323, and 34 of the IPC, the police filed a cancellation report which was accepted by the court on February 25, 2012.
But former Congress MLA Gurpreet Singh Kangar booked under Section 307 (attempt to murder) on January 11, 2012, continues to face trial. "I was booked although I was not at the incident site," he told The Tribune.
Congress spokesperson Sukhpal Singh Khaira and his son Mehtab Singh, booked under Sections 336, 160, 427, 148, 149 and 120-B and the Arms Act, are facing trial with the police having filed a charge-sheet in court.
"It is strange that Congress men are facing trial while cases against SAD leaders like Bibi Jagir Kaur have been cancelled," observed Khaira.