Myriad hues of celluloid world
As Indian cinema continues to raise the bar, film festivals may not be its raison de etre or inspiration but certainly provide the platform from which these are projected to an audience eager and hungry for films with a difference
Nonika Singh
Dismissing film festivals as an exercise in futility and an indulgence that serves little purpose except ego massage of some stars and a few officials might be tempting. However, over the years these have become both a fertile ground for germination of new ideas as well as a showcase for cinema that otherwise fails to find a market. Perhaps, but for film festivals some of these cutting-edge films might never get made, let alone be seen, heard and applauded.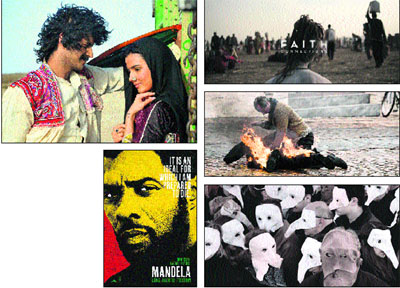 KALEIDOSCOPE: (clockwise from the top) Films like Jal, Faith Connections, The Burning Bush, The Fifth Season and Mandela: Long Walk To Freedom generated much interest at the IFFI
In fact, right from the day the International Film Festival of India (IFFI) was founded in 1952 to its recently-concluded 44th edition at Goa, it has been a reaffirmation as well as celebration of cinema that doesn't toe the beaten track, dares to think out of the box and engages viewers in a manner they are not quite accustomed to.
Variety is the spice
Feature, non-feature, animation, homage, retrospectives, classics and a fair cross-section of international cinema, IFFI has all kinds of films. Detractors might have issues with its 'please all' formula, but few can deny that for 10 days, IFFI becomes a hub of meaningful cinema, vastly different from the kind Indian viewers as a rule root for.
For a nation for whom cinema is synonymous with entertainment, entertainment and entertainment...star-studded events such as the latest edition of International Film Festival of India at Goa might be about star gaze on celebrities from Bollywood and Hollywood.
However, pondering seriously, film festivals do provide a counter reference point and certainly are a window to the often ignored facet of Indian (particularly regional) as well as the world cinema. Not merely because here over 300 films were showcased from countries as diverse as Afghanistan, Timor, Latvia and Bhutan besides the regular invitees such as Japan, Poland and Czech Republic.
More pertinently what makes the potpourri of festivals such as IFFI unique isn't just variety and diversity which is its USP of course but the underlying thread of cinema that is as purposeful as relevant. Sure certain mainstream movies such as Bhaagh Milkha Bhaag, Raanjhana and even super hits of yesteryear like Zanjeer are included in its different sections like Homage and Incredible India. But primarily most films tread the unfamiliar path, defy stereotypes and formulaic representations, if are not outright brave and encompass a wide range of issues. Significant concerns that are as topical as universal, politics and of course emotions are the stuff that cinema here is made of.
Silence speaks
To those who think festival films are for a different kind of audience and have a piquant flavour are not completely off the mark. Indeed, films such as Belgium-based filmmaking team Peter Brosens and Jessica Woodworth's The Fifth Season or Fever are not everybody's cup of tea. So, The Fifth Season, which figured in the competitive section, isn't just about a very serious concern of environmental catastrophe born out of the idea what would happen if the spring doesn't come. In fact, its language too is abstract, focusing more on silences and visuals than dialogues. However, incomprehensibility isn't really a signature writ large on festival films. Nor are festival movies dull and boring as is widely presumed, targeted at the gloomy and depressed. Intelligent yes, intellectual not necessarily!
Humour is as essential a part of festival films as was with the opening film Don Juans directed by Czechoslovakian director Jiri Menzel. But then merely tickling the funny bone or raising a few laughs too isn't what drives makers like Menzel who is adamant that he doesn't make films for festivals.
Beyond formula
Indeed, the idea behind most films is to tickle your grey matter and to reflect on human predicament, even when these take on historical subjects. However, no particular formula dictates festival films, and as such certain films, like Sumitra Bhave and Sunil Sukthankar's Marathi film Astu, have been shown at several Indian film festivals. Similarly Girish Malik's Jal, dealing with water, the most basic human necessity, and a heartrending scarcity in the Rann of Kutch, too was screened earlier at the Busan Film Festival. Same holds true for many more films. Screening at one prestigious film festival might open doors for entry into others.
But there is no method or prototype really. Whatever detractors may say or crib, festival films don't wear a particular kind of hat nor come from one stable.....
One film could be a slice of life, another mystical and surreal. In fact, the same director can deliver vastly different films. Take the well-known Polish filmmaker Agnieszka Holland, whose films were part of a special retrospective on her. Fever, which she made many years ago, is a more direct account of revolutionary fervour and terrorism set in 1905 about Fighting Organization of the Polish Socialist Party (PPS). However, her latest directorial signature, The Burning Bush, otherwise based on the Soviet occupation of Czechoslovakia in 1969 is, apart from being political and moving, allegorical too. Even the title of the film has a symbolic reference.
Universal concerns
Of course, each country has its own way of approaching films. Like a whole lot of films being made in Greece are about the economic upheaval that the country has witnessed in recent times. However, at the festival once again films dealt with a host of more universal subjects. In short, each country may have its own stamp but universality too rings true. Why else would three films have the same subject dealing with the emotionalscape of a woman who kidnaps a child? Undeniably, the subtext is clear, feelings like love are common to all civilizations but there is no generalisation, really.
Japan, the country focus at the festival, produces a whole gamut of films in all conceivable genres. Even at the festival, seven films that were screened were as different as chalk and cheese. One, Unforgiven was even a remake of a Clint Eastwood film. Director Izuru Narushima's Rebirth a critical success, winner of 11 awards at the 35th Japan Academy Prize with a woman-centric subject is packed with emotional power. In contrast, an animation film The Garden of Words, a genre which is extremely popular in The Land of Rising Sun, merely flirts with emotions. Endearing, rather heart-warming also were films from the Indian Panorama. Like Listen Amaya directed by Avinash Kumar Singh. Starring actors of powerhouse art cinema Farooq Shaikh, Deepti Naval and Swara Bhaskar acclaimed actor of films like Ranjhana, it explores the complexity of relationships between a widow, her daughter and a widower. Mohan Agashe-starrer Astu dwells on father daughter bonding. Even the Portuguese film Beatriz's War, that went on to win the Golden Peacock, deals with intimate relationships between men and women against the backdrop of violence in East Timor.
Of course, with multilayered textures none of the films are cut off from social reality. Nagraj Manjule, who has made a sterling debut with Fandry, focuses on many dimensional reality of caste system. Seven time National Award winning director P. Sheshadri's film Bharath Stores looks at the impact of globalisation more precisely of foreign direct investment in retail, while telling the story of a small time store owner.
Visual raconteurs
Whatever be the subject, the venue, language or country, at the end of the day cinema remains the art of storytelling. How compellingly and powerfully can the maker voice his or her conviction is what matters most. Fortunately a whole lot of filmmakers in India that too in several languages are telling their stories they want to. Not for winning the award, for even jury members remain divided on which is the best film, but the litmus test is whether they can hold the viewers' interest.
Even more heartening than the growing number of filmmakers venturing into offbeat subjects is the growing audiences for films (at least at the festivals) that tread on an unfamiliar territory. So much so that even documentary films like Pan Nalin's Faith Connections that looks at the Kumbh Mela from a refreshingly different vantage point found an instant connect with viewers, some as young as 24. This is where most Indian film festivals score over others. Cannes film festival might be more professionally organised (is actually meant only for professionals) but with major thrust on market it is peopled with festival audience. However, Indian film festivals have a fair share of regular cine buffs. Sure many are uninitiated to the kind of cinema projected here. But festivals are a good way to get them started and interested.
Intrinsically, of course, festivals are a toast to thoughtful cinema and film lovers whose hunger for cinema is not limited to sugar syrupy melodrama. To all those who wish to explore the myriad presentations of the celluloid world in all its hues....three cheers to film festivals.
IFFI at a glance
The International Film Festival of India (IFFI) was founded in 1952 and interestingly the first festival was organised by the Films Division of India.

The opinion on whether picturesque Goa, IFFI's venue since 2004, should be declared a permanent venue of IFFI remains divided.

IFFI's motto 'The world is one large family' is not only evident in the number of participation of countries. The world is a universe with universal issues could be gauged from the fact that at least three films focused on the complexity of relationship between a woman and child she has kidnapped.

Already packed with numerous sections the demand for one on political cinema was aired at the latest edition of IFFI.