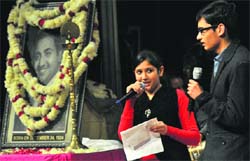 Artistes sing a song during the birth anniversary of Mohammed Rafi at the Tagore Theatre in Chandigarh on Friday. Tribune Photo: S Chandan
Incident triggers public outrage
Chandigarh, December 20
A day after five UT constables were booked for repeatedly raping a 16-year-old girl at gunpoint, workers of the BJP and the Congress took to the streets today demanding strict action against the erring policemen. They burnt an effigy of the Chandigarh Police as a mark of protest.
MC sets aside Rs 62 lakh for parks
Chandigarh, December 20
The Environment and City Beautification Committee of the Municipal Corporation today passed a budget of around Rs 62 lakh for beautifying the city parks and their surroundings.
POWER SHUTDOWN
Chandigarh
Sectors 19 and 27 10 am to 4 pm
Mohali
Sector 71, Phase I, II, Madanpur village, commercial area of Phase III A, Mullanpur, Padol, Choti Badi Nagal and Padonjia 9 am to 5 pm
Petrol prices up
New price/ Existing price
Panchkula
Rs 71.89 Rs 71.48
Chandigarh
Rs 72.53 Rs 72.12
Mohali
Rs 78.75 Rs 78.34 *Prices per litre
Year 2013 ender
Thumbs up for Railways, aviation a flop
Chandigarh, December 20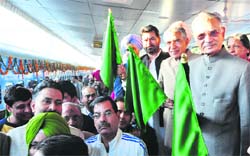 This year, Chandigarh residents got a big bonanza from the Centre as nine new trains were flagged off from the city railway station, helping to increase the rail connectivity with other cities.




UT Administrator Shivraj V Patil and other dignitaries flag off a train from the Chandigarh railway station. A file photo
Find alternatives to canal irrigation, urges Patil
Chandigarh, December 20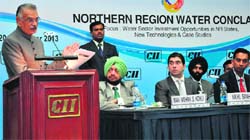 Industry, governments and the society at large, all need to collaborate to make available required quantities of drinkable water as also the water fit for irrigation purposes in the region, said Shivraj V Patil, Governor, Punjab, and UT Administrator, while addressing the Water Conclave organised here today.
UT Administrator Shivraj V Patil addresses the Northern Region Water Conclave in Sector 31, Chandigarh, on Friday. Tribune photo: Parvesh Chauhan
CAT go-ahead for drivers' appointment
Chandigarh, December 20
In a major relief to the UT Transport Department, the Central Administrative Tribunal (CAT) today directed the Chandigarh Administration to go ahead with the process of appointing 114 drivers in the Chandigarh Transport Undertaking.
Bureau of Water Efficiency key to conservation: Experts
Chandigarh, December 20
The Bureau of Water Efficiency is the key to water conservation, said experts gathered at the Water Conclave organised by the Confederation of Indian Industry (CII). The centre has already prepared a draft policy that is likely to be implemented within two years.
Some respite for travellers
Chandigarh, December 20
There was some respite for both the air and railway passengers from the ongoing disruption of services due to fog here today.
Dog shelter for Panchkula soon
Panchkula, December 20
The Municipal Corporation, on the lines of cattle shed, has decided to make a dog shelter to curb the growing menace of stray dogs in the region.
Long queues welcome residents at model cash collection centre
Panchkula, December 20
Haryana's first model centre for paying electricity bills through token system is working half steam. One of the two counters, meant for depositing electricity bills, has been closed by the authorities at their own discretion.
Civil Security Training Institute inaugurated
Dera Bassi, December 20
The chief secretary of the home department, DS Bains, inaugurated the Punjab Home Guards and Civil Security Training Institute at Sundran village.
Traders welcome new UT SSP
Chandigarh, December 20
A delegation of senior functionaries of the Chandigarh Beopar Mandal (CBM) comprising Charanjiv Singh, president and patron, CBM; Jagdish kapoor, chairman, police coordination subcommittee, CBM; Bhim Sain, adviser, CBM; Subash Narang, general secretary, Chandigarh Beopar Mandal; and Pradeep Malhotra, finance secretary; today called on the office of Dr Sukhchain Singh Gill, IPS, who has recently taken over as the new SSP, Chandigarh, to formally welcome him on behalf of traders of the city.
Sukhna Lake gets Nature Interpretation Centre
Chandigarh, December 20
UT Adviser KK Sharma today inaugurated the Nature Interpretation Centre at the Regulator End of the Sukhna Lake here.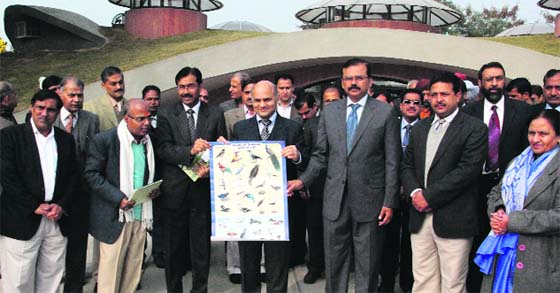 KK Sharma, Adviser to the UT Administrator, releases a calendar after inaugurating the Nature Interpretation Centre at the Regulator End of the Sukhna Lake in Chandigarh on Friday. A Tribune photograph
Santa distributes gifts among cancer-hit children
Chandigarh, December 20
The Sahayta Charitable Welfare Society celebrated Christmas with children afflicted with cancer and their families today. The festival brought cheer and frolic. It was celebrated in the playroom at the Advanced Paediatric Centre (APC), PGI, and the wards for inpatients.
Two NSS volunteers to represent city
Chandigarh, December 20 Two NSS volunteers from the city, Gurinder Singh from PG Government College-11 and Himanshi from Government Model Senior Secondary School-19, have been selected to represent Chandigarh at the Republic Day parade in New Delhi.
Cultural programme
Chandigarh, December 20
The Kumaon Sabha, Chandigarh, will organise a cultural programme of Uttarakhand, 'Kumaoni Kautik', on December 22 at Tagore Theatre. Union Information and Broadcasting Minister Manish Tewari will be the chief guest on the occasion.
BDS admission through all-India test
Chandigarh, December 20
For admission to the Bachelor of Dental Studies (BDS), Panjab University Dental Institute, a candidate has to go through all-India pre-medical/pre-dental test (AIPMT).
Tender Heart students mesmerise audience
Chandigarh, December 20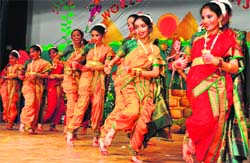 "The world of fantasy", a resplendent annual show put up by students of Tender Heart School, Sector 33, drew thunderous applause from the audience at Moti Ram Arya School, Sector 27, here.



Students of Tender Heart School, Sector 33, perform during the annual function in Chandigarh on Friday. Tribune photo: Parvesh Chauhan
Carols, dance mark Christmas celebrations
Panchkula, December 20
Woodlands House School, Sector 8, Panchkula, celebrated Christmas here today. Children enacted a tableau showing the birth of Jesus Christ.