The US has taken its role of the world's policeman far too seriously. But in doing so, it has caused an irreparable damage to bilateral relations even with its friends, particularly in South Asia. After sharp exchanges with Pakistan over drone strikes and Afghanistan over the Bilateral Security Agreement (BSA), Washington is now involved in an unprecedented spat with India over the inhuman treatment meted out by the US authorities to India's Deputy Consul General Devyani Khobragade in New York last week in an alleged visa fraud case.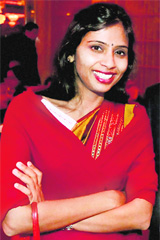 Devyani is charged with visa fraud and flouting US work laws.
Even if there is some merit in the US action, what has enraged India is the fact that the diplomat was arrested in public despite enjoying diplomatic immunity, put through strip and cavity searches and detained along with drug addicts. However, the US has refused to budge from its position that diplomatic immunity would only apply to acts performed in the exercise of consular functions. The young diplomat has been shifted from the Consulate in New York to the Permanent Mission of India (PMI) to the United Nations to enjoy full immunity. But Washington has put another spanner in India's works by asserting that the immunity sought for her after her transfer is not retroactive.
The charges against Devyani under the US laws are so serious that, if found guilty, she could be sent to jail for a period of 10 or more years. It's not without any reason that External Affairs Minister Salman Khurshid has gone to the extent of saying that Devyani was trapped in a conspiracy and that the incident had not happened in a day but there was a 'history' behind it.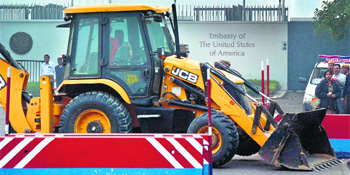 India removed barricades outside the US embassy in New Delhi as a mark of protest. AFP
Not a first
At the centre of the Devyani Khobragade saga is her maid Sangeeta Richards. The diplomat has been accused of using false documents to get a work visa for her maid. In the visa papers, Devyani had promised to pay her $9.75 an hour but actually paid her a little more than $3. She is believed to have done this with the full knowledge of the External Affairs Ministry.


Ample perks, but don't match US standards
India Based Domestic Assistants (IBDAs) get a decent package by Indian standards which, however, may not usually match US standards. They are entitled to official Indian passports, passage fare, holiday allowance, full medical care facility and board and lodging, among other things. The government is now reviewing their entitlements to make their job more robust.
It is the worst-kept secret that Indian diplomats come to the US with domestic help in tow, who are paid Indian salaries, far below US minimum wages. But these are quite high by Indian standards. Khobragade is hardly the first diplomat or the last from a developing country to fudge salary figures on her nanny's visa application. Diplomats of several countries bring domestic help from their respective countries and pay them more or less what Indian diplomats pay. One needs to ask the US authorities why only Indians have been targeted.
Trouble brews
Sangeeta entered the US in November 2012 and disappeared in June this year. Devyani had to move from pillar to post to lodge a missing person report. She was told that since Sangeeta was an adult, such a report could only be filed by a member of her family. The maid's husband, Richard, when contacted in India, refused to file a missing person report, suggesting he was aware of his wife's whereabouts. In the meantime, India revoked the official passport the maid had in her possession as an India Based Domestic Assistant (IBDA).
In early July, a woman claiming to be Sangeeta's lawyer phoned Devyani to tell her that the maid would not go to court against Devyani for paying her less salary than mentioned in her contract if the diplomat signs a form authorising the maid to terminate her employment and change her visa status from government to normal visa. A few days later, the maid met Devyani and tried to blackmail her by initiating court proceedings against her employer for giving false information about her salary. She also demanded that Devyani pay her $10,000 dollars and arrange an Indian passport for her. Left with no option, Devyani lodged an FIR with the Delhi Police against the maid, accusing her of cheating.
Simultaneously, she also filed a complaint of aggravated harassment with the New York Police. The matter was taken up by the government both in New Delhi and Washington to ensure that the maid was sent back to India. However, the US authorities wittingly did not cooperate in the matter. Rather they facilitated the migration of Sangeeta's husband and her two children to the US just two days before Devyani was arrested in New York. The involvement of some American NGOs and the staff of the US mission in the family's 'evacuation' from India is also not ruled out.
Gone too far
The role of Preet Bharara, Punjab-born US Attorney for the Southern District of New York, in the entire drama has also come into question. He runs the Justice Department which charged Devyani with visa fraud. Bharara, known as an attention-seeker, also took an unusual step of issuing a press statement defending the Justice Department, claiming that she was arrested in the most discreet way possible. He also defended 'evacuating' the maid's family from India because a legal process had been started against her by New Delhi in an attempt to silence her. An angry India hit back, accusing Bharara of interfering with the Indian legal system and asserting that the arrest was not in keeping with the Vienna Convention on diplomatic immunity.
What has really shocked the Indian authorities is that the arrest took place just a day after Foreign Secretary Sujatha Singh concluded foreign office consultations in Washington. Officials of the Ministry of External Affairs say the least Washington could have done was to have kept India's top diplomat in the loop about the impending action. There is a sense of outrage in the foreign office over the manner in which she was treated. If the charges on which she was arrested were applied in letter and spirit, half of the serving diplomats from across the world would be behind bars in the US, a senior diplomat said.
At a hurriedly called meeting, the Indian Foreign Service Association expressed its fullest solidarity with the Indian diplomat while strongly condemning the shameful treatment meted out to her by the US authorities.
Getting even
In tit-for-tat measures, India downgraded the privileges of US diplomats working in this country as well as Indians employed in US missions and schools. New Delhi declared a freeze on duty-free imports on all goods, including liquor; withdrew ID cards and airport access passes issued to US diplomatic staff; sought details of Indians working for US administration assets along with their banks accounts and salaries; and ordered removal of barricades outside the US embassy in New Delhi.
Indian officials denied that these were symbolic measures. Innumerable US delegations visit India on a regular basis. They will have to stand in long queues at the airports instead of being treated like VVIPs. The withdrawal of airport access passes to US diplomatic personnel is also bound to hit them adversely.
On the removal of barricades from outside the embassy, the explanation being given is that New Delhi has been upset with the US since January when it de-reserved a parking lot outside the Indian embassy in Washington in January, hardly bothering about its security implications for Indians working in the mission. Despite India taking up the matter repeatedly, the US did nothing in the matter. So New Delhi decided to apply the principle of reciprocity. However, the move would not in any way impact on the security of those working at the mission.
The ugly spat between India and the US over the Devyani issue comes at a time when the relationship between the two countries has floundered over a host of issues. The sense in the South Block is that ties with the US were much stronger during George W Bush's presidency. Even during President Barack Obama's first term in office, the relationship prospered because of the role played by Hillary Clinton as the Secretary of State.
John Kerry, the new Secretary of State, is said to be more favourably disposed towards Pakistan than India. He did ring up National Security Adviser Shivshanker Menon to express regret over the Devyani episode but gave no assurance about dropping charges against her.
It is quite clear that the US government and Preet Bharara miscalculated on how India would respond. The incident is a wake-up call for our self-serving politicians and bureaucrats who will go to any extent to make a trip to the US or send their children to study there.
It's an issue of national prestige. If Hamid Karzai can stand up to America over the security agreement, why can't this nation of more than a billion people?