Councillors oppose LED streetlight tender
Haridwar, December 23
The Municipal councillors have put a break on procuring streetlights as they opposed the LED light tender being pitched in by the Mukhya Nagar Adhikari. A majority of ward councillors have opposed the LED light setup, citing them of being expensive, while mooting CFL technology-based streetlights.
St Thomas Church decked up for first Xmas mass tonight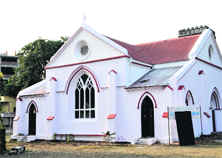 Dehradun, December 23
It will be a special Christmas for St Thomas Church, the oldest church in the city, as it readies itself for the first Christmas mass tomorrow night. St Thomas Church that was constructed in 1840 for the British troops and their families, who had arrived in the country to expand the British Empire, boasts of baptising the legendary singer, Sir Cliff Richards. Born as Harry Rodger Webb, the singer was baptised in October, 1940, at the insistence of his grandmother.
No snowfall in Mussoorie leaves tourists disappointed
Mussoorie, December 23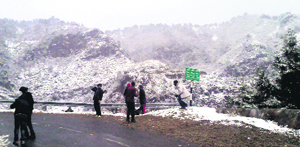 No snowfall in Mussoorie disappointed tourists today, who had visited the town after hearing about the season's first snowfall. Lal Tibba was the only place that received one to two inches of snowfall yesterday. However, it also melted today. Rajesh, a tourists from Saharanpur, said he had high hopes of enjoying snowfall along with his family.
Tourists enjoy snow at Dhanaulti on Monday. A Tribune photograph

AAP trying to win over BJP leaders
Dehradun, December 23
Buoyed by its success in the Delhi Assembly elections and keen on expanding its base in Uttarakhand, the Aam Aadmi Party (AAP) has begun sending feelers to several BJP leaders to join it. A firebrand leader from the Jaunsar region of Chakrata, who had joined the BJP a year back, on the top of the list.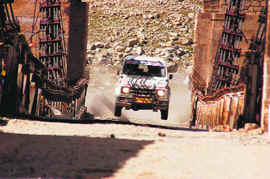 Rajesh, Jagmeet lead car rally on day 2
Dehradun, December 23
The top TSD (time-speed-distance) rallyists of the country are chasing seconds for the race to the winner's trophy in the Uttarakhand Adventure Car Rally, which took off from Dehradun yesterday.
A vehicle participates in the Uttarakhand Adventure Car Rally in Garhwal hills. A Tribune photograph

Doon police buy 10 alcometers to check drunken driving
Dehradun, December 23
With Christmas and New Year nearing and the cases of drunken driving increasing in Dehradun, the local police have bought 10 new breathalysers/alcometers to check the menace.
2 yrs on, Una sewerage caught in blame game
Una, December 23
The Una sewerage system has been lying unutilised ever since it was inaugurated on 12 April, 2012 by the then Chief Minister, Prem Kumar Dhumal. The executing agency of the project, the Irrigation and Public Health (IPH) department is playing a blame game with Municipal Committee (MC) as the city's residents have been unwilling to make use of the facility.
Xmas spirit, profit motive grip Doon shopkeepers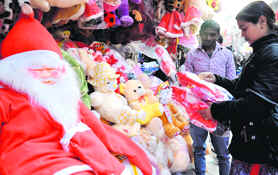 Dehradun, December 23
With Christmas round the corner, shopkeepers in the city are making all efforts to ensure maximum sales of goodies. A lot of shopkeepers in the city have adopted innovative ways to attract customers and are going out of their way to rake in mullah, besides keeping the Christmas spirit alive.
A woman buys a Santa toy at Paltan Bazaar in Dehradun on Monday. Tribune photo: Abhyudaya Kotnala

Use of radio frequency bands
Centre turns down demand for fee waiver
Dehradun, December 23
The state government's demand for waiving of Rs 13.40 crore, incurred for using frequency assignment (radio frequency bands) for radars, wireless signals and communication since the inception of the state, has been turned down by the Ministry of Information Technology and Communication.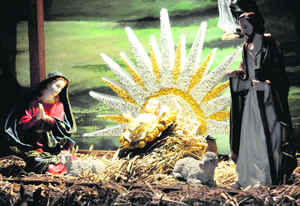 Festive time: A tableau depicting the birth of Lord Jesus Christ displayed at St. John Church on Convent Road in Dehradun on Monday. Tribune photo: Abhyudaya Kotnala

BJP yet to remove hoardings put up for Modi's rally
Dehradun, December 23
The BJP is yet to remove hoardings, posters and other publicity material from various places in the city that it had put up for its prime ministerial candidate Narendra Modi's rally on December 15.
Jyoti case: Father had alleged threat to life
Panchkula, December 23
Jyoti's father Buti Ram was a different man before today. He had received many bribe offers and threat calls but did not give up his battle against Doon MLA Ram Kumar Chaudhary. Today he seemed to be a tired man who wants to live a peaceful life as he backed out from his earlier statements.
Central projects fail to benefit state
Solan, December 23
Several Centrally sponsored projects sanctioned for the industrial area of Baddi have failed to yield any financial benefit to the state government despite grant of land worth crores and investors holding equity shares yielding profits.
University students to propagate yoga, ayurveda in Nepal, Bhutan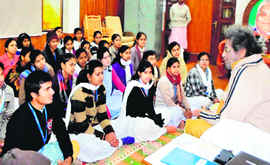 Haridwar, December 23
A group of 20 students from Dev Sanskriti University today left for Nepal and Bhutan under an internship programme. These students would stay in the two countries for six to one year and propagate yoga, ayurveda and the Indian culture there.
Shantikunj president Dr Pranav Pandya interacts with students at Dev Sanskriti University in Haridwar on Monday. Tribune photo: Rameshwar Gaur

Cultural event keeps audience spellbound
Dehradun, December 23
The annual day celebrations were organised at DAV Inter College here today with students presenting colourful cultural programme to mark the occasion. The programme commenced with the Saraswati Vandana, followed by a Bihu dance performance and a play 'Lift karade'. The main attraction of the cultural evening was a dance performance by students on the Kedarnath tragedy.
State cops win 7 gold in Police Games
Dehradun, December 23
Sportspersons from the Uttarakhand Police have brought laurels to the state and the Police Department by winning seven gold medals in the 62nd All India Police Games at Ranchi, Jharkhand, recently.
Disaster-hit people meet Chief Secy
Dehradun, December 23
Unhappy with the relief and rehabilitation works undertaken by the Uttarakhand government post-natural disaster, the Kedar Ghati Visthapan Aur Punarwas Sangharsh Samiti from Kedarnath submitted a 14- point charter of demands to Chief Secretary Subhash Kumar here today.
Doon Valley thrash DMK 3-1
Dehradun, December 23
Three matches were played in the ongoing Swami Vivekananda Memorial District- Level Football Tournament here today.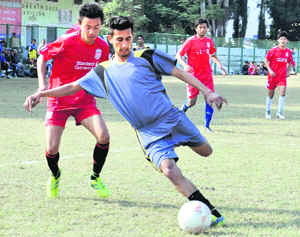 In the first match, Doon Valley Football Club defeated DMK 3-1 with Navin scoring two goals for the Doon Valley team. The third goal was scored by Tushan. Amit scored the lone goal for the DMK through a penalty shot. The second match was a one-sided affair with Cant Blue thrashing Tapovan Football Club 6-0. In the third match, Dehra XI defeated Loco FC 3-1 with Prashant scoring two goals for Dehra XI and Ayush scoring one goal. Narri scored the only goal for Loco FC. — TNS
Players in action during the Swami Vivekananda Memorial District-Level Football Tournament in Dehradun on Monday. Tribune photo: Abhyudaya Kotnala

Railway traffic remains suspended
Palampur, December 23
Rail services on the Pathankot-Jogindernagar narrow gauge railway track remained suspended the second day today following landslides on the tracks near Ranital. Seven trains ply on this route daily covering 25 railway stations between Pathankot and Jogindernagar. This railway line is considered the lifeline of the Kangra valley. A railway spokesman said engineers and field staff were working round the clock to remove the debris and rail traffic was likely to be restored by this evening. Hundreds of passengers, including students, were stranded at different railway stations between Kangra and Baijnath. — OC
Teachers told to impart quality education
Kangra, December 23
Students are being imparted vocational education in government schools, which is proving to be a boon for them. Stating this during the annual day function of Government Senior Secondary School at Rehloo today, Forest Corporation vice-chairman Kewal Singh Pathania said for educational expansion and development, the state government had earmarked 18 per cent of the annual budget. He said meritorious students would be provided with scholarships and tablets. He urged teachers to impart quality education to students in order to attract more students to government schools.
Former PM Charan Singh remembered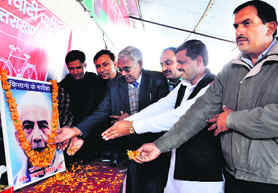 Dehradun, December 23
The state unit of the Samajwadi party (SP) today celebrated the 111th birth anniversary of former Prime Minister Chaudhary Charan Singh. SP state president SN Sachan said Chaudhary Charan Singh had done a commendable work in the field of agriculture, besides taking steps towards the betterment of farmers. Sachin Chowdhary, Sunil Singh, Dr Santosh and SP Yadav were present. — TNS
Workers of the Samajwadi Party pay tributes to former Prime Minister Chaudhary Charan Singh in Dehradun on Monday. Tribune photo: Abhyudaya Kotnala

No road in Jim Corbett park being used for rally: Official
Dehradun, December 23
The Jim Corbett National Park authorities have refuted reports that certain roads in the northern part of the park are being used for the Uttarakhand Adventure Car Rally. Park Director Surendra Mehra said there was no question of allowing the use of any road in the park for the rally. Conservationists had expressed concern over the issue. — TNS
Statehood agitators hold 'budhi shudhi yajna'
Dehradun, December 23
Statehood agitators today organised a "budhi shudhi yajna" for the state government in support of their demands. President of the Uttarakhand Chinhit Andolankari Sangathan Jitendra Chauhan said they had been on an indefinite fast for the past 84 days, but the state government had failed to pay any heed to their demands. "We hope that following the yajna, the government will take some action." — TNS