M A I N N E W S
Kejriwal: We'll deliver in 10 days
* Promises a system to redress grievances
* Delhi transport, Kingfisher staff turn to CM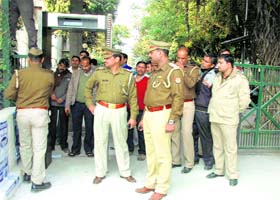 Security challenge: Police personnel screen visitors outside Delhi CM Arvind Kejriwal's residence. A Tribune photo
Ghaziabad, December 29
A day after assuming office, Delhi Chief Minister Arvind Kejriwal today said he did not want to give false assurances to people in the National Capital and wanted seven to 10 days to put a system in place to address their problems and grievances.
Kejriwal said he would accept applications of people visiting him for redressal of their grievances only after a system was in place. "I don't want to give you false assurances. I will take the application when we put a system in place to resolve the problems," said the leader of the Aam Aadmi Party (AAP), which has interests of the common man at the core of its agenda.
He assured visitors, who gathered in large numbers at his Kaushambi residence for his janta darbar, that he needed the support of the people to establish such a system and without their backing, he would not be able resolve issues.
"We have just assumed power. It will take us sometime, seven to ten days to put a system in place to resolve your problems," he said, addressing a gathering, which included DTC employees and people from the Valmiki community.
Contractual employees of the DTC and municipal corporations had come to put forward their demand to end the contract system in these bodies. They also wanted that those working for several years should be made permanent.
Around 1,000 drivers and conductors of the Delhi Transport Corporation (DTC), working on contractual basis, shouted slogans 'Arvind zindabad', hoping the new Chief Minister would work towards ending contractual employment.
"About 14,000 drivers and conductors have been hired on contractual basis by the DTC. We have been working on contractual basis for around 10 years. Despite such long service, the DTC has still not made us permanent," said Ramesh, a DTC driver. "Kejriwal promised during campaigning that he would finish 'thekari pratha' (contractual service) in Delhi after becoming Chief Minister. We are very hopeful that Kejriwal would direct DTC to make us permanent," said Deshpal, a driver.
In Mumbai, employees of the grounded Kingfisher Airlines, who have not been paid salaries for 17 months, said they will seek Kejriwal's help in getting their dues. He said a section of employees from Delhi will soon seek an appointment with Kejriwal to apprise him of the "trauma, agony and the financial hardship" that around 2,000 unpaid employees are going through.
As a large number of people have been making a beeline for Kejriwal's residence, the Delhi and Uttar Pradesh Police have made special arrangements to manage the crowd. While the UP Police will manage traffic and crowd influx outside the premises of Kejriwal's residence, a Delhi Police team in plain clothes will remain inside the housing society to manage the crowd and to prevent any untoward incident, a senior UP Police officer said.
Kamal Farooqui may join AAP
Expelled SP leader Kamal Farooqui met Arvind Kejriwal on Sunday and said "everybody is interested" in joining the Aam Aadmi Party. Farooqui, sacked by SP as its secretary in September following his controversial comment that Indian Mujahideen co-founder Yasin Bhatkal was arrested for being a Muslim, said he would announce his decision on Monday. AAP leader Sanjay Singh said discussions about "Farooqui joining the party was on".