The tech-wave of feminism
The way the justice delivery system works in India, a year is too short a period. Within a year of Nirbhaya's death, a lot has happened to give women the much-needed confidence in the system
Vandana Shukla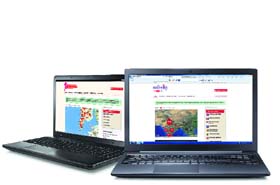 WHEN 27-year-old Laura Bates coined a phrase "personal is political" for her Everyday Sexism project in UK, she wasn't aware of its global significance. Before the first anniversary of the site, launched in April 2012, Everyday Sexism was joined by 149 grassroots groups, rolled out to 17 countries and had over 50,000 women posting their daily experiences of sexual harassment.
In India, the personal tragedy of Nirbhaya, the 23-year-old girl, who put up a brave battle for life after she was gang-raped and fatally assaulted in a Delhi bus and succumbed to multi- organ failure on Dec 29, 2012, triggered a chain of reactions with far reaching consequences. The laws on sexual assault were changed after nationwide protests expressed outrage over the existing laws that treated crimes against women with triviality. Something more happened.
A new wave of feminism rose as a subsidiary to these protests, turning personal into political. More than anything else, technology came to the aid of this social movement to take it beyond its immediate objective of demanding better laws and protection for women. It woke up women from their capitalism induced somnambulance of branded clothes and borrowed hair colour of the blonde. Under the facade of a modern society, where women break male bastions almost on a daily basis, even the suggestion of sexism would label women as 'uptight', 'prudish', or 'militant feminist'. Because women were given space in 'male' workplaces, they could not complain of being 'wronged' howsoever serious may be the provocation. They could not have their cake and eat it too.
Everyday sexism
Somewhere down the line, women got used to just the way things are - the sexist way - may it be in a class room, workplace, board room, or a court room. With everyday small acts and gestures of sexism women became so used, they almost just accepted it as the norm. The situation was akin to a woman being in an abusive marriage when she begins to count the small mercies for the cost of her pride.
If a woman's body was not violated so brutally, perhaps a collective submission to their bodies being groped, lusted or felt would not have exploded the way it did on the streets last December! Women would not have demanded the right over their own bodies! This unprecedented assertion of their basic right was viewed as a violation of the privileges of patriarchy, giving birth to a parallel wave of more aggressive misogyny, which wants to punish women for their dare. A growing graph of crimes against women bears the testimony. That they are speaking out is inviting sneer, in hushed tones or brazenly, among the educated and not so educated alike.
Major historical movements are triggered by a single event, but a lot goes behind the making of that event. And a lot follows thereafter. Nirbhaya's gang-rape and her subsequent death worked as a catalyst for what had been simmering for long, under the pretensions of a just social order- based on gender equality! If society is based on gender equality, why are women missing from the board rooms, why do they end up somewhere in the middle of the pyramid? Women have a poor 11 per cent representation in the Lok Sabha and 10.6 per cent in the Rajya Sabha, the global average of women in parliaments for 2013 stood at 21.3 per cent, according to a survey conducted by the IPU(Inter-Parliamentary Union).
Global sisterhood
If Pakistan, Bangladesh and Nepal joined the protests induced by Nirbhaya case, by a strange co-incidence, even developed countries witnessed a surge of demand for better laws and equality by women's groups. Technology came to assist this global solidarity of sisterhood.
The Southall Black Sisters marched hand- in- hand with the protesters in Delhi last December, while the ripple effect of Everyday Sexism project was felt in Mumbai. India is among 15 new countries joining this project in 2014 including Japan, Mexico and Serbia. The consciousness-raising exercise about the magnitude of sexism that encourages women to see how inequality affects them at multiple levels proves, these problems are not individual but collective - global, to be precise. Therefore, they might have political solution. For example, about 6,000 stories of harassment or assault posted on Everyday Sexism, which were never reported to authorities for obvious reasons, were used to train 2,000 police officers in London, and for creating a public awareness campaign. Everyday Sexism currently has more than 1,08,000 followers on Twitter, that does not make it a political party, but to put things in perspective, 1,97,086 people had asked the AAp party to form a government through an SMS poll in Delhi and in UK, Tory membership is at 1,34,000.
Tech tools
Post Nirbhaya, in Mumbai a new web-based platform, HarassMap Mumbai was introduced that offers ratings to different locations of the city on the basis of their sexual harassment index. This was done to help women know about locations where chances of their assault/ stalking/eve-teasing were high as also to report instances of harassment and assault or post pictures of such cases they witnessed on the locals and elsewhere. The site also offers Vishakha guidelines translated into different languages of India, to educate and empower women. The initiative came from people, inspired from an app that was introduced in Cairo, during the anti-Mubarak uprising when people used to map unsafe areas in the city. These tools are simple to use, reporting is an SMS number and help is just a call away. Many volunteers work to help it work, offering a substitute for the police and law. Mumbai Police have agreed to address issues of non-safety in different areas based on the trends that might emerge from the mapping of Harass MapMumbai. Because of the sheer number of users of these sites, that ensures anonymity if desired, the personal becomes collective - a force to reckon with.
Safecity is another website for victims of sexual violence who can anonymously report when and where they were abused, the site has one case that took place way back to 1991. The founders of the site hope, this could be the first step to address the cultural stigma of reporting assault. This apart, many volunteer agencies are trying to equip women with safety tools, all Delhi Metro stations have a counter that sells chilly sprays. Apart from the web-based platforms, several mobile applications with women's safety tools have been introduced in the last one year. One of the widely promoted among these is the Vith U app for Android and iOS phones, created by Channel V. Once downloaded, a woman who perceives danger can press the power button of her phone so that four pre-designated people are alerted about her location. The app had 5,50,000 downloads within a month. The All India Democratic Women's Association, which has actively fought sexism from the local to national levels for over thirty years too has millions of members, activists demanding a just system for women. These endeavours have empowered women beyond the gamut of law and law enforcing machinery.
By the law
Technological tools worked without much brouhaha to create new platforms for women. For a rigidly patriarchal society that India is, Justice J. S. Verma committee came up with progressive laws that would liberate women from colonial hangover of gender discrimination and ensure fairness in the justice system. Sensing the political significance of nationwide protests put up by men and women, important bills were cleared this year. The Criminal Law (Amendment) Act, 2013 brought changes in Section 375(rape) and 376 (punishment for rape), incorporating changes in the definition of rape, loopholes in the law were addressed, stalking and acid attacks were criminalised. Punishment for rape was enhanced, though death penalty was not introduced (except for gang-rape or rape of the minor/ pregnant woman) despite clamour for the same with populist motives of some political parties. Though criminalisation of marital rape did not happen, and Parliament witnessed trivialisation of the issue, colonial expressions like "outraging the modesty" still remain instead of "sexual assault" as was suggested by Verma Committee. Also, Sexual Harassment of Women in Workplace( Prevention, Prohibition and Redressal) empowered women against any kind of sexual exploitation at workplace. The effectiveness of the new laws became evident when the very powerful - from godman to editor-in-chief of Tehelka had to go behind bars for their alleged sexual misconduct at workplace.
Risk and morality
Despite all the empowering tools of law and technology, the fact remains, post Nirbhaya, women have become more apprehensive about their outdoor movements. The lurking fear of assault does not leave the collective psyche after a year of major developments that supported women's cause. Wider reporting on crimes against women has also proven to be counter-productive - women are going back to seeking more protection rather than braving for challenges, at least when it involves odd hours in the outdoors. A variety of concerns have begun to stalk them, including clothing and fashion, where should one draw a line to avoid inviting trouble!
The anonymity and security provided by the web-space to turn personal into political is gradually making inroads in the real world. No political party can afford to ignore the issue of women's security, despite a male-dominated political system. Within a year more stories have come where one feels justice was delivered to a victim of sexual assault or misconduct rather than denied, this emboldens more and more women to come forward and speak out.
The fourth wave
First wave of feminism came for suffrage, which reached its zenith 100 years ago; the second wave of women's liberation movement blazed through the 1970s and 80s; and the third wave declared by Rebecca Walker, and others, came in the early 1990s.
The shift from second to third wave of feminism took many important forms, but often was broadly generational, with women defining their work as distinct from their mothers'. What's happening now is something new again—it has spread across generational and professional boundaries.
The fourth wave of feminism is defined by technology: tools that are allowing women to build a strong, popular, reactive movement online. The popularity is slightly startling. Girlguiding UK introduced a campaign and activism badge, of the recipients of which 59 per cent consider themselves feminists.