Species survival not just a number game
Tigers in India are a significant proportion of the global population, making an understanding of the dynamics an important part of species survival. The question is whether genetic variation can be retained by increasing the numbers alone or connectivity must be maintained between their populations.
Uma Ramakrishnan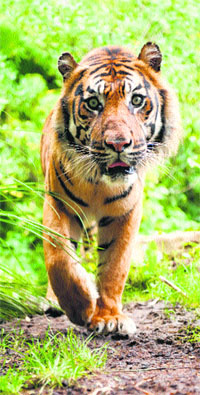 Tigers circulating across large spaces retain more genetic variation. Population connections are critical to maintaining their genetic viability.
Tigers are enchanting, and also the largest living large carnivores. Like other such species, they have suffered significantly at the hands of humans. Tigers historically occurred across 70 degrees of latitude and 100 degrees of longitude, spanning 30 present-day nations ranging from Armenia to Indonesia, Russian Far East to the southern tip of India. This geographical range included a variety of habitats, including taiga and boreal forests, tropical evergreen, moist and dry deciduous forests, alluvial grasslands and mangroves. There has been a dramatic range collapse of 93 per cent for wild tigers due to habitat loss, prey depletion and direct hunting. A species that could subsist in a wide variety of habitats is now restricted to 7 per cent of its historical range.
Current global estimates of wild tiger populations range between 3,000 and 3,500. Of these, the Indian subcontinent is estimated to harbour around 2,000 tigers. While we have some information on the numbers of tigers in different national parks, we know very little about their evolution and history.
While understanding ecological processes that drive numbers of tigers and their dynamics is critical, it is also important to understand more about the evolution and history of Indian tigers. We know genetic variation is the raw material for evolution and adaptation. Simply put, a population characterised by high genetic variation will have a higher chance of surviving into the future. Unfortunately, until about eight years ago, there was no information on genetic variants that Indian tigers carry, and more generally, the evolutionary history of tigers in the subcontinent.
This is where I come in. I am trained as a population geneticist, someone who looks at genes and their frequencies across populations, and uses this information to reconstruct the past history of populations. So in a sense, I study history, the history of species and populations and try to make an informed judgment about how to move towards the future.
DNA studies
When I started my job almost eight years ago, I thought it would be interesting to try and understand the history of Indian tigers. In order to do this, we need genetic data from tigers. We need DNA. And to get it, we need a biological material, such as blood, tissue or hair. You can imagine that getting samples of this kind from a tiger would be formidable. It was also important to sample as many populations as we could. So we decided to use a relatively creative approach. Imagine walking through a forest, not seeing a tiger and being able to collect biological samples. It is possible, and we did it. We used tiger faeces!
As tiger faeces passes through the intestine, it pulls along with it cells that have DNA. We took precautions to ensure that we were looking at the right information. We collected samples from across the subcontinent and found that Indian tigers retain 60-70 per cent of the global species' genetic variation. Further, our results revealed that tigers are most probably not originally 'Indian'. Our data (and others have also suggested this) indicate that tigers probably evolved in South China, and colonised India as part of a secondary range expansion. Despite this, Indian tigers retain a large proportion of the species variation, possibly because they live in very varied habitats here.
Our analyses also revealed something interesting about relatively recent history. We discerned a signature of a population bottleneck, or a population crash. The timing of this crash corresponds well with when the British introduced bounty hunting. The number of tigers before the crash (around 200 years ago) size was 10 times higher than numbers today. That tiger numbers have declined in the last 200 years is no surprise. However, it is interesting that we could detect this purely based on the proportion of genes.
So what do we know? Tigers did not evolve in India, but the populations here retain a large proportion of the species' total genetic variation. And this is despite a 90 per cent population decline about 200 years ago. But in the last 200 years, are numbers all that we have lost? We have lost habitat as well. Has this affected genetic variation? The only way to compare historical tigers to those that we have among us today is to go back in time, using museum skins from the London Museum of Natural History.
Wild, wild world
Tigers historically occurred across 70 degrees latitude and 100 degrees longitude, spanning 30 present-day nations.
Current global estimates of wild tiger populations are between 3,000 and 3,500.
India has about 60 per cent of the global wild tiger population and retains only an estimated 8-25 per cent of remaining global habitat.
Indian tigers retain 60-70 per cent of the global species' genetic variation.
A throwback
We sampled several individual tigers that lived between 200 and 100 years ago. We tried to focus our sampling on regions where tigers are currently extinct. Comparing extant tigers to those that lived in the past reiterated that genetic variation has been lost in the last 200 years. Our analyses indicated that the connections between tiger populations have changed. What used to be two relatively large tiger populations have become three populations. In the past, the semi-arid populations appeared to be connected to the Terai population, and all of peninsular India appeared connected. Now, the semi-arid population seems to be cut off from the Terai. It appears that loss of wildlands over the last 200 years has resulted in the loss of tigers that inhabited those wildlands. Such a loss could have then resulted in the loss of the genetic variants associated with those areas, culminating in a breakdown of connections between populations; that now become different from each other. This reconstruction of the past shows that the semi-arid population of tigers, now restricted to one or two protected areas, is now relatively isolated. Can we think about the future for these tigers? Certainly, its chances of survival are less than that of populations in the Terai or most definitely, peninsular India.
If we simply want to retain the genetic variation we have today into the future, what should we do? In other words, how many tigers do we need? How many populations? Can we retain genetic variation by increasing the numbers alone or do we also need to maintain connectivity between populations of tigers?
We tried answering this question using computer models of tigers and their genes. Our results revealed that in the absence of population connectivity, the number of tigers required to maintain current genetic variation is so high that it is not really a feasible conservation target. On the other hand, if we are able to maintain connections between populations, this number is greatly offset, and we need much fewer tigers in each population. If you think about it, this makes intuitive sense. Tigers circulating across large spaces will retain much more genetic variation. If you need to pack the same amount of variation into one population, you need a lot of tigers!
Where do we go from here? We know that the subcontinent is a region to focus conservation efforts for tigers; that tiger populations have declined here substantially in the last 200 years; that populations are less connected today than they were in the past; and that population connections are critical to maintaining genetic viability.
A critical first step is to address how far tigers are moving between populations today. We addressed this question in the central Indian landscape. We walked through several protected areas and investigated whether tigers found in a location were natives or immigrants. Our genetic data suggested that individual tigers (or their parents) were moving up to 600 km, between Madhya Pradesh and Andhra Pradesh! Some populations, like Kanha, were virtual hubs of movement — bus depots, more individuals going into and out of them than other areas. We also investigated whether particular landscape features correlate with movement. We found that human footprints on the landscape, human settlements and linear barriers like roads had a negative impact on tiger movement.
Urban landscapes
How do we move forward? Around 4 per cent of our land area is under the protected area network. Projections suggest that in the next 40 years, 60 per cent of India will be urban. Will tigers be able to navigate these urban landscapes? We are trying to tackle this question at the scale of peninsular India. Our study gave us some information. But to move forward we need to understand more about movement at the scale of a tiger 'population'.
We are hoping to provide some answers which will help guide development efforts outside protected areas. We are trying to work as fast as we can, because the time scale and need for development is faster. We are hoping to survey 15 protected areas between Madhya Pradesh and Kerala, and collect tiger DNA from all areas; look at connectivity and understand what factors in the landscape are the key to movement. We hope to model and analyse these populations in the context of proposed development to answer questions like: are certain protected areas more critical to others in this network? Are sets of protected areas and the landscapes that connect them more important than others? Is it possible to assess the impacts of developing this highway versus another? And so on.
We are also trying to reconstruct the history of many Indian mammals. We think mammals are relatively recent entrants in the subcontinent. That what we see with tigers, that India is part of a secondary colonisation, is a more general paradigm. This has taken us to the gateway of the subcontinent, the Himalaya and the Northeast.
The future of tigers depends on how we are able to safeguard their populations. While it is critical to protect populations and increase the numbers of tigers within protected areas, evolutionary viability can only be achieved by maintaining the ability for animals to move between protected areas. This puts the burden of conservation and management on what we do outside protected areas. In a country with high population density and tremendous developmental needs, how we develop landscapes will impact whether tigers are locked into their habitat islands, or able to travel large distances. I hope we will be able to provide guidelines for development, and that such information, and subsequent policy intervention, will steward tiger survival.
The writer works at the National Centre for Biological Sciences, Tata Institute of Fundamental Research, Bangalore. The excerpts are from Nehru Memorial Museum and Library lecture she delivered on December 18.