Mamata rejigs Cabinet
Kolkata, December 26
Chief Minister Mamata Banerjee today effected a Cabinet reshuffle by removing trusted member Partha Chatterjee from the industries department. Finance Minister Amit Mitra will take charge of the department. Chatterjee lost the department on the basis of his performance, which was reviewed by the Chief Minister along with that of other ministers at a meeting on Monday.


West Bengal CM Mamata Banerjee with GJM chief Bimal Gurung at Raj Bhavan in Kolkata on Thursday. PTI
Rahul, Cong CMs to chalk out strategy for LS polls
New Delhi, December 26
Weeks after suffering a severe setback in the recent Assembly elections, the Congress will hold a strategy session here tomorrow in the run-up to the 2014 Lok Sabha elections with party vice-president Rahul Gandhi and Chief Ministers of states where it has the government attending it.
LS polls to see direct contest between SP, BJP in UP: Mulayam
Etawah (UP), December 26
Samajwadi Party supremo Mulayam Singh Yadav today said the Lok Sabha elections would be a direct fight between SP and BJP in Uttar Pradesh, and he would not let the saffron outfit succeed.


Special Uttarakhand Assembly session to pass Lokayukta Bill
Dehradun, December 26
A three-day session of the Uttarakhand Legislative Assembly will be convened from January 13 for the passage of the new Lokayukta Bill 2013, Uttarakhand Chief Minister Vijay Bahuguna said on Thursday.


Uttarakhand CM Vijay Bahuguna addresses media in Dehradun.
YSR Cong urges President to stall Andhra's bifurcation
Hyderabad, December 26
The YSR Congress party on Thursday urged President Pranab Mukherjee to stall bifurcation of Andhra Pradesh, saying the move by the central government is undemocratic and in total disregard of the majority view of the state legislature.
Court verdict has exposed conspiracy against Modi: BJP
New Delhi, December 26
The BJP Thursday welcomed the Ahmedabad court decision to dismiss a plea challenging the clean chit to Narendra Modi in the 2002 riots case, and said truth has prevailed and a conspiracy to implicate the Gujarat chief minister has been exposed.
India takes up molestation case with Bahraini authorities
New Delhi, December 26
India has discussed the case of molestation allegedly involving a Bahraini diplomat in Mumbai with his government, which has given the assurance of looking into his conduct after his return to the home country shortly on completion of tenure.


Uttar Pradesh cold to kids' deaths in relief camps
Shamli/Muzaffarnagar, December 26
"It was not his time to die," says 38-year-old Dilshana mourning the loss of her five-month-old baby boy. He died exactly a month ago of biting cold conditions at the Malakpur relief camp.

Riot survivor Haji Islam prays at his granddaughter Khushnuma's grave at Malakpur relief camp in Shamli district on Thursday. Tribune photo: Mukesh Aggarwal
Finally, UP admits to 34 deaths
Lucknow, December 26
The Uttar Pradesh Government today owned up to the deaths of 34 children of riot-hit families living in the relief camps in Muzaffarnagar and adjoining areas as against 39 such deaths reported in the media.


5 dead in Jalpaiguri blast
Jalpaiguri (WB), December 26
Five persons were killed and six others injured when a bicycle bomb exploded this evening near St Pauls School in Jalpaiguri. "Five persons have died in a bomb blast at Bajrapara, near the Jalpaiguri town. The explosives were laden on a bicycle. It went off on the culvert over a small river," said North Bengal Inspector General of Police Shashikant Pujari.
Policemen at the site of a blast in Jalpaiguri on Thursday. PTI
Right to service: Few in Punjab know about it
Chandigarh, December 26
Lack of awareness about the Right to Service (RTS) Act among residents has resulted in its ineffective implementation at the grass-roots level in Punjab, suggest findings of a study conducted by the Department of Public Administration, Panjab University, Chandigarh.
Adjust with officers' working wives, says Army Chief
New Delhi, December 26
In an acknowledgement of changed times, Army Chief General Bikram Singh has asked Formation Commanders to work out schedules of family-oriented programmes to suit career-oriented wives of officers. He has also asked Commanders to discourage the use of officers' messes as "five-star hotels".
Ganguly loses varsity honorary professorship
Kolkata, December 26
Former Supreme Court judge Justice Ashok Kumar Ganguly has been divested of his honorary professorship of the National University of Juridical Science (NUJS) centre, near Salt Lake, following his alleged involvement in the sexual harassment of a law intern.
Six Goans become Portuguese everyday
Panaji, December 26
For the past five years, at least six Goans on an average have been changing nationality daily to become Portuguese, according to the records available with the Election Commission of India (ECI).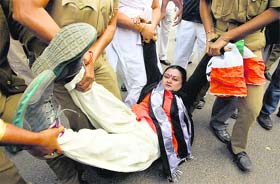 Police arrest a Youth Congress activist during a demonstration against the state government in Kolkata on Thursday. PTI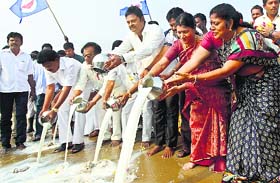 Fisher-folk pour milk into the sea to mark the ninth anniversary of the 2004 tsunami at Marina beach in Chennai on Thursday. PTI
Aadhaar card valid ID, address proof to get PAN
New Delhi, December 26
The Income Tax Department will now accept Aadhaar Card as a proof of identity and address for issuance of Permanent Account Number (PAN). The Central Board of Direct Taxes (CBDT) has issued a notification expanding the list of documents admissible as proof of identity and address by including Aadhaar Card.
2013 Review insurgency in assam
ULFA's split has made task easier for security forces
Guwahati, December 26
The beginning of the peace talks with a faction of the United Liberation Front of Assam (ULFA), led by its 'chairman' Arabinda Rajkhowa, has resulted in a vertical split in the outfit this year with the anti-talks faction led by fugitive 'commander-in-chief' Paresh Barua vowing to continue with the armed struggle banner that was raised by the outfit way back in 1979.
Andhra to arm its forest staff
Hyderabad, December 26
The rampant smuggling of red sanders in the forest area of Andhra Pradesh, close to Tamil Nadu border, and the growing incidents of killing of forest officials by smugglers have brought back the memories of the brutal reign of forest brigand Veerappan.
JN Choudhary is NSG chief, Arvind Ranjan to head CISF
New Delhi, Decemeber 26
Senior IPS officer JN Choudhury has been appointed as head of National Security Guard (NSG) in place of Arvind Ranjan who will take over as the full-time chief of Central Industrial Security Force (CISF).
Tejpal seeks in-camera hearing
Panaji, December 26
Former Tehelka editor Tarun Tejpal, accused of sexually assaulting a woman journalist, today filed an application before a local court demanding an in-camera hearing of his bail petition.
MoD considers buying Tatra trucks directly from maker
New Delhi, December 26
A final decision on a proposal to procure Tatra trucks directly from the original equipment manufacturer in Czech Republic is yet to be taken, Defence Ministry said today.
DRI asks Air India to check gold smuggling by its staff
New Delhi, December 26
Worried over instances of gold smuggling by some Air India staffers, the Directorate General of Revenue Intelligence has asked the national carrier to take necessary measures to check it.