Healthcare for veterans, by veterans
Under the Ex-servicemen's Contributory Health Scheme, one polyclinic has been opened in every district of the country. But a lot more needs to be done to help the growing community of defence veterans
Brig M.L. Kataria (retd)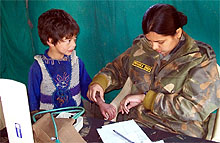 Want more:

As the healthcare system becomes advanced, ex-servicemen's polyclinics need specialists. Tribune Photo/Mohd Amin War

A historic decision was taken by the Government of India, Ministry of Defence, in December 2002 to provide comprehensive health care to 10 million ex-servicemen and their entitled dependants, through Ex-servicemen's Contributory Health Scheme (ECHS), which was launched in January 2004. There is no parallel to this gigantic healthcare project for ex-servicemen and their entitled dependants.
The Scheme was envisaged to provide an ECHS polyclinic in every district of the country. To start with a total of 227 polyclinics, 104 in military stations and 123 in non-military stations, were established. Over the years 200 more polyclinics have been added. Thus, there are 427 polyclinics scattered all over the country. This number will further increase.
In order to take off the workload on military hospitals, nearly one thousand private/civil hospitals and diagnostic and specialty centres have been empanelled across the country for referral of patients by the ECH polyclinics annually and about one million have been referred for diagnosis, treatment and admission annually to the empanelled centres.
The annual budget outlay of the Ministry of Defence for ECHS is Rs 1,500 crore, which will escalate with each passing year. Therefore, an in-depth review of the functioning of ECHS for the last ten years is necessary.
Review committee
The ECHS needs a review in toto, including the type and functioning of the polyclinics, the requirement and composition of the regional directorates, empanelment of private/civil hospitals, specialty and diagnostic centres and their rate structures.
The proposed review committee should have experts from various fields like medical, finance, management, bio-medical equipment and
ex-servicemen.
The current ECHS has categorised three types of polyclinics — A,B and C, depending upon the estimated ESM beneficiaries of the polyclinic. Each polyclinic, irrespective of the number of clientele, should have all the basic investigative facilities for primary health care, namely, x-ray machine, a laboratory equipped for all routine tests, like blood sugar, kidney and liver function tests, lipids and haemogram, an ECG machine and a dental unit, with technicians to operate these facilities. Therefore, any classification of polyclinics is not desirable. Consultants for various specialties like cardiology, ophthalmology, ENT, orthopaedic and gynaecology should be available for weekly visits to each polyclinic on a regional basis.
All polyclinics are located in district towns and cities. Therefore, these polyclinics are useful for ESM residing in towns and cities. Most of the ESM reside in the far-flung villages. For them, it is an arduous journey to and back from the polyclinic, particularly for those who are ill or disabled. It may take them a whole day to come back home. Therefore, there is necessity for a mobile medical service, a van fitted with a stock of essential medicines, facility to draw blood samples, to reach each of the villages once a week for a doorstep-delivery service. This will also considerably reduce the daily work load of each polyclinic.
To improve the quantum and quality of service and doctor-patient relationship, each polyclinic should have a consultant committee consisting of retired officers and other ranks, dependant on the polyclinic to meet the doctors of the polyclinic periodically, at least once in three months, for a bilateral consultation for smooth functioning of the system.
The veteran's wing
The financial burden of reimbursement to a thousand civil/private hospitals, specialty and diagnostic centres during the last ten years may reveal that addition of a veterans' wing to the existing military hospitals, with their own medical staff will be more cost effective in the long run. In due coarse, veterans' hospitals and specialty, diagnostic centres, scattered across states, as the requirement arises, needs consideration.
Also, there is a serious dearth of pharmacists, lab and x-ray technicians. There is requirement for a central training institute to cater to the requirement of ECHS polyclinics for these technologists.
Age limit for veteran doctors who wish to join veterans' health care establishments should be relaxed. A doctor is professionally fit enough till the age of 75 to 80 years. They are doing so in their private practice and are attracting large number of patients every day. Arrangements can be made for the veterans with medical institutions and colleges for a few short up-date courses for each specialty. In USA and some other countries, doctors well above 80 years are seen working in certain specialties in the hospitals.
Smart cards
As a part of terms of service, veterans are entitled to free medical aid for themselves and their dependants. Therefore, a levy for any contribution for a post-retirement medical aid is undesirable. Also, the documentation process to enroll for a membership of ECHS is so complicated and procedures are so cumbersome, they are beyond the scope of an average other rank or a widow. Issue of a smart card is a long process and may take months. These can surely be simplified with modern management techniques.
At the time of retirement, the veteran is given his/her identity card by the regimental centre. Entire documentation for membership of ECHS and issue of the smart card can also be arranged and issued along with the identity card. This will reduce avoidable work load on the local station headquarter.
The smart card itself needs a relook. It is too small and prone to be lost or misplaced. Issue of a duplicate card is more cumbersome and takes much longer time than the original one. A much bigger and easily readable Smart Card for the veteran, who often suffer from low vision, needs consideration.
Non-pensioner veterans can avail of medical aid at military hospitals, but cannot become members of ECHS. Let us be generous and sympathetic to these step-sons also.
Need for super-specialty
ECHS is essentially a health care package. From top to the ECHS polyclinic level, one comes across more non-medical personnel than the professionals. There are not many competent doctor-administrators available. Therefore, at an ECHS polyclinic functional and hierarchical inconvenience is not avoidable. Surely health care personnel can also manage health care delivery.
There are a large number of veterans available, seeking re-employment. Therefore ECHS from top down to the polyclinic level should be manned by veterans for veterans.
Medical science and technology has advanced tremendously during the last few decades. The old concept of a general hospital, equipped with conventional technology to treat routine ailments under broad medical and surgical divisions, including gynaecology and ophthalmology is gradually developing specialties and super-specialties centres. These centres have been located in the general hospital complexes. This system adds considerably to the central administrative complex of the general hospital. Therefore, independent specialty and super-specialty centres have cropped up, like cardiac centres, eye centres, joint replacement and spinal injury centres, cancer management centres.
ECHS polyclinics are referring their patients to some of the empanelled centres with swollen bills for payment. Veterans health care may have to consider their own such centres in due course of time. A financial analysis may reveal that veterans' own specialty centres may prove to be less expensive than what we have to reimburse to the civil/private specialty centres. There is no dearth of professionals trained in these specialties in India. Most of the required bio-medical equipment for these specialties is now being manufactured in India. Therefore we need not drain out our funds and professionals.
Healthcare NGOs
There are a number of healthcare NGOs in India, who would be glad to collaborate with ex-servicemen's healthcare schemes, for the love of the veterans. They generate their own funds and resources for healthcare of the needy segment of society. They will therefore not only share the financial load but professional and administrative work load of ECHS. These NGOs can collaborate in many ways. They may establish and operate certain ECHS polyclinics.
They may operate mobile medical facilities in far flung rural areas. They may establish and operate old age homes for veterans. The Defence authorities who are controlling the ECHS at all levels need not be shy of collaborating with such patriotic NGOs to let them share their financial and functional work load.
In every state in India, veterans residing in cities and towns are often left alone and forlorn. Their children, as they grow up, have to go elsewhere in India or abroad, wherever they find employment. It is not easy to find domestic aid or attendants. The problem is faced by even the veterans settled in rural areas. There is a gradual erosion of joint family system for various reasons. Their plight is worse than that of their colleagues in cities and towns.
There is requirement for veterans' old age cum nursing homes in every state. Their number and location would vary from state to state to cater for their needy veterans.
This requirement needs priority in the long term planning for veterans' welfare.
Veterans too need to volunteer to man all projects for healthcare. Therefore there should be no age limit for them. They should be encouraged and allowed to work as long as they can. There is no dearth of such volunteers on whom time hangs heavily and who wish to work. With good pension and a home to live, children settled, they don't crave for more money, but want some constructive engagement, if only the age bar is lifted. The authorities concerned at all levels have only to sound a trumpet for them to come forward.
Growing concerns
The armed forces are growing in all respects. At present, there are 10 million veterans and their dependants to be looked after.
This number may swell to 15 million in another three to four decades.
Besides healthcare, veterans have scores of other problems — financial, legal, educational, and most importantly of re-employment.
This calls for a separate veterans' department in the Ministry of Defence.
The writer (94) is a doctor and an activist for veterans' welfare. He helped establish and operate a veterans' polyclinic in Mohali for nine years, in collaboration with the Western Command, before the advent of the present ECHS polyclinic on the same premises.