2013 Review politics
Dhumal-Virbhadra relations turned sour
It has been a politically charged year with the Congress regime, headed by Virbhadra Singh, not just going all out to probe allegations against the previous BJP government but also an acrimonious exchange of charges between the former and present Chief Ministers flying high.
Land allotment to Central varsity likely to be delayed
Dharamsala, December 25
The case for setting up a permanent campus of the Central University Himachal Pradesh is likely to be delayed further. It has already been over three years since the university was set up in Kangra district.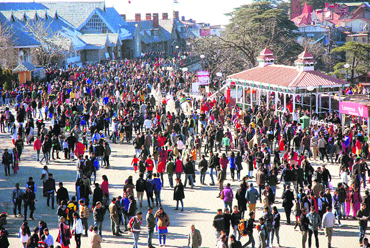 New Year revellers throng hill stations
Shimla, December 25
There is a surge of Christmas and New Year revellers at hill stations. The hitherto near-deserted hotels are thus packed for what hoteliers and Himachal Pradesh Tourism are marketing as "a week of festivities heralding the new year in 2014".
A crowd of tourists and residents at The Ridge in Shimla on Wednesday. Photo: Amit Kanwar

New norms make cement plants to seek wildlife nod
Solan, December 25
With the Ministry of Environment and Forests (MoEF) stipulating all projects falling within the purview of 10 km radius of a sanctuary or a national park to seek clearance from the National Wildlife Board (NWB), several projects, including existing cement plants, have been forced to seek a clearance, despite the fact that the plant is running for years now.
Jan Aushadhi store closed for one year in Una
Una, December 24
Jan Aushadhi store, opened with much fanfare about two years ago at Una district hospital, has been closed for the last one year. While the reason being attributed is that the promoters of the shop had little profit, forcing the closure of the shop, patients, who had an option to purchase medicines at costs much lower than that in the market, are now left high and dry.
Manali decked up for Winter Carnival
Manali, December 25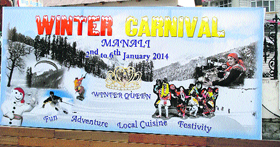 The five-day Winter Carnival will commence in Manali from January 2 to 6. The carnival will begin from the Hadimba Devi temple at Dhungri with the worship of Goddess Hadimba and a cultural procession by participating teams from different states will be taken out from the temple, which will terminate at Nehru Park, popularly known as Ram Bagh.
A hoarding of the Winter Carnival in Manali. Photo by writer
Sewerage plant a health hazard
Palampur, December 25
A sewerage treatment plant set up by the Irrigation and Public Health Department on the Pathankot-Mandi highway has become a major health hazard for hundreds of families residing in the lower areas of the town.
Proposal to have MLA offices at every block in state
Dharamsala, December 25
The state government has mooted a proposal to establish offices of MLAs at the block level along with those of the Block Development Officers (BDOs). Highly placed sources said the proposal was mooted at the behest of a Congress MLA from Kangra district who wanted to have his office along with the office of the BDO.
Vikramaditya takes on Arun Dhumal
Hamirpur, December 25
Vikramaditya Singh, state Youth Congress president and son of Chief Minister, today said his entire focus in the coming Lok Sabha election would be the Hamirpur constituency, which he would tour extensively.
Girl accuses advocate of rape in Solan
Solan, December 25
A 23-year-old girl has accused an advocate of rape, criminal intimidation and unnatural offences by lodging a complaint with the police last evening. Additional SP Padam Chand said the advocate, who hails from Salogra, had fled the area after the registration of a case under Sections 376, 377 and 506 of the IPC and efforts were afoot to trace him.
Govt ignoring Kangra: LJSP
Palampur, December 25
Lok Jan Shakti Party (LJSP) national general secretary Keshav Chauhan, who is also the state president of the party, accused the state government of meting out a step-motherly treatment to Kangra district. Keshav Chauhan, addressing mediapersons here today, said Virbhadhra Singh should not forget that he had been elected the CM because of Kangra district which had elected 12 Congress MLAs for the state Assembly.
Erratic water supply irks residents
Nurpur, December 25
Erratic water supply has become a regular feature in the town, causing a lot of resentment among residents. Residents here are totally dependent on piped water for their daily needs.
Aadhaar-based ration cards in district soon
Chamba, December 25
Consumers of fair price shops in Chamba district will get new aadhaar-based ration cards which will be issued in the names of the eldest women of the families, said an official spokesperson here.
MLA meets traders
Nurpur, December 25
Local MLA Ajay Mahajan convened a meeting with officials of the Nurpur Beopar Mandal at the Municipal Council (MC) hall here yesterday and listened to their problems. Hundreds of traders, led by Beopar Mandal president Ashwani Suri, apprised the MLA of various problems relating to erratic water supply, power supply tripping, burgeoning thefts, parking and bus stand demand in the town and frequent traffic jams on the Pathankot-Mandi national highway (NH).
Naina Devi shrine set for New Year mela
Bilaspur, December 25
Arrangements for a five-day new year mela to be organised at the shrine of Shri Naina Devi have been done. This was stated by Additional District Magistrate Pradeep Thakur while presiding over a meeting of officials and non- officials for reviewing mela arrangements at Shri Naina Devi shrine, about 75 km from here.
Govt trying to befool youth: Yuva Morcha
Bilaspur, December 25
Activists and leaders of the Yuva Morcha today shouted anti-government slogans and burnt an effigy of Chief Minister Virbhadra Singh at Gurdwara Chowk. Led by district president Brij Lal Thakur, members called the one-year tenure of the present government 'totally disappointing' and said the government did not do any constructive work in the entire year.
Awareness camp on cleanliness in Chamba
Chamba, December 25
The Green Valley Clean Valley Chamba, an eco-friendly organisation, today organised a camp in collaboration with the state Health Department and the district Red Cross society with the objective of bringing awareness among the people to keep the town green and clean.
Christmas celebrated with enthusiasm
Kangra, December 25
Christmas was celebrated with gaiety and religious fervour here today. People exchanged Christmas greetings and gifts on the occasion. The main function was held at a local Church near the Christian Missionary Hospital and members of the Christian community along with their families gathered at the Church and celebrated the occasion. Santa Claus was seen distributing candies and presents to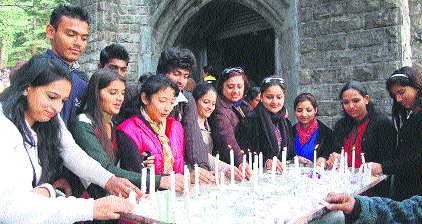 children outside the church. Light was thrown on the life and teachings of Jesus Christ and believers of the faith were asked to transform their lives as per the teachings of Jesus Christ. — OC
People light candles in front of St Jones Church on Christmas in McLeodganj on Wednesday. Photo: Kamaljeet

'State under debt of Rs 30,000 crore'
Shimla, December 25
The CPM today said the state continued to reel under a huge debt of over Rs 30,000 crore as it failed to raise the issue before the 14th Finance Commission that recently came to Himachal Pradesh. Party member Tikender Panwar said the state did not even raise the demand of more central allocations before the commission."During the past one year, the government has failed to restore ration in depots and people have been forced to buy ration from the open market," he charged. He said the unemployment issue had also not been tackled. — TNS
BJP meet in Sundernagar today
Mandi, December 25
The parliamentary committee of the state BJP will hold its meeting at Sundernagar tomorrow. State vice-president of the BJP Ram Swaroop Sharma said former CM PK Dhumal, state BJP chief Satpal Singh Satti, organising secretary Pawan Rana, besides MLA and others will attend this meeting. — TNS