Takht, SGPC should have handled Khalsa issue better, say experts
Amritsar, December 25
With Gurbaksh Singh Khalsa refusing to obey the Sikh clergy's directions to end his fast and continue with his stir for the release of Sikh detainees, there is a feeling among Sikh intellectuals that Akal Takht and the Shiromani Gurdwara Parbandhak Committee (SGPC) could have handled the issue in a better way.
SAD funding by realtors questioned
Chandigarh, December 25
Congress MLAs today questioned the acceptance of huge funds by the SAD from real estate firms whose projects were reportedly approved by the state government in the recent past.
It's a frame-up, says singer Gill
Ludhiana, December 25
A day after he was arrested for allegedly raping a city- based aspiring model and using an MMS to blackmail her, Punjabi Singer Nachhatar Gill today termed the charges against him baseless.
Victim's house pelted with stones
Ludhiana, December 25
Hours after singer Nachhatar Singh Gill was arrested on the charge of rape, the victim's house located on the Hambra Road was pelted with stones. The two bikers, who threw stones at the victim's house, were caught on a CCTV camera. The police has taken the footage and started investigations.
Low job rate belies govt's claim
Chandigarh, December 25
The official data on employment generation in the state has revealed that the employment rate has remained around five to six per cent ever since the SAD-BJP alliance came to power in 2007.

Not joining AAP: Khaira
Jalandhar, December 25
PPCC spokesman Sukhpal Singh Khaira today rubbished rumours that he was joining the Aam Aadmi Party (AAP). "I have no plans to join the AAP," he clarified.
Capt cautions Bajwa for remarks on MPs
Chandigarh, December 25
Former CM Capt Amarinder Singh today cautioned PPCC chief Partap Singh Bajwa against going public about his opinion on party candidates for the Lok Sabha elections, particularly his remarks that some of them were "facing anti-incumbency".

'Cong must rebuild cadre at grass-roots'
Chandigarh, December 25
Union Information and Broadcasting Minister Manish Tewari has said the Congress' performance in the recent assembly elections indicate that the party needs to rebuild its cadre at the grass-roots level.
Suspended improvement trust officials face criminal charge
Patiala, December 25
A fortnight after Local Bodies Minister Anil Joshi suspended six officials of the Patiala Improvement Trust, including the executive officer and the town planner, for dereliction of duty, the department recommended the registration of a criminal case against four of them.
posts of food inspector
Scrap recruitment test, demand Cong, CPI
Chandigarh, December 25
The Congress and the CPI today urged the state government to scrap the examination conducted to recruit food inspectors in view of the ongoing controversy.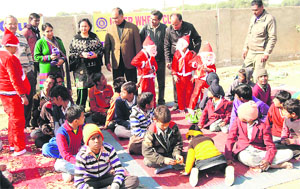 playing santa:

Rotarians celebrate Christmas with differently-abled children in Abohar on Wednesday. Tribune photograph
Gurmeet reaches home in Patiala amid tight security
Patiala, December 25
Out on a 28-day parole, Gurmeet Singh, one of the three convicted in the Beant Singh assassination case, today reached his house in Guru Nanak Nagar here this evening amid tight security.
Clarify stand on detainees, Bhattal tells CM
Doraha, December 25
Former Chief Minister Rajinder Kaur Bhattal today said she had no desire to contest the coming parliamentary elections from Sangrur as "I do not want to move out of Punjab. I would rather serve my people by being with them."
Dal Khalsa opposes Jat quota
Amritsar, December 25
Vehemently opposing reservation based on caste, radical Sikh outfit Dal Khalsa has appealed to Akal Takht Jathedar to summon SAD president Sukhbir Singh Badal for perpetuating the caste system in the otherwise casteless Sikh society and to seek an explanation for his party's "unprincipled" stand on including Sikh Jats in the OBC category for reservation.
Exporters sit up as Ludhiana shawls get more trendy
Ludhiana, December 25
The shawl industry in the state is facing a rough weather. Its domestic market has shrunk owing to short winters and susequently poor demand. But it is blooming internationally.
Several posts of doctor lying vacant at Sangrur hospitals
Sangrur, December 25
Despite the Health Department's claims of providing better healthcare facilities to the people of the state, 36 per cent of the total posts of Medical Officer (MO) and 39 per cent posts of staff nurse have been lying vacant in Sangrur district. Of the 169 sanctioned posts of MO in the district, 61 have been lying vacant. Of these, nine posts out of 12 at various hospitals and community health centres have not been filled at Moonak, seven out of 20 at Malerkotla, six out of 12 at Sunam, four out of five at Sherpur and three posts each have been lying vacant at Bhawanigarh and Longowal.
Grape cultivation declines as labour gets dearer
Muktsar, December 25
The grape farming in the state has taken a backseat. Of the total 71,473 hectare area under the cultivation of fruits in the state, grapes are only grown on 438 hectare.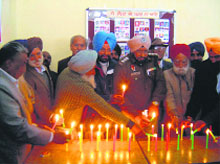 remembrance:

People paying tributes to Malta boat tragedy victims in Hoshiarpur on Wednesday. Nearly 300 illegal immigrants, including many Punjabis, died when their boat capsized in Malta-Sicily channel in 1996. Tribune photo
Seven of 10 blocks in district declared notified areas
Sangrur, December 25
The Central Ground Water Authority (CGWA), New Delhi, declaring seven of the 10 blocks in the district as notified areas is testimony to the fact that the district is facing a groundwater crisis.
2013 Review | politics
Memorial row, Sikh identity issue dominated year
Amritsar, December 25
The politics over memorials dominated the Sikh politics in the year gone by. It will also be remembered for the Shiromani Akali Dal (SAD) wresting the control of the Delhi Sikh Gurdwara Committee (DSGMC), issues raised concerning Sikh identity abroad, and the agitation for the release of Sikh detainees languishing in different jails of the country.
Ludhiana tops in human rights violations: RTI info
Muktsar, December 25
If a Right To Information (RTI) query is to be believed, the Punjab State Human Rights Commission (PSHRC) received the maximum complaints of human rights violations from Ludhiana from 2007 to September 2013.
Vets to boycott livestock meet
Muktsar, December 25
The Punjab State Veterinary Officers' Association (PSVOA) has decided to boycott the National Livestock Championship 2014 to be held from January 8 to 12 in protest against the Animal Husbandry Department's "indifferent" attitude towards their demands.
Ignored, Gurdaspur BJP legislators sulk
Gurdaspur, December 25
In another sign of fissures in the Punjab's ruling combine ahead of the Lok Sabha elections, the SAD did not invite BJP legislators to a state-level Christian Diwas held here on Monday.
Another honour for Abohar's 'Kinnow Queen'
Abohar, December 25
The "Kinnow Queen" of Punjab has been honoured with Bharat Jyoti Award for her contribution to horticulture in the state. Former Tamil Nadu Governor Dr Bhishma Narain Singh and former Punjab Governor Justice OP Verma (retd) presented the award to "Kinnow Queen" Karamjit Kaur Danewalia during a seminar on "Economic Growth and National Integration".
Karamjit Kaur Danewalia displays the awards at her orchard in Abohar. Tribune photo

Karnal Sikh organisations back Gurbaksh Khalsa
Karnal: Sikh orgnisations here held a march to Mohali in support of Gurbaksh Singh Khalsa.They wrote to the Chief Justice of India, Chairman of the International Human Rights Commission in Canada, Secretary General of Amnesty International, UK, and National Commission for Minorities chief Manav Adhikar to intervene and ensure the release of Sikh detainees. —TNS
Ex-DSP commits suicide, 7 booked
Hoshiarpur, December 25
A retired DSP of the BSF committed suicide today by jumping before a train at Tanda. Based upon his wife's statement, the GRP have registered a case against seven persons for "abetting" his suicide. Those booked are Ranjit Singh, his wife Sonia, daughter Harjit Kaur and son Kaka, Ravinder Singh Bedi, his wife Suman, and son Prince.
Man in Abohar kills wife for giving birth to girl
Abohar, December 25
A farm worker, who took away his wife's body from an orchard in Narainpura village in Abohar subdivision to his brother's residence in neighbouring Hanumangarh district of Rajasthan, has been booked under Sections 302 and 201 of the IPC.
Debt-ridden farmer kills self in Moga village
Moga, December 25
A 65-year-old debt-ridden farmer allegedly shot himself to death at Kaliewala village on the outskirts of Moga city on Wednesday.