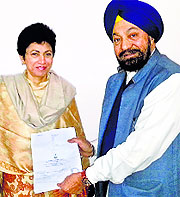 SAD leader Ramoowalia meets Selja on Jat quota
Chandigarh, December 24
Senior Akali leader BS Ramoowalia, who met Union Social Welfare Minister Kumari Selja today, asked her the criteria on which Punjab had been excluded from the OBC list for the purpose of quota for Jats. Ramoowalia told her the Centre would not be allowed to "play with the sentiments of Sikh Jats in Punjab and in those living in other states.


Balwant Ramoowalia presents a memorandum to Kumari Selja in Chandigarh on Tuesday. A Tribune photograph

Bajwa suggests poll pact with secular forces
New Delhi, December 24
Bracing for the coming Lok Sabha elections, the Punjab Pradesh Congress Committee today suggested a pre-poll alliance with secular forces in the state to take on the SAD-BJP alliance which bagged five of the 13 Lok Sabha seats in 2009.


Sukhbir gives nod to VAT reduction
Chandigarh, December 24
The Punjab Deputy Chief Minister, Sukhbir Singh Badal, today approved the reduction of VAT from 4.95 per cent to 2.5 per cent by restructuring the present VAT regime.
Exam for Food Inspectors rigged, say candidates
Chandigarh, December 24
Another controversy has broken out regarding the conduct of examination for recruiting 461 Food Inspectors in the Food and Civil Supplies Department. As many as 1.92 lakh candidates had applied for the post.
Leather units allowed to start working
Jalandhar, December 24
The Punjab Pollution Control Board (PPCB) today ordered that the Common Effluent Treatment Plant (CETP) and the leather units can start their operations from tomorrow. The decision to this effect was taken by board Chairman Ravinder Singh after he briefed Chief Minister Parkash Singh Badal about the stabilisation of the CETP and the cleaning of the channels, which carry effluent waste from tanneries to the CETP.
IT Dept cancels PIMS society's registration
Chandigarh, December 24
Underlining "officially unpardonable" lapses in the management of the Punjab Institute of Medical Sciences (PIMS) Medical and Educational Charitable Society, Jalandhar, the Commissioner, Income Tax, cancelled its registration of u/s 12 AA of the IT Act 1961.



Power snapped
Realtors swell ruling party funds
Chandigarh, December 24
The realty sector may be facing its worst-ever crisis with the sales showing no signs of recovery. But when it comes to funding political parties, there seems to be no dearth of funds with the real estate sector.
2013 Review: health
Govt attempts to upgrade selected hospitals fall flat
Chandigarh, December 24
The state government's ambitious project to upgrade 100 selected hospitals failed to deliver the desired results. Senior officials concede that that they need more time to produce results.
Officials pulled up for wrong certificate
Ropar, December 24
State Chief Parliamentary Secretary for Health and Family Welfare Dr Navjot Kaur Sidhu reprimanded health officials for issuing death certificate of a living man at the Civil Hospital here today.
CM says no to CBI probe into drug scam
Kartarpur (Jalandhar), December 24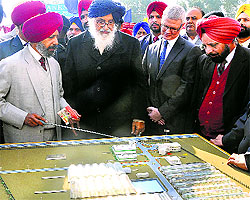 Chief Minister Parkash Singh Badal has categorically stated that the State Government would not hand over the probe of the high profile Rs 6,000 crore synthetic drug racket to the Central Bureau of Investigation (CBI). Speaking on the sidelines of the inauguration of Indo-Israel project, 'Centre of Excellence for Vegetable' (CEV), Badal today said there was no need for a CBI probe as the state police was investigating the case efficiently.

Chief Minister Parkash Singh Badal looks at the model of the Centre of Excellence for "green revolution" after its inauguration in Jalandhar on Tuesday. Tribune Photo: Malkiat Singh

Rollback sought on policy to revert promoted teachers
Nawanshahr, December 24
The Democratic Teachers Front (DTF) and Master Cadre Union (MCU) have asked the state government to immediately withdraw its policy to revert promoted lecturers or face a massive protest.
Hindu jatha returns from Katasraj temple in Pak
Attari, December 24


The 175-member Hindu jatha today returned through this land route after paying obeisance at ancient Katasraj temple located in the Chakwal district of West Punjab in Pakistan.

Members of the Hindu jatha at Attari-Wagah border on Tuesday. Photo: Vishal Kumar

US court dismisses rights violation case against Badal
Washington, December 24
A United States' court has dismissed an alleged human rights violation case against Punjab Chief Minister Parkash Singh Badal, saying the New York-based Sikh group never physically served the summons on him.
daya singh lahoria case
US to look into 'violation' of extradition treaty
Sacramento, December 24
After submissions by various social organisations and management of gurdwaras, the US Department of Justice has urged the State Department to inquire into alleged violation of the extradition treaty between India and the US in the case of Daya Singh Lahoria.
4 cops get life term for Abohar violence
Abohar, December 24
The court of Additional District and Sessions Judge, Ferozepur, has sentenced four policemen to life imprisonment and awarded three years' imprisonment to four leaders of a labour union in a 22-year-old case of violence that had left eight people dead in 1991.
7 undertrials flee from Moga court, 3 held
Moga, December 24
At least seven undertrial prisoners facing various criminal cases, including murder and drug smuggling, today fled from the district court complex here.
Gangster wanted in 40 cases held
Sangrur, December 24
A gangster wanted in about 40 criminal cases, Bir Bahadur Singh (35), alias Kala Bhathua, and his nine accomplices were arrested by the district police last night after a brief encounter at an abandoned rest house at Lehal Kalan village near Moonak. He was wanted by the police in Sangrur, Patiala, Mansa, besides Haryana in cases pertaining to kidnapping and ransom.
4 held for assaulting Sikh driver
Chandigarh, December 24
Four men have been arrested over the assault of a taxi driver at Henley Beach last month. The driver, Manbir Singh (24), was allegedly punched near the Ramsgate Hotel at Henley Square about 3.45am on Saturday, November 16 and suffered serious facial and eye injuries.
Seven held for theft, Rs 3 lakh seized
Muktsar, December 24
The police today arrested seven people on the charge of robbing paddy and fruit from vehicles in the district.