Free 108 Sikh detainees in state jails first, Capt to CM
Mehraj (Bathinda), December 19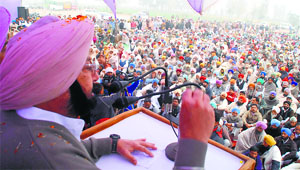 Former Pradesh Congress chief Capt Amarinder Singh today asked Chief Minister Parkash Singh Badal and Deputy Chief Minister Sukhbir Singh Badal to release Sikh detainees lodged in Punjab jails. Talking to the media after addressing an impressive gathering in his ancestral village here this afternoon, he claimed that 108 such detainees were lodged in the state jails. He said he would do his bit to ensure the release of these detainees.
Former PPCC chief Capt Amarinder Singh at a gathering in Rampuraphul on Thursday. Tribune photo: Pawan Sharma

In poll gear, Badals descend on Bathinda
Lambi (Muktsar), December 19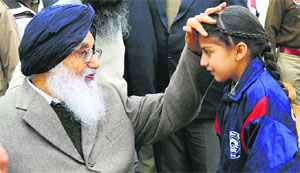 With the Lok Sabha poll round the corner, the Badal family has started holding Sangat Darshan programmes in the assembly segments in the Bathinda constituency represented by Harsimrat Kaur Badal. Harsimrat has been regularly holding Sangat Darshan in Bathinda and Mansa districts. Her husband, Deputy CM Sukhbir Badal, joined her in the exercise two weeks ago.

CM Parkash Singh Badal interacts with a girl during his Sangat Darshan in Lambi on Thursday. A Tribune photograph

Bajwa: PPCC list any time
Chandigarh, December 19
The proposed Punjab Pradesh Congress Committee (PPCC) has been delayed because of "last-minute additions" to ensure a balanced representation of all communities, said PPCC president Partap Singh Bajwa here today.
Faridkot docs allege attack, observe strike
Faridkot, December 19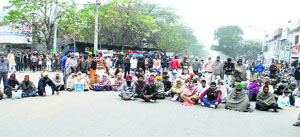 Medical services at the state-run Guru Gobind Singh Medical College and Hospital, Faridkot, were paralysed today with more than 400 doctors going on a strike. They were protesting against the alleged manhandling of their colleagues in the Radiotherapy Department by members of a voluntary organisation last night.
Patients and their attendants protest near Guru Gobind Singh Medical College and Hospital in Faridkot on Thursday. Tribune photo

NAPA demands CBI probe in Devyani case
Jalandhar, December 19
Hailing the arrest of Deputy Counsul General in New York Devyani Khobargade, the North American Punjabi Association (NAPA) has urged the Governement of India to initiate a CBI probe against her.
Sikh groups approach UN on Khalsa issue
New York, December 19
Rights group "Sikhs for Justice" (SFJ) and All-India Sikh Students Federation (AISSF) have approached the United Nations Working Group on Arbitrary Detentions to secure the release of Sikh activists in India who continue to be detained even after the expiry of their prison term.
Day 4: Suwidha services remain paralysed
Jalandhar, December 19
The four-day strike by employees at Suwidha Centre has left hundreds of people in the lurch. The district administration has reportedly chalked out a plan to resolve the issue tomorrow.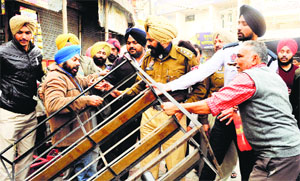 tug of war:

A shopkeeper clashes with municipal workers during an anti- encroachment drive in Patiala on Thursday. Tribune photo: Rajesh Sachar
SGPC identifies gurdwara for displaying Guru's relics
Patiala, December 19
A day after the Punjab and Haryana High Court asked the state government to identify two gurdwaras in Nabha where 12 relics of Guru Gobind Singh and other gurus could be put on display, the SGPC today identified Gurdwara Dera Baba Ajaypal Singh for the purpose.
Harivallabh Sangeet Sammelan begins today
Jalandhar, December 19
The 138th Harivallabh Sangeet Sammelan will begin here tomorrow. Despite being one of the oldest classical music festivals, it has not got its due.
Will join protest if wages not paid, Pargat Singh tells PIMS staff
Jalandhar, December 19
A day after Congress spokesperson Sukhpal Singh Khaira met the Punjab Institute of Medical Sciences (PIMS) staff and expressed his party's solidarity with the agitating employees, local Akali MLA Pargat Singh today told the protesters that he would join their agitation if their salaries were not released in a week.
Punjab's platter soon to have home-grown exotic vegetables
Jalandhar, December 19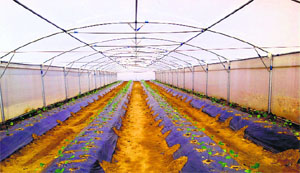 Punjab's people will soon taste home-grown exotic vegetables almost round the year as the Indo-Israel Centre of Excellence for Vegetables is set to be opened in Kartarpur near here. The 15-acre centre will be inaugurated by Chief Minister Parkash Singh Badal on December 24. The building is getting the last-minute touches.
The saplings of high-breed brinjals are ready in the Indo-Israel Centre of Excellence for Vegetables in Kartarpur. Tribune photo

Pollution behind Lehra Mohabbat plant's tripping
Bathinda, December 19
It has come to light that pollution from a nearby cement factory led to tripping of all four units of Guru Hargobind Thermal Power Plant at Lehra Mohabbat (Rampura) on Wednesday midnight.
Students protest over teacher's transfer
Fazilka, December 19
Students, their parents and supporters staged a demonstration outside Government Middle School at Noorshah village in the district in protest against the transfer of teacher Naresh Kumar.
ETT teachers' agitation enters Day 4
Barnala, December 19
The agitation by members of the EGS (ETT) Unemployed Teachers' Union entered its fourth day today. Five teachers, including four women, are still on the overhead water works at Cheema village near here. They had climbed the water works on December 16, demanding regular jobs.—TNS
10 yrs for French national held with RDX
Amritsar, December 19

A local court today sentenced a French national and his two Indian accomplices to 10 years in prison for possessing two AK-47 rifles, large amount of ammunition and 15 kg of RDX. The trio, Pal Singh (French national), Makhan Singh and Gurmukh Singh, were pronounced guilty two days ago in the case registered under the Unlawful Activities (Prevention) Act, 1967.
French national Pal Singh (in white turban) with the other two convicts in Amritsar on Thursday. Tribune photo

Attacker of elderly Sikh sent to mental hospital
Washington, December 19
A US court has ordered that a homeless man, legally incompetent to stand trial for attacking an elderly Sikh man earlier this year, be sent to a |psychiatric hospital until he is competent to stand trial.
'Killer' of ex-MLA's brother held
Jalandhar, December 19
Having evaded the police for more than 25 years after allegedly murdering Surinder Singh Makkar, brother of former Akali MLA Sarabjit Makkar, and Kanpur Congress MLA Walyati Ram Katyal, terrorist Satinderjit Singh alias Mintu fell into the Batala police trap with 4 kg heroin.
Sarpanch among 9 booked
Ropar, November 19
In a crackdown on the mining mafia, the district police conducted raids at Nurpur Bedi and Nangal and booked nine persons. The accused included the husband of Nurpur Bedi block samiti chairperson and a sarpanch.
Gunman held for using foul language against SDM
Bathinda, December 19
A Punjab Police head constable deployed as a gunman-cum-driver with the Sub-divisional Magistrate (SDM), Talwandi Sabo, has been arrested on the charge of using foul language and creating ruckus at the SDM's house.