Ashram head gets 7-year jail for rape
Chandigarh, December 19
Seven months after a rape incident was reported, the court of Additional District and Sessions Judge SS Sahni today sentenced a self-styled godman and head of the Valmiki Ashram at the PGI, Baba Sant Ram Rishi, to seven-year rigorous imprisonment.

The convict, Baba Sant Ram Rishi, being taken to jail on Thursday. A Tribune photograph
Had offered Rs 10 lakh to victim for compromise
Chandigarh, December 19
While sentencing Baba Sant Ram Rishi to seven-year imprisonment, the court of Additional District and Sessions Judge SS Sahni said in its order that it was clear that the victim was being pressured to enter a compromise as the convict wielded influence over his followers or people having faith in him.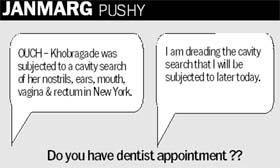 Monica Goyal's Death
Husband convicted of abetment to suicide
Chandigarh, December 19
More than a year after a 35-year-old computer teacher, Monica Goyal, had died at her Sector 21 residence, the court of District and Sessions Judge SK Aggarwal today convicted the victim's husband of abetment to suicide.
fog woes
No respite for air, rail passengers
Chandigarh, December 19
For the fourth day in a row, there was no relief for air and rail passengers from dense fog due to which 12 flights were cancelled and eight trains reached the city behind schedule.
Safety comes before punctuality during fog, says railway official
Chandigarh, December 19
As in the past, The Northern Railways is conducting trials of fog-safe devices to deal with dense fog in the region. However, despite an increase in the number of trains, there are no concrete plans to deal with the problem on a permanent basis.




Beauty at its best: Vanya Mishra, former Miss India-2012, with other models during the auditions for FBB Femina Miss India-2014 at Park Plaza in Sector 17, Chandigarh, on Thursday.
Tribune photo: Vicky Gharu

Shutdown in sight at airport
Chandigarh, December 19
Thanks to ill-equipped navigation system, the Chandigarh airport is heading for a virtual shutdown in the next three weeks. Both the Amritsar and Delhi airports have successfully set up advanced navigation system, also called Instrument Landing System (ILS), which allows flights to land and take off comfortably in days marred by low visibly due to fog or smog.


Passengers stranded at the Chandigarh airport. Tribune photo: Parvesh Chauhan

Year ender 2013
Worst period for beleaguered CTU
Chandigarh, December 19
The recent approval by the Union Ministry of Urban Development to an additional fleet of 400 buses for the UT under JNNURM has come as a positive development for the sagging Chandigarh Transport Undertaking that otherwise passed through its worst time due to a shortage of buses and staff in 2013.

Passengers push a bus that broke down on the way. A file photograph


Sanitation Work
Outsource area: Councillors
Chandigarh, December 19
Raising the issue of the poor sanitary condition in the city, a majority of the Councillors during the General House demanded that the MC should outsource area rather than outsourcing manpower for carrying out sanitation works in various parts of the city.
'Substandard' Works
Want responsibility of officials fixed
Chandigarh, December 19
Cutting across the party lines, councillors of the Municipal Corporation today demanded that responsibility of contractors and MC officials concerned should be fixed in case road gives in after a few days of recarpeting.
All set for a new crusade
Panchkula, December 19
After fighting a battle against former Haryana Director General of Police (DGP) SPS Rathore for molesting her friend Ruchika Girhotra, who later committed suicide, now Aradhna has decided to campaign for the Aam Aadmi Party (AAP) at the local level.
Aradhna and (left) her father, Anand Prakash, fought to get justice for friend Ruchika Girhotra (inset). Tribune photo: Nitin Mittal

Residents can install hand pumps in houses
Chandigarh, December 19
Amid protest by the opposition Councillors, the Municipal Corporation (MC) today decided to allow residents of Southern Sectors to install hand pumps inside their houses.

Councillors of the Opposition argue with Mayor Subhash Chawla during an MC meeting at Sector 17 in Chandigarh on Thursday. Tribune photo: Parvesh Chauhan

In a month, Mohali to have a grand mall
Mohali, December 19
Residents of Mohali will no longer have to make a beeline for malls in Chandigarh and Panchkula. Claimed to be "one of the biggest in northern India", The North Country Mall is coming up on a 21.6-acre area on the way to Kharar. It is likely to become fully functional in a month's time.


The North Country Mall in Kharar will house major national and international retailers. Tribune photo: Vicky Gharu
property tax
MC House okays month's extension
Chandigarh, December 19
Giving relief to the residents who failed to submit property tax within the stipulated time, the Municipal Corporation (MC), during the General House meeting, decided to give a month's extension to the defaulters for depositing the tax.
Sterilisation of dogs
Mohali MC to purchase laparoscopic machine
Mohali, December 19
The Municipal Corporation will be purchasing a laparoscopic machine to conduct sterilisation operations on stray dogs here. It has even asked the Animal Husbandry Department to depute two or three veterinary doctors for the work.


A tragedy waiting to happen on PGI campus
Chandigarh, December 19
The blast triggered by a short-circuit in an underground cable joint at a faculty parking lot at the PGI yesterday has exposed the apathy of the authorities towards the maintenance of the power cables and wires on the hospital campus.


An electrician repairs a cable joint at the PGI on Thursday. Tribune photo: Manoj Mahajan

Remove encroachments from Wakf Board land: Society
Chandigarh, December 19
The All-Muslim Welfare Society today urged the Punjab Government to remove encroachments from Wakf Board's land.

Manik Ali, Chairman, All-Muslim Welfare Society, addresses the media in Chandigarh on Thursday. Tribune photo: Parvesh Chauhan




Ahmadiyya conference from December 27
Chandigarh, December 19
Announcing the 122nd annual three-day International Ahmadiyya Muslim Conference to be held at the Ahmadiyya Muslim Headquarters in Qadian, Gurdaspur district, Punjab, from December 27 to 29.

A religious leader addresses a press conference in Chandigarh on Thursday. Tribune photo: Parvesh Chauhan



Row over parking
Chandigarh, December 19
High drama was witnessed at the staff parking lot near the New OPD Block of the PGI this morning when the security guards deployed there opposed the entry to a contractual employee.
SAD general secretary meets fasting leader
Mohali, December 19
Prem Singh Chandumajra, general secretary of the SAD, met Gurbaksh Singh Khalsa, Haryana leader who is on an indefinite fast for the release of Sikhs languishing in various jails, at Gurdwara Amb Sahib here today.
Winter flares up arthritis problem, says expert
Panchkula, December 19
Over 100 members of Himachal Engineers and Pensioners Association attended a special health workshop on 'arthritis problems in winter' at Jainendra Public School, Sector 1 Panchkula today.
Fill vacant posts: DC office staff
Mohali, December 19
The Punjab State District DC Office Karam Union today staged a protest outside the Deputy Commissioner's office in Phase I here. Om Parkash, a leader of the union, said the two-day protest is a part of the ongoing agitation by the employees over the failure of the government in implementing their long-pending demands.
Excise Department raids two city bars
Chandigarh, December 19
In a late night swoop on bars being run from restaurants, the UT Excise and Taxation Department challaned two outlets, Tao in Sector 26 and Altis hotel in Industrial Area, Phase II, Chandigarh, for running their bars beyond the specified timings.
Bhola seeks CBI probe into drugs case
Mohali, December 19
Jagdish Singh, alias Bhola, who is accused of involvement in drug racketeering, today sought a CBI probe into the case. Bhola, along others linked with the case, was produced before the court of Additional District and Sessions Judge (Senior Division) Parminder Pal Singh.



FESTIVITIES IN THE AIR: INIFD students celebrate Christmas with Santa Claus at the Community Centre in Sector 27, Chandigarh, on Thursday. Tribune photo: Manoj Mahajan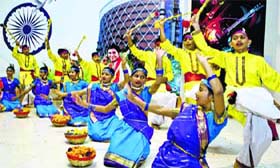 Splendid: Students of APS, Chandi Mandir, present an item during the annual day celebrations. A Tribune photograph
Entry-level classes
Admission no child's play
Chandigarh, December 19
The competition for admission to entry-level classes in the city's four most sought-after missionary schools has really become tough as over 3,600 applicants have applied for a total of their 705 seats. The last date for submitting the registration forms in these schools was over today.
PU Emeritus Professor to get honorary degree
Chandigarh, December 19
The University of the Sciences (USciences), Philadelphia, US, would confer honorary degree of Doctor of Science on Panjab University Emeritus Professor Harkishan Singh. Professor Harkishan Singh is emeritus professor at the University Institute of Pharmaceutical Sciences (UIPS), PU.
Youth educated about HIV/AIDS
Chandigarh, December 19
Desh Bhagat University, Mandi Gobindgarh, organised a cluster-based workshop "Against Social Evils" in collaboration with the Punjab State Aids Control Society, Chandigarh. The workshop was conducted in the university seminar hall.


Cultural extravaganza marks annual day celebrations
Chandigarh, December 19
Gian Jyoti Global School, Phase II, Mohali, presented the cultural burlesque of melody and ballet to mark its 34th annual day celebrations at the Tagore Theatre in Sector 18, here.

Students of Gian Jyoti Global School, Mohali, perform during the annual function at the Tagore Theatre in Sector 18, Chandigarh, on Thursday. Tribune photo: Parvesh Chauhan
Online assessment
PU receives feedback from all city colleges
Chandigarh, December 19
On the first day of the online internal assessment for postgraduate (PG) courses, the Panjab University examination branch today received feedback from all city-based colleges.
Tiny tots have fun at zoo
Panchkula, December 19
It was fun time for tiny tots of Mount Litera Zee School, Panchkula as they visited Chhatbir Zoo. Students of playway, nursery, lower kindergarten (LKG) and upper kindergarten (UKG) classes went to meet various animals housed at the zoo.
FROM SCHOOLS
Students told about Christmas
The jingling of the Christmas bell, moving of the Santa's sleigh and shouts of glee around the Christmas tree could be heard resounding at St Xavier's Senior Secondary School, Sector 44, Chandigarh, on Thursday.
| | |
| --- | --- |
| Students celebrate Christmas at St Xavier's School in Sector 44, Chandigarh, on Thursday. Tribune photo: Parvesh Chauhan | Students make the NSS symbol during a seven-day camp at the GMSSS, Sector 19-C, Chandigarh. The camp was inaugurated by State Liaison Officer Bikram Rana. A Tribune photograph |