Police bring Narayan Sai to Ludhiana for probe
Ludhiana, December 16
Controversial god-man Asaram Bapu's son, Narayan Sai, was today brought to the city by Gujarat Police for investigation. Sai, who is facing charges of rape and bribing the police, is suspected to have hidden in the city for nearly two months.
Miss Pooja joins BJP, vows to work for women's rights
Chandigarh, December 16

Popular Punjabi singer Miss Pooja has donned a new role. Joining the BJP at the party office here today, she pledged to work for women and children rights.

Punjabi singer Miss Pooja receives a membership certificate from state BJP chief Kamal Sharma (right) and other BJP leaders in Chandigarh on Monday. Tribune photo: S Chandan

Mahila Cong pays homage to Nirbhaya
Moga, December 16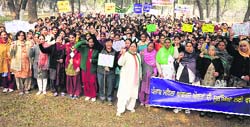 The Punjab Mahila Congress organised a rally to commemorate the first death anniversary of Nirbhaya, a medical student who was gang-raped in a moving bus in Delhi and later died, here on Monday.



Members of the Punjab Mahila Congress during a rally in Moga on Monday. Tribune photo

CM: Modi will be good for Punjab
Kot-ise-Khan, December 16
Chief Minister Parkash Singh Badal today claimed there was an anti-Congress sentiment across the country. He said the people were looking to a change in government at the Centre for relief from inflation and corruption.


Student refuses bicycle under Mai Bhago Scheme
Fatehgarh Sahib, December 16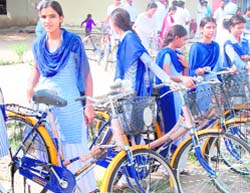 A Class XII student today refused to accept a bicycle given to her under Mai Bhago Scheme at a function at Government Senior Secondary School, Randhawa. As the school authorities announced the name of Ramandeep Kaur, a Class XII student and resident of Phatak Majri village, she refused to accept the bicycle, alleging that disrespect had been shown to Mai Bhago.

Ramandeep Kaur refused to accept the bicycle alleging disrespect to Mai Bhago as the photo and name had been inscribed on the chain cover
SGPC to present motorcycles to 2 kabaddi players
Fatehgarh Sahib/Amritsar, December 16
In view of their excellent performance in the recently concluded World Kabaddi Cup, the SGPC has decided to felicitate Indian players Gurmeet Singh Mandian and Gurpreet Singh Manki.
Honour for '71 India-Pak war heroes, their families
Fazilka, December 16
War heroes and their families were honoured on Vijay Diwas to commemorate India's victory over Pakistan in the 1971 war, at Asafwala village in the district today.
Mandi Board gives in, not to impose tax yet
Faridkot, December 16
On the directions of the state government, the Punjab Mandi Board today decided to keep in abeyance its order of imposing 2 per cent Rural Development Fund (RDF) and 2 per cent market fee on 117 agricultural products, including many varieties of vegetables and fruits.
Students block road over teacher's transfer
Sangrur, December 16
Students of Government High School, Khetla village (near Dirba), today blocked the NH-71 for about an hour in protest against the transfer of a Punjabi teacher.
Scuffle at Mahilpur Khalsa college turns ugly
Hoshiarpur, December 16
There was a scuffle between supporters of the principal and managing committee of Guru Gobind Singh Khalsa College, Mahilpur, this morning. The police had to intervene to control the situation.
Singer Gurdas Mann backs Khalsa's demand
Mohali, December 16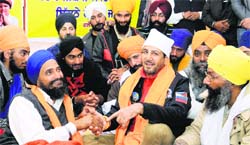 Popular singer Gurdas Mann today met Sikh leader Gurbaksh Singh Khalsa, who is on an indefinite fast at the local Gurdwara Amb Sahib. He expressed support for the demand for freeing Sikh youths languishing in various jails of the country even on completion of their sentence.
Singer Gurdas Mann with fasting leader Gurbaksh Singh Khalsa at Gurdwara Amb Sahib in Mohali on Monday. Tribune photo: Vicky Gharu
Ex-servicemen seek exemption from property tax
Chandigarh, December 16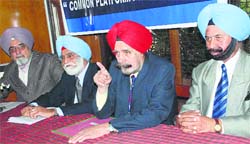 Ex-servicemen have urged the state government to exempt serving and retired Army personnel from paying property tax, keeping in view their tough service conditions and as a token of recognition of their services.


Members of the All-India Defence Brotherhood at a press conference in Chandigarh on Monday. Tribune photo: Manoj Mahajan
special to the tribune
Abused, Jalandhar-born soldier in UK entitled to apply for relief
A Jalandhar-born soldier forced out of the British army is entitled to apply for compensation following allegations that he was the victim of racist bullying that prompted two suicide attempts and turned him into an alcoholic.
PM to release stamp in Beant's memory today
New Delhi, December 16
Prime Minister Manmohan Singh will release a stamp in memory of slain Congress stalwart Beant Singh at his Race Course residence tomorrow. Beant Singh is credited with rooting out terrorism in Punjab and re-establishing the rule of the law in the strife- torn state in the 1990s. Beant Singh was assassinated in Chandigarh on August 31, 1995, bringing to end an illustrious public career which began when he was elected sarpanch of his village.
Leopard captured
Nangal, December 16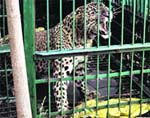 A leopard was captured by Wildlife Department officials at the NFL factory here today. It was first spotted in the area about two weeks ago, following which two cages were placed in the factory.



The leopard captured at a factory in Nangal on Monday. A Tribune photograph
Mishap in Abohar due to fog, 5 hurt
Abohar, December 16
Thick fog resulted in a collision of four vehicles near Nihalkhera village, 10 km from here, on the Abohar-Fazilka National Highway-10 today, injuring five people.


HC nod to recruit 5,078 rural associate teachers
Chandigarh, December 16
The Punjab and Haryana High Court today made it clear that the selection process for recruitment of 5,078 rural associate teachers by the Punjab Education Recruitment Board shall continue, but appointment letters will not be issued to the selected candidates till next date of hearing.
Man jailed for beheading 10-yr-old boy
Hoshiarpur, December 16
The court of District and Sessions Judge here today sentenced life imprisonment to a villager for beheading a 10-year-old boy. A fine of Rs 50,000 was slapped on Balvinder Singh alias Binda.
Shruti case: HC admits plea of victim's father
Chandigarh, December 16
About six months after 13 accused in two cases related to Shruti Sachdeva's abduction were acquitted, her father Ashwani Kumar Sachdeva's appeals were today admitted by the Punjab and Haryana High Court.
HC wants code of conduct for fingerprint experts
Chandigarh, December 16
In a first, the Punjab and Haryana High Court has asked Punjab, Haryana and Chandigarh to prepare a list of fulltime fingerprint and handwriting experts before registering them and framing a code of conduct.
US court asks Sonia Gandhi to respond by Jan 2
New York, December 16
A US federal court has given Congress President Sonia Gandhi till January 2 to respond to a Sikh body's charges of protecting and shielding party leaders allegedly involved in the November 1984 anti-Sikh violence.
Man gets life term for murder
Patiala, December 16
The court of Patiala Sessions Judge RS Attri has awarded imprisonment for life to Sarabjit Singh of Gajju Khera village, Banur, for murdering a man while on parole.


Boy killed as SUV hits school bus near Phagwara
Phagwara, December 16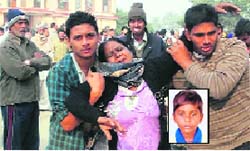 A schoolboy, Harish Kumar (12) of Jagatpur Jattan village, was killed and 21 students belonging to Bhanoki, Uchapind and Jagatpur Jattan villages were injured when their school bus (PB-08AK-4441) was hit by a speeding SUV (Tata Safari, PB-08-3752) in front of Sahibzada Ajit Singh Public School in Sarhali village on the Phagwara-Nakodar road at 8.20 am this morning.
Grieving mother of the deceased (inset) boy. a Tribune photo
3 Markfed officials booked
Faridkot, December 16
For misappropriating wheat worth over Rs 4.85 crore from a Markfed godown in Kotkapura town of Faridkot, the police booked three Markfed officials today.
ASI held for molestation
Ropar, December 16
An Assistant Sub Inspector (ASI) was arrested on the charge of molesting a girl in a Jalandhar-bound bus here today.
Mishap in Abohar due to fog, 5 hurt
Abohar, December 16
Thick fog resulted in a collision of four vehicles near Nihalkhera village, 10 km from here, on the Abohar-Fazilka National Highway-10 today, injuring five people. A Punjab Roadways bus rammed into a tractor-trolley laden with sugarcane and it then hit two cars. The injured have been admitted to Civil Hospital here. They said visibility was reduced due to thick fog. — OC