Vigilance ADGP in contempt soup
Chandigarh, December 16
The Haryana Additional Director-General of Police (Vigilance) is in contempt soup. Justice Jitendra Chauhan of the Punjab and Haryana High Court today issued him notice to show cause why contempt proceedings be not initiated against him in a case of shamlat land sale where the police failed to arrest the accused revenue officers though they were attending office.
Changes in anti-rape law hasty: Law officer to HC
Chandigarh, December 16
The laws pertaining to the investigation of rape cases have been enacted in haste, a Haryana law officer told the Punjab and Haryana High Court during the hearing of a public interest litigation (PIL) today.
INLD not in touch with BJP for tie-up
Jind, December 16
The Indian National Lok Dal (INLD) is not in touch with the Bharatiya Janata Party (BJP) for an alliance ahead of the general election, but is confident that the tie-up of the BJP with the Haryana Janhit Congress (HJC) will not last long.
Youth dies after donating blood to mother
Rohtak, December 16
A 25-year-old man died barely a few hours after donating blood to his ailing mother, undergoing treatment at the local PGIMS. The PGIMS authorities have asked the medical officials concerned to ascertain the cause of death.
6 die in road mishaps
Karnal, December 16
Over 10 persons received minor injuries when several vehicles collided at Kohand flyover in Gharonda due to thick fog this morning. The collision involved three roadways buses, seven cars, two trucks and dumper. In three other road accidents in this district today, four persons, including a woman, were killed. Kiran of Gharonda was hit by a vehicle while she was crossing the road near Kohand this morning. She succumbed to her injuries on the way. A case has been registered.
People protest youth's death
Yamunanagar, December 16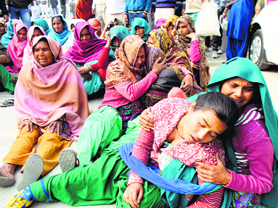 Members of the Valmiki community at Alahar village staged a demonstration at the Mini-Secretariat and handed over a memorandum for the Governor to Deputy Commissioner Mandeep Singh Barar here today. They were demanding that the case of investigation into the alleged murder of 18-year-old Rajat, alias Monti, should be handed over to the CBI and stringent action should be taken against culprits.
People of the Valmiki community stage a protest in Yamunanagar on Monday. A Tribune photograph

HJC demands adequate land compensation
Kaithal, December 16
The Haryana Janhit Congress (HJC) party has demanded adequate compensation for the land acquired for four-laning of NH 65 and construction of bypasses at a number of places passing through three districts. In a statement issued here today, Rao Surender Singh, state president of HJC Kisan Cell, has said keeping in view the high price of land, the NHAI and the government should pay Rs 1 to Rs 2.50 crore per acre to the farmers whose land is being acquired.
Panchayat bypoll dates announced
Chandigarh, December 16
The State Election Commission, Haryana, has announced schedule for conducting the panchayat byelections to fill up the vacancies of 214 panchs, 25 sarpanchs of gram panchayats, nine members of the panchayat samitis and two zila parishads.
Coop mills produce over 20,000 quintals of sugar
Chandigarh, December 16
Cooperative sugar mills in Haryana have so far produced over 20,050 quintals of sugar by crushing 2,27,450 quintals of sugarcane this crushing season. A spokesman of the Haryana State Federation of Cooperative Sugar Mills said that 22,400 quintals had been crushed by Cooperative Sugar Mill, Karnal, and 17000 quintals by Panipat Sugar Mill. These sugar mills had produced 1,900 quintals and 1,525 quintals of sugar, respectively.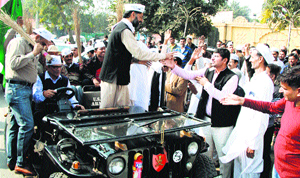 Over 500 attend AAP volunteer meet
Gurgaon, December 16
In an encouraging start to the electoral plans of the Aam Aadmi Party (AAP) in the state, over 500 members of various sections of society attended the volunteer meet of the party here yesterday.
AAP leader adresses a public meeting in Gurgaon on Sunday. Tribune Photo: Sayeed Ahmed

Rs 700 cr for 4-laning of Kaithal-Ambala highway: Surjewala
Chandigarh, December 16
Public Works (Buildings and Roads) Minister Randeep Singh Surjewala has said the Kaithal-Ambala National Highway would be four-laned at a cost of Rs 728 crore. He said separate bypasses would be constructed for the towns of Kaithal, Pehowa and Ismailabad, which were situated between Kaithal and Ambala. Surjewala said the 90-km-long national highway would especially benefit three districts of Ambala, Kurukshetra and Kaithal.
Students protest rising crime against women
Karnal, December 16
Protesting against the insensitivity of cops in dealing with rape cases, leading to a spurt in cases of crime against women, school students carrying posters and banners shouted anti-administration slogans and reached the IG office, here today. The students rued that women were neither safe at home nor outside. At home she was victimised for dowry, domestic violence, which was the story of every second house, and outside molestation, sexual assault and eve-teasing had become the order of the day, they said. In a letter addressed to IG, Karnal Range, Balbir Singh, the students demanded empowerment and justice for women and death for the Delhi gang rape convicts at the earliest. — TNS
Man beaten to death, ex-DSP's son arrested
Gurgaon, December 16
A former DSP's son was arrested today on the charge of beating up a local property dealer to death. Ashwini Sharma of Ashok Vihar and his neighbour Manish were on their way back home last night. Ashwini stopped on the way to get medicine from a chemist when Ankit reportedly came on a motorcycle and attacked Ashwini. Ankit allegedly bashed up Ashwini till he fell unconscious. Ashwini was rushed to a private hospital, where he was declared brought dead. The police registered a case against Ankit and arrested him today. Son of a former DSP, Ankit runs a pest control unit at Sukhrali village at present. He reportedly confessed to a spat with Ashwini two days ago over a plot. — TNS
LeT man surrenders
Gurgaon, December 16
Alleged to be the mastermind of Lashkar-e-Toiba (LeT) operations in Mewat, Rashid surrendered in a local court today. While surrendering, he asserted that he was innocent and was being framed. He claimed that he had panicked when the police came hunting for him to his village and fled. He added that he was surrendering to support investigations so that he could be proved innocent. The Delhi Police had arrested Imam Mohammad Shahid (32) of Chhoti Mewli in Nuh district of Mewat a few days ago for his alleged links with the LeT. The police had claimed that Shahid was a part of the Delhi blasts conspiracy and had named Rashid as the mastermind of LeT operations. — TNS
Over 100 attend physiotherapy camp
Rohtak, December 16
The Senior Citizens Club organised a physiotherapy awareness camp on the club premises at Mansarovar Park here yesterday. More than 100 elderly persons attended the camp. SC Dhawan, club president,VK Papneja, general secretary, said leading consultant physiotherapist Dr Rajni Malik explained various aspects of physiotherapeutic treatment. Dr Malik underlined the significance and relevance of physiotherapy in ailments like cervical spondylosis, rheumatoid arthritis, osteoarthritis, slipped-disc, post-traumatic stiffness, backache, paralysis, frozen shoulder, sciatica and other orthopaedic problems. — TNS
5 NRIs booked in dowry case
Sonepat, December 16
A case of dowry has been registered against an NRI family at the Rai police station. The family is settled in New Zealand. Ayushi, daughter of Dr Anand Sharma, in her complaint to the police, said she was married to Praful Raj of Delhi in 2012. After the marriage, her in-laws shifted to New Zealand. She alleged that after the marriage, her in-laws started demanding money and other articles as dowry. They were now demanding Rs 20 lakh, she said. ASI Devender Singh said a case had been registered against her husband Praful Raj, father-in-law Kuldeep Raj, mother-in-law Kamlesh, brother-in-law Wajid and his wife Jasbir Kaur. — OC
Seven women injured as bus overturns
Ambala, December 16
Seven women employees of a cotton factory of Lalru, Punjab, were injured when the mini bus in which they were travelling in overturned near Ismailpur village, close to the Haryana-Punjab border, due to dense fog this morning. Mamta, Jaswinder Kaur, Baby, Raj Rani, Parmajeet Kaur, Nayna and Poonam Rani were admitted to the City Civil Hospital. — OC
Randeep Surjewala unveils statue of Lala Lajpat Rai
Kaithal, December 16
State PWD and Industries Minister Randeep Singh Surjewala unveiled a statute of Lala Lajpat Rai on the Model Jind road and opened the Lala Lajpat Rai Park to public here last evening. Addressing a public meeting, he said Rs 75 lakh had been spent on the construction of the park spread over two acres. Saplings of 30 varieties had been planted in the park. He announced a grant of Rs 41 lakh for the construction of Aggarsain Dharamshala, Rs 30 lakh for the construction of another park, Rs 1 crore for roads, Rs 1.05 crore for parking place at a shopping centre and Rs 1 crore for the construction of a nullah along the Jind road. — OC
Additional charge
Chandigarh, December 16
The Haryana Government has given additional charge to two HCS officers with immediate effect. Devinder Kaushik, Managing Director, Cooperative Sugar Mills, Shahabad, has been given the additional charge of Chief Executive Officer, Kurukshetra Development Board, Kurukshetra, during the leave period of Satbir Singh Kundu. Virat, Joint Director (Administration), Information, Public Relations and Cultural Affairs, has been given the additional charge of Deputy Secretary, Information, Public Relations and Cultural Affairs Department, in place of Varsha Khangwal. — TNS
Body found in well
Karnal, December 16
A body of a youth bearing injury marks on the neck was found in the Forest Department's well in Gharonda here today. The police took the body in custody and lodged an FIR against unknown persons. — TNS