university project
Amity officials visit Patiala to identify land
Patiala, December 13
Three-days after the government organised the first-ever Progressive Punjab Investors Summit to hard-sell state as an attractive investment destination, a leading institute in the education sector started looking for land in parts of the state for an upcoming university.
Badal village all set to host lunch
Badal (Muktsar), December 13
Chief Minister Parkash Singh Badal's native village Badal is being decked up for the scheduled visit of Pakistan Punjab Chief Minister Shahbaz Sharif and his family members on Sunday.
Veg buffet on platter for Pak Punjab CM in Mohali
Mohali, December 13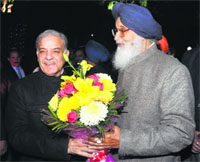 The state government led by Chief Minister Parkash Singh Badal and Deputy Chief Minister Sukhbir Singh Badal played perfect host at a dinner hosted for Pakistan's Punjab Chief Minister Muhammad Shahbaz Sharif at Nature Park here. Amid tight security, the cavalcade of the visiting dignitary, who was accompanied by his wife, son and daughter-in-law, arrived at the venue at 9.30 pm.
Chief Minister Parkash Singh Badal greets his Pakistan Punjab counterpart Shahbaz Sharif (left) in Mohali on Friday. A Tribune photo

State Olympic body yet to recognise kabaddi
Ludhiana, December 13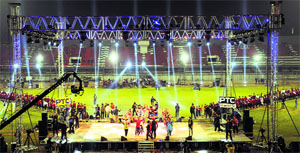 Even as the fourth edition of World Kabaddi Cup is drawing to a grand finale here, the rural sport - touted as the "mother game" of the state - is yet to enjoy the status of a sport in the state.
The Guru Nanak Stadium in Ludhiana is all set to host the Kabaddi World Cup final scheduled for Saturday. Tribune photo: Himanshu Mahajan

Reprieve for Tarn Taran farmers booked for ASI's death
Chandigarh, December 13
The Punjab Government has decided to withdraw the charge of attempt to murder registered against Bharatiya Kisan Union (BKU) activists after the death of an Assistant Sub-Inspector (ASI) Kulbir Singh at Jeobala in Tarn Taran. But, the government will initiate action against them for other offences.
Burnt alive, boy's kin allege police inaction
Sangrur, December 13
After viewing a video clip showing their son being burnt alive in broad daylight, the parents of the 13-year-old Malerkotla boy have alleged police inaction in the case. Killed on September 30, Vidhu Jain's video was uploaded on social networking site Facebook by unidentified persons.
Traders to protest state tax policy at Modi's rally
Jalandhar, December 13
Several industrialists and traders from the state have decided to hold a protest march against the alleged anti-trade policies adopted by the SAD-BJP government on December 21.
Convict contracts HIV in jail, moves SC for relief
New Delhi, December 13
A murder convict serving life imprisonment today moved the Supreme Court for his release and compensation of Rs 75 lakh for having contracted HIV and another infection allegedly during his stay in jail.
42% water samples found with high uranium content
Muktsar, December 13
Surveys conducted in the Malwa belt by the Bhabha Atomic Research Centre (BARC), Mumbai, in collaboration with Guru Nanak Dev University (GNDU), Amritsar, since 2009 have revealed a high percentage of uranium content in groundwater, ranging between 0.2 and 684.3 parts per billion (ppb) against the permissible 60 ppb. About 42 per cent water samples collected from Ferozepur, Faridkot, Moga, Bathinda, Mansa and Muktsar districts have been found with uranium content above the permissible limit.
Ranveer to make grand entry at finale
Ludhiana, December 13
At the closing ceremony of the IV World Kabaddi Cup at Guru Nanak Stadium here, Bollywood actor Ranveer Singh is slated to make an entry in a decked-up rickshaw with a bike attached to it, just like the actor was seen in his debut movie "Band Baaja Baaraat". He will take a round of the ground on the motorbike.
Activists challenge dismissal of case against Badal in US
Chicago, December 13
A US-based Sikh rights group has challenged the order of a US court dismissing a human rights violation case against Punjab Chief Minister Parkash Singh Badal and for failing to serve federal court summons on him.
Indian-origin man jailed for abandoning child
Melbourne, December 13
A 31-year-old Indian-origin man was today jailed for a year in New Zealand for abandoning an 11-month-old child next to a highway after stealing a car.
Pak delegation explores trade prospects in India
Amritsar, December 13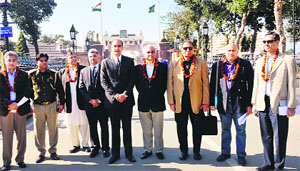 A 10-member delegation of Pakistani traders and bureaucrats today crossed over to India via the Attari-Wagah border to join the visiting Pakistani Punjab Chief Minister Shahbaz Sharif. The visit is aimed at boosting trade ties between Indian and Pakistani Punjab. Talking to the mediapersons at the Attari border, Irfan Illahi, chairman, Planning and Development Board, Government of Punjab, Pakistan, said the delegation was here to discuss and explore trade opportunities of mutual interest
A delegation of Pakistani traders in Amritsar on Friday. A Tribune photograph

Enrolment for health insurance scheme to begin next month
Ropar, December 13
The enrolment for the Bhagat Puran Singh Sehat Bima Yojna (BPSSBY) benefiting 37,608 families in the district will start next month. Under the new scheme, every blue card-holder family will be given a smart card at an annual fee of Rs 30 for availing indoor treatment facility up to Rs 30,000 per annum from the calendar year 2014, said Ropar Deputy Commissioner (DC) PK Agrawal here today.
SAD again defers CM's felicitation function in Sangrur
Sangrur, December 13
The SAD's Sangrur unit has deferred 'Samman Samaroh' scheduled for December 15 in view of Pakistan's Punjab province Chief Minister Shahbaz Sharif's visit to the state.
Cancer-hit to get cashless treatment in pvt hospitals
Bathinda, December 13

Under the Chief Minister's Cancer Relief Fund, cancer treatment in Punjab will become cashless in all private empanelled hospitals to check fleecing of patients, Vinni Mahajan, Principal Secretary, Health and Family Welfare Department, has said. "The cashless facility has been introduced in the government hospitals," Mahajan said.
Punjab Health and Family Welfare Department Principal Secretary Vinni Mahajan talking to the media in Bathinda on Friday. Tribune photo: Pawan Sharma

Two students killed in accidents
Abohar, December 13
Two students were killed and as many injured when their car overturned near Morjand Khari village in the district today. The victims have identified as Sunil Swami and Priyanka Tiwari of Sriganganagar district in Rajasthan. Their friend, Mohit Kapur, who was at the wheel, lost control of the car when he tried to avert hitting an electricity pole.
Deal inked, Abohar agro plant to start operations soon
Abohar, December 13
Lying unused for a year, an agro-processing plant here will get a new lease of life soon. A private company, Hindustan Unilever, has inked a deal with the agro plant, situated near Alamgarh village on the Abohar-Sriganganagar National Highway-15, to process 25,000 quintals of kinnow.
Moonak labourers lift dharna
Sangrur, December 13
Punjab Khet Mazdoor Union activists lifted their dharna outside the Tehsil Complex at Moonak today when official accepted that mutation of their plots would be entered in their favour in revenue records.
Sharif to lay stone of Rs 3 cr projects at Jatti Umra
Amritsar, December 13
R. Venkataratnam, Jalandhar Division Commissioner, today visited Jatti Umra, the ancestral village of Pakistani Punjab CM Shahbaz Sharif in Tarn Taran, to take stock of the preparations for his visit on December 15.
Power-starved state planning to illuminate lahore: Tewari
Ludhiana, December 13
Union Information and Broadcasting Minister Manish Tewari today questioned the Punjab Government's move to sell power to Pakistan when the state was still "massively power-deficit".
Maluka visits Nawanshahr schools
Nawanshahr, December 13
Punjab Education Minister Sikander Singh Maluka today paid surprise visits of government schools at Jethumazara and Langroya villages in the district.
62-yr-old gets 7-yr jail for rape
Ropar, December 13
District and Sessions Judge Amarjot Bhatti sentenced a 62-year-old Nangal resident to seven years of imprisonment for raping a woman of his village, here today. The accused has been identified as Sarwan Singh of Kalitran village.
High Court stays CBI probe into VAT refunds
Chandigarh, December 13
Less than a month after the Punjab and Haryana High Court ordered a probe by the CBI into VAT refunds, a Division Bench today stayed the operation of the orders.
Notice to state on security to Moga man
Chandigarh, December 13
The Punjab and Haryana High Court today put on notice the state of Punjab on a petition filed by Moga district resident Jagdeep Gill seeking security cover by a central agency instead of the Punjab Police. He was apprehending threat from close relatives of Balwant Singh Rajoana, who were allegedly occupying gurdwara land in Rajoana Kalan village in Ludhiana district.
Granthi attacked with sword, arm chopped off
Bathinda, December 13
Nachhattar Singh, a granthi at Gurdwara Sahib in Guru Ki Nagri, was attacked by a man in an inebriated condition at the shrine today morning. The alleged accused, Hari Singh Kotfatta, attacked the granthi with a sword and chopped off his arm when he was reciting gurbani.