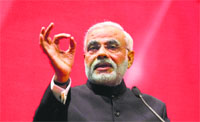 Modi's Jagraon rally postponed
Moga\Ludhiana, Dec 17
The ruling SAD-BJP coalition has postponed the public rally, which was to be addressed by the BJP's PM candidate Narendra Modi at Jagraon on December 21. Shanta Kumar, senior BJP leader and in charge of the party's political affairs, said the rally had been postponed due to the prevailing fog and bad weather conditions.
Govt under fire over recruitment test lapse
Chandigarh, December 17
The Punjab Government does not trust its own institutions, at least so appears from its decision to "outsource" the recruitment of food inspectors to Panjab University (PU).
Rahul immature to lead nation: Badal
Baje Ke (Moga), December 17
Chief Minister Parkash Singh Badal has said that Congress would meet its Waterloo in the forthcoming Lok Sabha elections.
Kapurthala Science City bags green award
Chandigarh, December 17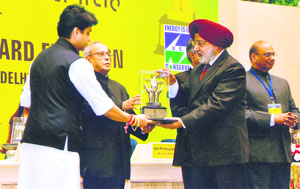 Pushpa Gujral Science City, Kapurthala, has been awarded the second prize (general category) in the national energy conservation awards. On behalf of the Science City, the award was received by Director-General Dr RS Khandpur from President Pranab Mukherjee during a function held at Vigyan Bhawan, New Delhi, yesterday, an official press release said. Union Minister of Power Jyotiraditya M. Scindia was also present.
Dr RS Khandpur (right), Director-General, Science City, receives the award from President Pranab Mukherjee and Power Minister Jyotiraditya Scindia in New Delhi. Tribune photo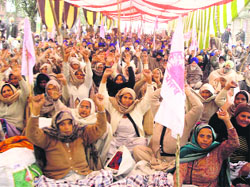 Protesting farmers detain DC, SSP
Tarn Taran, December 17
The situation at the Deputy Commissioner's Office here took an ugly turn today when agitating farmers gheraoed the premises in the afternoon, virtually detaining inside Deputy Commissioner Balwinder Singh Dhaliwal, Senior Superintendent of Police Raj Jit Singh Hundal and other officials.
The protesters in Tarn Taran on Tuesday. Tribune photo

Sikhs rally for release of detainees
Amritsar, December 17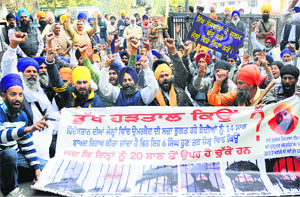 Radical Sikh outfits today took out a protest march in support of Gurbaksh Singh and sought the immediate release of six Sikh detainees whose cases have been highlighted by him. Activists of Dal Khalsa, SAD (Panch Pardani), Sikh Youth of Punjab and other like-minded groups participated in the march, following which they submitted a memorandum to Deputy Commissioner Ravi Bhagat.
Gurbaksh Khalsa's supporters protest outside the Deputy Commissioner's office in Mohali on Tuesday. Tribune photo: Vicky Gharu

Surprise check finds health officials absent
Bassi Pathana, December 17
Fatehgarh Sahib zila parishad chairman Baljit Singh Bhutta said stern action would be taken against doctors and paramedical staff found absent during duty time at health centres and veterinary hospital.
Fly ash emitted from thermal plants like slow poison: Bhabha experts
Patiala, December 17
Experts from Homi Bhabha National Institute and Bhabha Atomic Research Centre, Mumbai, today advocated setting up of nuclear power plants over thermal power plants. They expressed concern over health hazards from fly ash emitted by thermal plants.
Elementary teachers' stir enters second day
Barnala, December 17
Members of the Unemployed EGS (ETT) Teachers' Union, Punjab, refused to climb down the overhead water works at Cheema village, about 12 km from here, for the second day today.
Govt misleading on atta-dal: Bhattal
Jalandhar, December 17
Former Chief Minister Rajinder Kaur Bhattal today flayed SAD-BJP government for dishing out "false promises" to the people and termed the new atta-dal scheme as a "sham".
Police rule out foul play in attack on RTI activist
Fazilka, December 17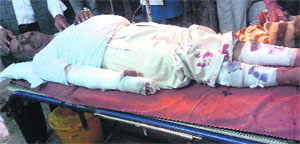 Police have ruled out the involvement of former Municipal Council (MC) president Anil Kumar Sethi and Bharatiya Janata Party (BJP) activist Rakesh Sehgal in the attack on RTI activist Amar Nath Chetiwal.
RTI activist Amar Nath Chetiwal in a hospital in Fazilka on Tuesday. Tribune photo

Man accused of beheading child ends life
Faridkot, December 17
Police today recovered a body of an accused, who was absconding after beheading a seven-year-old child on December 9 in front of Government Primary School at Phidde Kalan village in the district.
Left parties protest over property tax
Sangrur, December 17
Members of the Communist Party of India-Marxist (CPM) and the Communist Party of India (CPI) today took out a rally march through the city in protest against the imposition of property tax in Punjab.
HC: Check illegal liquor vends along highways
Chandigarh, December 17
The Punjab and Haryana High Court today directed the National Highway Authority of India (NHAI) and the excise authorities of Punjab and Haryana to carryout a joint survey for applying brakes to the menace of illegal liquor vends along the national highways.
State told to buy equipment to test contraband
Chandigarh, December 17
As hundreds of samples of seized contraband have been awaiting chemical examination in Punjab, the Punjab and Haryana High Court has directed the state Chief Secretary to constitute a committee for purchasing "latest equipment".
2 women jailed for Sikh's murder in New Zealand
Melbourne, December 17 Two women in New Zealand have been sentenced to eight years and eight months of imprisonment each for slaughtering a 22-year-old Sikh man after luring him to a beach on the pretext of having physical relations.
HC quashes FIR against principal
Chandigarh, December 17
Nearly three years after a school principal in Gurdaspur district and her husband were accused of pressuring the staff to allow cheating during a Class XII examination, the Punjab and Haryana High Court has quashed an FIR registered against them.
161 convicts have completed life term in state, court told
Chandigarh, December 17
No less than 161 convicts in Punjab jails, and 76 convicts in Haryana jails, have completed 14 years of imprisonment. Information in this regard was furnished to the Punjab and Haryana High Court nearly a month after the details were sought.
French national among three held guilty in illegal arms case
Amritsar, December 17
A local court today pronounced French national Pal Singh and two others guilty of possessing arms and explosive material RDX in a two-year-old case. Additional Sessions-cum-Special Judge Navjot Kaur Sohal while holding the three men guilty of the crime stated that the quantum of punishment would be announced on December 19.
Day after boy's death, SUV driver arrested
Phagwara, December 17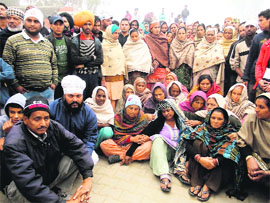 The police today arrested the driver of the SUV (Tata Safari) that had allegedly hit a school bus here yesterday, leaving a 12-year-old boy, Harish Kumar, dead. Sanbir Singh of Sarhali too had sustained injuries and was admitted to a local hospital. The incident had left 21 students injured.


The deceased's family and other supporters hold a protest on the Phagwara-Nakodar road near Sarhali. A Tribune photograph

Narayan Sai taken back to Gujarat
Ludhiana, December 17
Controversial god-man Asaram Bapu's son Narayan Sai was taken back to Surat by the Gujrat police last night. Sai was reportedly questioned at Sahnewal police station late till last evening about the missing I-pad and five mobile phones.
Proclaimed offender nabbed with Rs 20-cr heroin
Batala, December 17
The police today nabbed a proclaimed offender along with four packets of heroin, weighing a kg each and bearing Urdu language stamps, estimated to be around Rs 20 crore in the international market.
Body recovered in Australia that of Phagwara woman
Phagwara, December 17
The Australia Police have identified the body recovered from a river there to be that of a Phagwara resident, Natasha Narang (30), who had gone missing on October 4.
Two booked for abetting nephew's suicide
Fazilka, December 17
Police today booked two people on a charge of abetting the suicide of their nephew over water dispute.