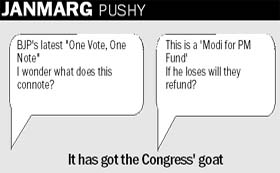 Police seek second opinion
Panchkula, December 25
The Panchkula police have sent samples collected from the spot in the Jyoti murder case to Central Forensic Scientific Laboratory (CFSL) Chandigarh. The police are surprised how the report of hair samples, seat covers of the car and burnt tyres of the truck used in the crime sent to the CFSL, Madhuban, went in favour of Doon MLA Ram Kumar Chaudhary, the main accused in the case.
Man held for wearing police uniform
Chandigarh, December 25
The police today arrested a vegetable vendor for getting his picture clicked in police uniform. The accused was arrested for wearing uniform used by a public servant with fraudulent intent.
563 wrong parking challans in 3 years
Chandigarh, December 25
The Chandigarh Traffic Police are under the scanner for issuing wrong parking challans. The police have filed a total of 563 such sticker challans in the past three in which the addresses of the violators are wrong.


| | |
| --- | --- |
| Celebrations by the lake: As the Sun shone, residents made most of the pleasant weather on Christmas at Sukhna Lake on Wednesday. Tribune photo: Manoj Mahajan | Talent unlimited: Children wait for their turn to take part in the Dance India Dance auditions at Manav Mangal Smart School, Phase X, Mohali, on Wednesday. Tribune photo: Parvesh Chauhan |

Year ender 2013
A mixed bag for Mohali this year
Mohali, December 25
With holding two-day Punjab Progressive Investors Summit, in which top industrial and business houses across the country and abroad had promised to invest Rs 65,000 crore in the state in near future, and hosting dinner to Pakistan's second most influential political figure Shahbaz Sharif at the Nature Park, the town came in the limelight in the last month of this year.


Repair work of Kajauli waterworks pipeline under way near Gharun village. File photographs

A family in a jubilant mood during its first ride on the Chandigarh-Amritsar Superfast Intercity on its inaugural run from the Chandigarh railway station.

John H Lin, vice-chairman, CTCI Corporation, Taiwan, exchanges documents with Sukhbir Singh Badal, Deputy CM, Punjab, during the Investors Summit in Mohali.
Psychiatry problem
Home-based treatment brings hope for families
Chandigarh, December 25
Parents of 46-year-old Payal (name changed), a psychiatry patient, gave up all hopes of her improvement and went on to the extent of calling the police when her hallucination took its toll and she began to hit everyone in the family with household articles.


BJP to consider abolishing income, sales tax: Gadkari
Chandigarh, December 25
Former BJP president Nitin Gadkari, who is in-charge of preparing the party's vision document "India Vision 2025", said the party was considering on a proposal to abolish levying of income tax, sales tax and excise duty.

Former BJP national president Nitin Gadkari, along with former MP Satya Pal Jain, city BJP president Sanjay Tandon, Punjab Minister Madan Mohan Mittal and former Union Minister Harmohan Dhawan in Sector 30, Chandigarh. Tribune photo: Manoj Mahajan
Bansal submits complaint to IGP
Chandigarh, December 25
Local Member of Parliament (MP) Pawan Kumar Bansal today submitted a complaint to the UT Inspector General of Police (IGP) to inquire about an abnormal increase of around 12,000 likes on his Facebook page within 24 hours. UT IG RP Upadhyaya said the enquiry had been marked to the cyber cell.


mayor's report card
Nervous end to a tense tenure
Chandigarh, December 25
Mayor Subhash Chawla witnessed several ups and downs during his tenure. The Opposition kept targeting him in every monthly house meeting. Even his own party councillors showed him their back.
The Opposition kept targeting Mayor Subhash Chawla during General House meetings. A file photo
How long will the popularity of AAP last?
Open manholes a threat
Panchkula, December 25
Inviting instant death, 20-feet deep sewerage manholes are lying open on the main road in Panchkula. Most of them were seen wide open at the road separating Sectors 5 and 8, Sector 15, Sectors 9 and 10 and road separating Sector 16 and Sector 17, hence posing a major threat to lives of people.
Open manholes pose a threat to pedestrians at Sectors 5 and 16 in Panchkula. Tribune photos: S Chandan
201-ft long cake cynosure of all eyes
Chandigarh, December 25
A 201-feet long cake was cut amidst thousands of visitors as a part of Christmas celebrations during the Chandigarh Winter Carnival at Fair Ground in Sector 34 here today.
Too sweet to resist: Chandigarh breaks into celebrations as residents cut a 201-foot Christmas cake at Sector 34 on Wednesday. Tribune photo: Manoj Mahajan
Crime graph soars in city
Chandigarh, December 25
As the crime graph soared this year, the UT police claimed to have arrested a total of 88 persons involved in robberies. In a press release issued today, the police stated that from January 1, 2013, to December 15, 2013, around 127 persons involved in snatching were apprehended while 131 were nabbed for their involvement in burglary cases.
Counsellors for girls' hostel soon
Chandigarh, December 25
Panjab University is planning to hire professional counsellors, especially for the girls' hostels on the campus, soon. The proposal has been principally approved by the special committee constituted after the suicide case of a dental college student surfaced on December 2.


pending demands
150 teachers go on hunger strike
Chandigarh, December 25
Over 150 computer teachers and data entry operators went on a hunger strike at Masjid Ground in Sector 20 here today. The teachers, under the UT Cadre Educational Employee Union, demanded regularisation of the computer teachers, working under the PICTS society, in accordance of a letter put forward by the Punjab Government.
Computer teachers and data operators stage a protest opposite Jama Masjid in Sector 20, Chandigarh, on Wednesday. Tribune photo: Manoj Mahajan

Students showcase unity in diversity
Panchkula, December 25
The annual function of CL DAV Senior Public School Sector 11 was held today. Kumari Selja, Minister of Social Justice and Empowerment, was the chief-guest. The function was held at Indradhanush Auditorium, Sector 5, Panchkula.

Students present a dance on the annual day function of CL DAV School at Inderdhanush Auditorium, Sector 5, Panchkula. Tribune photo: Nitin Mittal



FROM SCHOOLS
Special morning assembly
Students of Jainendra Public School, Sector 1, Panchkula, held a special morning assembly on the occasion of Christmas. Primary sections wore festive look as all were dressed as Santa Claus. Students were apprised of the birth of Lord Jesus and its significance.
(Clockwise) Hues of celebrations: Students celebrate Christmas at AKSIPS School, Sector 41, Chandigarh, Shastri School and Shemrock School in Mohali on Wednesday. Tribune photographs