Generating power from paddy straw
Biomass power plants are the best solution to deal with the problem of paddy-straw burning. With multiple objectives of power generation, added income for farmers and employment generation in rural areas, the plants can stop the practice.
Bikram Singh Virk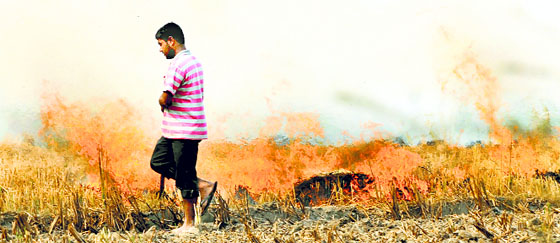 Despite a ban, the burning of paddy straw continues in Punjab. An acre of paddy yields around 2.5 tonnes of straw, which could translate into an income of around Rs 3,000 an acre to a farmer.
Burning wheat and paddy straw in fields after harvest is a perennial phenomenon in Punjab, leading to large-scale pollution. Despite prohibitory law and appeals from environmentalists, the practice continues unabated. In a hurry to prepare fields for the next crop, farmers see it as the easiest and cost-effective solution. However, paddy stubble, unlike that of wheat, is neither good fodder nor fuel. It is thick, has heavy moisture content and does not burn easily. The smoke covers the sky for weeks.
Biomass power plants in Punjab, which have started using paddy straw to generate power, are an effective solution to this problem. Though paddy straw is not a perfect fuel as biomass to be used singularly, it is mixed up to 30 per cent with other dry stuff and burnt in boilers. It has good burning properties, with a calorific value ranging between 2,700 and 2,800 against 3,500-3,700 found in cotton sticks, 'arhar' and 'sarson' residue, which are considered best for the purpose. With this amount of energy, 1.75 kg paddy straw is capable of producing one unit of electricity, which sells for Rs 6-7.
Biomass energy
The Malwa Power Plant at Gulabewala village in Muktsar district started this practice about four years ago. This year, it has purchased around 55,000 tonnes of paddy straw — covering nearly 20,000 acres — from nearby villages at a price of Rs 1,200 per tonne. As a result, no farmer in the area has burned paddy straw. An acre of paddy yields around 2.5 tonnes of straw, which translates into additional income of around Rs 3,000 an acre to a farmer.
The gathering of paddy straw from the field is a mechanical process, requiring three tractor-driven machines for cutting, lining, gathering and making bales. Farmers generally use reaper to further cut down standing stubble to make it combustible after it has been dried in the sun.
A tractor owner with a raking machine and baler gathers 25 to 30 tonnes of paddy straw worth Rs 25,000 to 30,000 from 10 to 12 acres of fields in a day and earns a net profit of Rs 3 to 4 lakh during the paddy season, which lasts for six weeks. To promote the use of paddy straw, the government is offering 50 per cent subsidy on baler and reaper. The venture is fairly profitable with a payback period of three to four years for farmers and even others who can invest and earn extra income from collecting and selling paddy straw.
Profitable venture
Punjab has six biomass power plants with an installed capacity of 52 MW. Another 11 with a combined capacity of 145 MW are under construction. With an area of nearly 28 lakh hectares under paddy, the state produces and burns nearly 175 lakh tonnes of paddy straw worth Rs 2,100 crore every year. If biomass plants are set up, the straw can generate 10 billion units of electricity worth Rs 6,000 crore every year and add 1,500 MW to the existing capacity in the state. Thus, a gain of nearly Rs 8,100 crore can accrue if straw is not burned.
Transporting and using paddy straw is possible in the radius of 20 to 25 km around power plants. Beyond that it becomes economically unviable due to higher transportation costs. The state needs to set up biomass power plants in clusters of 50 to 60 villages. The investment in the sector can be encouraged by offering lucrative power purchase agreements. Already the players in the biomass sector are from the private sector and they can be further encouraged to bring in investment in other parts of the state.
The other side
The biomass sector has its own woes. Post-clean development mechanism (CDM) regime, where carbon credits were given to non-polluting power producers and fetched extra income, the only source of revenue for this sector was proceeds from power sale. The state's power purchase agreement (PPA) with the biomass sector at Rs 3.49 per unit made them economically unprofitable and some of them were on the verge of closure.
After the introduction of a new policy in December 2012, the PPA rates were raised to Rs 5.31 per unit, making them viable, but a lot needs to be done to promote investment in the sector. This rate is far lower than Rs 8.5 per unit that is given to solar power producers.
Another factor in favour of such plants is the generation of large-scale indirect self-employment in rural areas. Apart from 100 direct employees, a 6 MW power plant 'indirectly' employs nearly 8,000 to 10,000 people who are engaged in collecting and transporting biomass from various sources to the plants. There is hardly any economic model of such a small size that is capable of generating large-scale employment for unskilled rural masses.
— The writer is Associate Professor, PG Department of Commerce, NJSA Government College, Kapurthala.