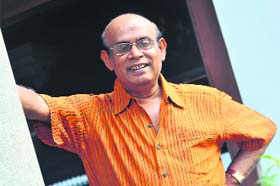 Candid to the point of being blunt, well-known poet and renowned filmmaker Buddhadeb Dasgupta doesn't look at the world with rose-tinted glasses. Yet, when he makes films, it's not hard-hitting reality that engages him. While his frames speak in the language of poetry and beauty, another discerning thread of his films is magic realism. In his 37-year-long career, international audiences and juries have lapped up his films. Closer home, his films like Bagh Bahadur, Charachar, Lal Darja, Mondo Meyer Upakhyan and Kaalpurush have won National Awards. Recently, his film Anwar Ka Ajab Kissa premiered at the London Film Festival. A retrospective of his films was held at the International Film Festival of India at Goa. Honours such as Lifetime achievement award at the Spain International Film Festival in Madrid and Golden Athena Award at the Athens International Film Festival sit lightly on his shoulders. The only feather he carries with pride is his ability to call the shots while making films he believes in. Excerpts:
What has been the urge to return to Hindi cinema, with which your affair has been tenuous?
Hindi is not a foreign language to me. I have made short films in Hindi as well. For my latest film Anwar Ka Ajab Kissa, I felt the subject was more suitable to Hindi.
Has Hindi cinema changed for the better?
With new stories, styles and genres, it is getting there but the process is slow and confined only to city-based themes.
Bengali cinema has produced many stalwarts. Is Bengal's cultural milieu conducive to cinema?
Not right now. It has been seized by mediocrity and there are no new names worth reckoning.
Were you influenced by Satyajit Ray?
Not at all. I admired him. However, we have different ways of looking at cinema. When I arrive on the sets I just have the script in hand and there is no premeditated plan in my mind. I let my instincts dictate the frame.
Your films are often called visual poetry on screen. Is that an offshoot of you being a poet?
Indeed. I am indebted to poetry, not just my own. Besides, I believe there is an image in music, paintings, and of course poetry anyway is replete with imagery.
Magic realism is the leitmotif of many of your films. Why?
Reality by itself is boring and predictable. Magic is important, not just in films, but in real life too. Where magic ends and reality begins or vice versa no one knows. The two are part of the same continuum.
Journey is an important part of your films. Are internal and external journeys one and the same?
I am not referring to the literal journey but to the one within. It's through journey alone that one discovers and confronts the real self.
What is your take on film festivals?
Film festivals are important. However, if someone thinks that festivals are the mecca of filmmaking process, he or she is living in a fool's paradise. At the end of the day a film is a film and has to be commercially viable. Besides, there is nothing like a festival film and there is no formula to it.
How would you compare Indian film festivals with those abroad?
I rate these highly, especially the International Film Festival of India at Goa and Trivandurum. These are on a par with international film festivals.
Do you really think audiences in other countries are interested in Indian cinema?
Yes, they are keen. For instance, my films are better accepted by foreign audiences and mainly sell abroad. Indian films do well if these talk about subjects foreign audiences relate to. If these are about specific subjects entrenched in our social system alien to their sensibilities, they are unlikely to accept it.
You once said Indian cinema has not become a brand. Aren't brands more open to manipulation and subject to market whims?
I didn't mean it as a commercial commodity. Unlike Japanese or Iranian cinema that has a stamp of quality, Indian cinema is known by a few filmmakers rather than quality. So we might be one of the most prolific filmmaking countries, but lag on qualitative standards.
You have often been disdainful of awards.
Awards are significant but the moment I start feeling elated, I would be finished.
You have been on the selection committee of various festivals. What do you look for in a film?
A good film is the one that lingers on, comes back to you in your moments of loneliness, haunts you. It's not easy to find such films. Often after declaring winners, I am nagged by doubts and regret — where are these kind of films?