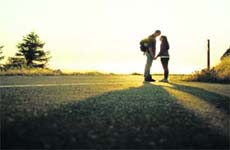 Love or lucre?
So now on if you want to marry your loved one, you must have your pockets full! At least in cases where the families are not supportive and the newly wed couple need to knock the court's door for protection. "A marriage should bring with it hope for financial stability, as only emotions are not sufficient for sustaining it," says a recent judgment by Punjab & Haryana High Court.


All in the moves
He's been constantly shuttling roles that stand as apart from each other as imagination can stretch; roles that pushed him from a gym straight into the kitchen and now over to the dance floor. Master Chef 3 winner Ripudaman Handa battled some with ease others with effort.

Shake a leg: Ripudaman Handa and Shivangi Verma Photo: Parvesh Chauhan

Dream destination
A young NRI boy's recurrent dream of a land he has not been to ever…finding the place, the visit, the outcome…this story was just waiting to be told! From finding the story to bringing it on to the screen, of course with some masala added, is the film Patiala Dreamz.

(L-R) Maninder Velli, Amritpal Singh Billa, Madalsa Sharma, Sarwar Ahuja and Sardar Sohi (L to R). Photo: Parvesh Chauhan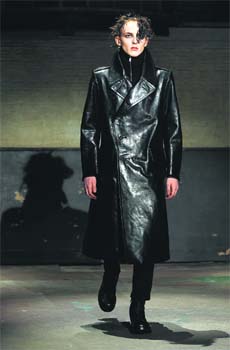 Man-nequin: A model presents a creation from the Alexander McQueen Autumn/Winter 2014 collection during London Collections: Men in London January 7. It is a three-day showcase of men's fashion scheduled a month before London Fashion Week in London. — Reuters
Sunny & starry
The last year's 'in-house celebration' was more of a hushed whisper and perhaps, intended to announce rather than arrive. A year later, The Lalit, Chandigarh takes a louder and categorical step. The five-star hotel officially opens its door and promises a redefined hospitality experience.
Plan of action
Celebs who visit Chandigarh love to dress up like a Punjabi. This year's first, a known face on telly and now big screen, Gurdeep Kohli lived up to the dictum beautifully. Looking pretty in a bright anarkali, Gurdeep talked about Nutrimalt the brand she came to endorse and her long journey on telly.
Back in time
Every week we keep talking about new fashion trends, new ideas to mix and match clothes and rules to follow or break…but how about we talk about a style you can always adopt, no matter what—The Retro Style! Taking inspiration from the 60s, 109°F brings to you it's Retro collection for a fascinating fashionable look.
Deol's doodles
Along with being the actor and producer for the film One by Two, Abhay Deol has also turned designer for it. He doodled a few people faces that will go on to becoming a t-shirt line around the release of One By Two. As his character is a person who feels that he is pakaoed in life and had also done a Pakaoed campaign.


Shruti undergoes surgery
Actress and Kamal Haasan's daughter Shruti Haasan recently underwent an appendix operation in Mumbai. She is now recovering. Thanking her fans for the wishes, she wrote: 'Hello tweeps, thank you for all your love and get well soon wishes! Appendix out and raring to go.

Pain full: Shruti Haasan

On an optimistic note
Amitabh Bachchan, who is the goodwill ambassador for Polio UNICEF campaign, is proud that the country has rid itself of the virus. "FINALLY! India has been removed from endemic list re: Polio. By end of 2014, we shall be polio free country. A sense of pride.


Look on: Amitabh Bachchan



Warsi in the news
Arshad Warsi has two back-to-back releases this year. Dedh Ishqiya releases on January 10 and Mr Joe B Caarvalho was the first release of the year. He talks about movies, family, and more.
Telly calling
Back on the tube after nine years, Gauri Tonk, who has given hits like Kahin Kisi Roz, is looking forward to more work and better projects. She talks to us about her current show and her husband's popularity.