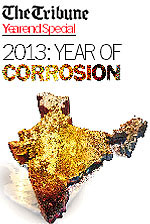 Right-wing activists vandalise AAP office
New Delhi, January 8
Right wing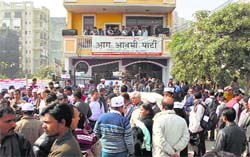 activists went on a rampage and vandalised the Aam Aadmi Party's office at Kaushambi in Ghaziabad on Wednesday to protest against party leader Prashant Bhushan's remarks on referendum in Kashmir.
The AAP office that was attacked in Ghaziabad on Wednesday.
BHOLA'S DRUG RING
Bajwa wants CBI to probe Majithia 'role'
Chandigarh, January 8


While the Punjab Police gave a clean chit to Revenue Minister Bikram Singh Majithia following allegations levelled by drug lord Jagdish Bhola about his involvement in the multi-crore drug racket, Punjab Pradesh Congress Committee (PPCC) president Partap Singh Bajwa today said he would go on an indefinite fast from January 21 if the state government did not handover the case to the CBI in one week.
OTHER PAGES

HIMACHAL: Demolish structure raised by HPCA: MC


CHANDIGARH: Kidnapped 9-year-old raped


LUDHIANA: Voices of dissent at F&CC meeting


DELHI: Illegal tube wells unearthed

OPINIONS: Tricks of drug trade

BUSINESS: Govt retains 100% FDI in existing pharma units

SPORTS: Bhajji spares Punjab blushes

WORLD: Freezing low temps across US leave 21 dead


Lahore Log

The tribune guide to best colleges

Budget
2013-14

INDIA CHINA WAR 50 YEAR LATER

EARLIER FEATURES
Yellow rust disease traced to crop in Ropar
Chandigarh, January 8
The Punjab Agricultural University, Ludhiana, survey teams have traced the attack of the yellow rust, a disease that can cause tremendous loss to wheat yield, on the wheat crop at Dabkhera Upparala village of Anandpur Sahib block in Ropar district. Another detection of this disease has been made in a wheat field at Bara Bajwara village along the Hoshiarpur-Una road.
SC treated me 'badly': Ganguly
Kolkata, January 8


Justice AK Ganguly, who quit as Chairman of the West Bengal Human Rights Commission, today attacked the Supreme Court over the inquiry by its three-judge panel into the sexual assault allegations against him, saying he was "very badly and unfairly" treated. Claiming that he quit in "disgust", the 66-year-old former Supreme Court judge also said he would prefer jail to filing a defamation case against the law intern who levelled the sexual harassment allegation, as she was his student.
Diplomat's Arrest in NY
Stop commercial activities at embassy: India to US
New Delhi, January 8


Stepping up offensive against the US following the Devyani Khobragade episode, India has asked the US to discontinue commercial activities being undertaken from inside the embassy premises in Delhi by January 16. US diplomatic vehicles will also attract penalties for all traffic related offences such as unauthorised parking, jumping red light, dangerous driving, it is learnt.

Priyanka chairs key Cong election meet
January 8, 2014
Can't be business as usual, India tells US
January 7, 2014
GSLV propels India into exclusive club
January 6, 2014
AAP's grand plan: To contest most LS seats
January 5, 2014
PM says no 3rd term for him, Rahul fit for top job
January 4, 2014
M'rashtra Govt partially accepts inquiry report on Adarsh scam
January 3, 2014
Govt scraps Agusta copter deal
January 2, 2014
After water, power sop for Delhiites
January 1, 2014
Kejriwal keeps free-water promise
December 31, 2013
Kejriwal: We'll deliver in 10 days
December 30, 2013