investment initiatives
Red-tape, lack of transparency biggest hurdles for NRIs
Jalandhar, January 8
Even as the state government has all of a sudden started wooing NRIs by promoting its matching grant schemes through the web portal, the NRIs, who have been investing here, rue prevalence of red-tape in government departments, lack of transparency on the part of the administration and the absence of a system to monitor the status of works initiated by them and utilisation of funds through the web.
School watchman murdered
Jalandhar, January 8
A 50-year-old school watchman was brutally murdered while another watchman was injured by assailants in the wee hours at Nakodar today. Ram Lubhaya, a watchman at St Joseph's Convent School, Nakodar, was on the night duty when he was attacked by the assailants around 1:30 am.

The police investigate the crime scene; and (right) injured watchman Som Lal under treatment at a hospital in Nakodar on Wednesday. Tribune Photos: Malkiat Singh
Two more thefts reported
Jalandhar, January 8
The night vigil plan of the commissionerate police seems to have failed with a spate of thefts occurring in the past one month in various localities.A theft occurred last night at a general store on the Tehsil Complex road. The thieves decamped with cash Rs 60,000, mobile recharge coupons worth Rs 30,000 and various grocery items.
DC office staff go on strike
Jalandhar, January 8
People visiting the DC and ADC offices will not be able to get their work done before Monday. As many as 90 employees of the DC office began a three-day pen-down strike today. They refused to work even as they remained present in offices.
Book on legendary singer Surinder Kaur released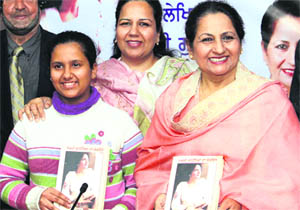 Jalandhar, January 8
Her life and voice carry a magical mix of various legacies. She inherited folk brilliance and charm of Punjab from her mother Surinder Kaur and learnt intricacies of the Indian classical music from her Ustad Abdul Rehman Khan. On a visit to Jalandhar to release "Vagde Paniyan Da Sangeet", a book dedicated to her mother Surinder Kaur, singer Dolly Guleria talked about her mother and the Punjabi folk music.

Dolly Guleria, her daughter Sunaini and grand-daughter Riya release the book, "Vagde Paniyan Da Sangeet' in Jalandhar on Wednesday. Tribune Photo: Sarabjit Singh

mid-day meal scheme
DEO told to report on illegal ration sale
Jalandhar, January 8
The director, Education Department (senior secondary) has asked the district education officer (senior secondary), Jalandhar, to submit a report based on a complaint made by a secretary of Mandi Fentonganj Girls Senior Secondary School regarding inaction by the school authorities over a school watchman's complaint which blamed the principal and another employee of the school of illegally selling ration under the mid-day meal scheme.
CPS issues DO letter for lapses in rural games
Jalandhar, January 8
Annoyed by the inadequate arrangements made by the administration during the conduct of Swami Vivekanand Punjab State Rural Games for Girls on November 14, Chief Parliamentary Secretary Pawan Tinu has issued a demi-official letter on the matter making the officials accountable for the lapses.
Two LPU students selected for Republic Day parade
Jalandhar, January 8
Two National Service Scheme (NSS) volunteers of Lovely Professional University (LPU) have made the region proud with their selection in the ceremonial Republic Day Parade-2014 to be held at India Gate in New Delhi.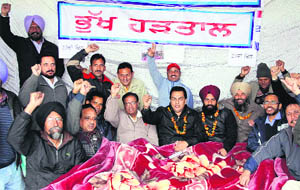 PUDA employees' protest enters Day 21
Jalandhar, January 8
Agitating PUDA employees continued their strike for the 21st day. They are demanding various service benefits. The staff is on a chain hunger strike and protesting outside the PUDA office. With the minimum temperature going below the freezing point, they are using blankets and quilts to keep themselves warm in the open.
PUDA employees sit on a dharna in front of their office in Jalandhar on Wednesday. Tribune photo: Sarabjit Singh

GNDU college to come up with latest management, IT courses
Jalandhar, January 8
Guru Nanak Dev University (GNDU) is in the process of establishing a model college in the city to provide excellent and affordable education to the students. A state-of-the-art building will come up here at a cost of Rs 3 crore. Its construction started on the birth anniversary of Guru Gobind Singh Ji.
Cong men stage protest against Majithia
Phagwara, January 8
Congress activists staged a protest against Revenue Minister Bikram Singh Majithia and burnt his effigies at two different places in the city. They wanted a probe by the CBI into the allegations leveled by drug kingpin Jagdish Bhola against the minister.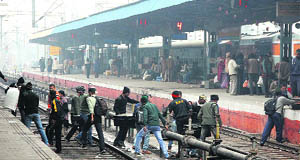 Risky job:

Unmindful of the risk involved, BSF jawans cross the railway tracks to board a train at the Jalandhar city railway station on Wednesday. Tribune photo: Sarabjit Singh
Workers stage protest against price rise
Phagwara, January 8
Hundreds of workers belonging to All India Consumer Protection Organisation and All India Anti-Corruption Forum held a demonstration against huge price rise of essential commodities, in Phagwara on Wednesday.
Lecture on anaemia
Jalandhar, January 8
Kanya Maha Vidyalaya's Department of Home Science organised an extension lecture on anaemia to sensitise young girls about the much prevalent malady amongst adolescent girls.
Drug peddler arrested
Phagwara, January 8
The Police have arrested a drug peddler identified as Vikki of Lamian Mohalla and seized 50 gms of intoxicant powder from his possession. The arrest was made at a naka set-up near Bhularai. — OC