City hotels, restaurants all set to welcome New Year in style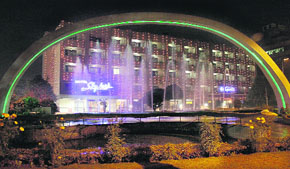 Jalandhar, December 30
Ready your party gear. The most awaited celebration is here! Whether you would like to celebrate the new calendar date in a style by throwing a big gala or to raise a toast at a hotel or club with your gang, the city is offering you everything to match your style.
City is all decked up to usher the New Year in style in Jalandhar on Monday. Tribune Photo: Sarabjit Singh

Bridge not yet complete, MLA takes credit
Jalandhar, December 30
Even as the tenders for the Chandan Nagar railway under bridge are yet to be floated, the local legislator KD Bhandari has already started taking credit for the same. The MLA has got a hoarding erected at the site with his life size poster right near the site bearing the message, "Jo wada kiya woh wada nibhaya (meaning whatever commitment was made has been fulfilled)".
Disability rights activists to hold march today, seek nod for law
Jalandhar, December 30
Disability rights groups across the district will march tomorrow to demand the ratification of the new disability law as per which more sensitive and disabled friendly approach will be taken towards person with disabilities.
PIMS strike: Docs say politicians have forgotten them
Jalandhar, December 30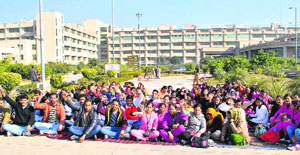 Despite assurances to doctors that within a week their problems will be sorted out and the cloud on the salary issue lifted, the fight for the rights of the doctors and staff of the Punjab Institute for Medical Sciences, seemed a lost cause today, as none of the politicians backing them a week ago sent in a word of assurance or news.
Doctors, students, nurses, paramedical and clerical staff of the Punjab Institute of Medical Sciences (PIMS) hold protest in Jalandhar on Monday. Tribune Photo: Sarabjit Singh

Chemists of Dilkusha market hold protest
Jalandhar, December 30
Chemists of the Dilkusha market, one of the biggest wholesale market of drugs in the region, under the banner of the Wholesale Chemists Organisation, observed a half-day bandh and joined the ongoing resumed agitation against the commercial property tax by city traders on the call given by the Industrialists and Traders Joint Action Committee (JAC), here today.
PROPERTY TAX
Aam Aadmi activists end 10-day-long fast
Jalandhar, December 30
Members of the Aam Aadmi party today ended their 10-day-long fast after getting an assurance from Chief Parliamentary Secretary KD Bhandari.
Temp dips to -2.4°C in Adampur
Jalandhar, December 30
The minimum temperature recorded at Adampur AirForce base today was minus 2.40 degree Celsius. It was perhaps the coldest day of this season so far. With winter break on in , all educational institutes and some offices, very few people were seen venturing out even in the day. The day remained sunny but cold breeze kept blowing throughout the day. According to the Met Department, cold wave will continue in the region during the next few days with occasional fog, mist and haze. — TNS
Feedback
Jalandhar Tribune invites feedback from its readers on issues of public concern relating to Jalandhar, Phagwara, Kapurthala and the nearby areas. Readers can email their views to [email protected]
They can also send their views to: Feedback, Jalandhar Tribune, Sector 29, Chandigarh - 160029. Letters sent by post must mention 'Feedback for Jalandhar Tribune' on the envelope and it should be signed and must contain the address and telephone number of the sender. It should not be more than 150 words.


Flashback 2013: The year gone by in images

Dalbir Kaur, sister of Sarabjit Singh, weeps after watching the news of an attack on her brother.

Punjab Deputy CM Sukhbir Badal, Gurdas Mann and other dignitaries at the engagement ceremony of Navraj Hans, son of Hans Raj Hans and Ajit Kaur, daughter of singer Daler Mehandi at a city hotel.

| | | |
| --- | --- | --- |
| President Pranab Mukherjee shakes hands with the President of Afghanistan, Hamid Karzai, during the 3rd Annual Convocation held at the LPU in Phagwara. | Actor Ranbir Kapoor during the promotion of his movie 'Besharam' at the LPU in Jalandhar. Photos: Sarabjit Singh, Malkait Singh | Actor Shahrukh Khan and Deepika Padukone during the promotion of 'Chennai Express'. |