New PPCC meets on January 6
Chandigarh, December 30
Punjab Pradesh Congress Committee (PPCC) chief Partap Singh Bajwa has convened a meeting of the newly appointed office-bearers, district presidents and members of the executive committee on January 6 at the party office here.
18 state youths jailed in Abu Dhabi
Hoshairpur, December 30

As many as 18 Punjabi youths are feared to have been charged with murder in Abu Dhabi. They were sent to jail after being detained for interrogation on November 30. They have been divided into groups of four and placed in separate cells. They are reportedly not being allowed to meet their mates in the other cells.
Malwa's cancer patients show little interest in Mohali hospital
Bathinda, December 30
Rajwinder Kaur (56) and her husband are huddled up on a bench at the local railway station waiting for the Bikaner-bound train, infamous as "cancer train". She had to travel over 350 km for a follow-up treatment of breast cancer at the Acharya Tulsi Cancer treatment and Research Institute, Bikaner. She chose a far away hospital as no such institution in Malwa provides the same treatment at a low cost. The laying of foundation stone of a cancer hospital at Mullanpur near Mohali does not change her situation.
Nachhatar getting VIP treatment, say rape victim's kin
Ludhiana, December 30
The controversy over the arrest of Punjabi singer Nachhatar Gill fails to die down. The singer is in police remand, along with his accomplices Charanjit Singh Channi and Jagdeep Singh Sohi, after being arrested in a rape case. But the victim's parents have alleged that the accused were being given VIP treatment by the police. The trio was shifted to Sarabha Nagar police station late last night. While Gill was taken to the civil hospital in a private vehicle, his relatives had accompanied him in another vehicle. Sohan Lal, sub-inspector, PAU police station, said that as the official vehicle had broken down, the singer was ferried in a vehicle belonging to a police officer. — TNS


Adampur shivers at — 2.4


As the temperature at Adampur in Jalandhar district touched minus 2.4 degrees Celsius, the lowest recorded in the last five years, a thick white crest of frost engulfed all open spaces, farms and a park (in picture) on Monday morning.


A sharp dip in minimum temperature, particularly during night hours and early morning, has been effected by snowfall in the upper reaches of the northern parts of the country.


The weatherman has predicted some respite from biting cold on Tuesday afternoon when the region is likely to get some showers.
Text: Varinder Singh. A Tribune photo
Hope surfaces for trade route's opening
Ferozepur, December 30
The happenings in the last month of the year lend hope to the reopening of Hussainiwala-Lahore border for trade and transit, the desire that Pakistani Punjab province Chief Minister Shahbaz Sharif expressed during his visit to the state. Both Sharif and his Indian counterpart Parkash Singh Badal had unequivocally stressed on the need to reopen the border during Sharif's visit to the state for the valedictory ceremony of the World Kabbadi Cup earlier this month.
Haryana cowboys keep Malwa fields free of stray cattle
Bathinda, December 30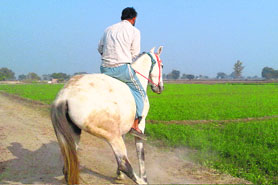 But for the lack of Texan hats, it could be mistaken for a scene from the Wild West. Horsemen from Haryana and lathi-wielding security guards from Rajasthan have been employed by people from about 200 villages in the Malwa belt to ward off stray animals. The stray animals, which are estimated to be about 1 lakh in number in Bathinda district alone, have assumed menacing proportions. Herds of them could flatten a one acre field of standing crop in no time. Besides Bathinda, some villages in Mansa and Muktsar have also opted for this unique scheme.
Aspirants in a fix over PPSC age bar
Patiala, December 30
Hundreds of candidates have been left in the lurch following the "controversial" fixation of cut-off date for age criterion by the Punjab Public Service Commission (PPSC) for the combined competitive examination to be held next year.
2013 Review | industry
Boost to investment, existing industry ignored
Chandigarh, December 30
The year 2013 on one hand saw euphoria over the new industrial policy of the Punjab Government that helped it attract investment worth thousands of crores and on the other, the plight of the existing industry, which continued to reel under heavy taxes, power tariff and competition from tax-exempt neighbouring states.
Badal-Jakhar bonhomie boosts Abohar projects
Abohar, December 30
Punjab Chief Minister Parkash Singh Badal has sanctioned funds to shift the main sewerage line from the Sriganganagar road to clear hurdles in setting up the first railway underbridge here.
Three-day Urs begins at Roza Sharif
Fatehgarh Sahib, December 30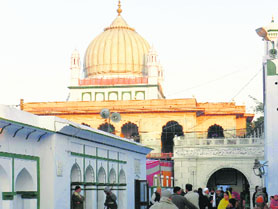 Thousands of devotees from across the world paid obeisance at the tomb of Hazrad Sheikh Ahmad Farukhi Sirhindi Mujaddad Alifsani on the first day of Urs here today. The three-day festival is observed in the memory of Sheikh Ahmad, who was the most prominent of Khwaja Baqi Billah's disciples. Sheikh Ahmad was jailed along with Guru Hargobind Rai for a long time in Gwalior. Mouzam Ali, an ardent follower, said Sheikh Ahmad was born and died in Sirhind.
Devotees throng the tomb of Hazrad Sheikh Ahmad Farukhi Sirhindi Mujaddad Alifsani in Fatehgarh Sahib on Monday. A Tribune photograph

Lovers jump before train; boy dies
Faridkot, December 30
A 22-year-old boy died while his 18-year-old friend survived with serious injuries and amputated legs after they jumped in front of a running train near Kotkapura railway station today. The deceased, Vipan Kumar, and injured Poonam hailed from Palamu district of Jharkhand. Investigations by the railway police suggested that about a month ago, the duo had eloped from their village in Jharkhand and reached Kotkapura where they were staying with Vipan's uncle, a worker in a factory in the town.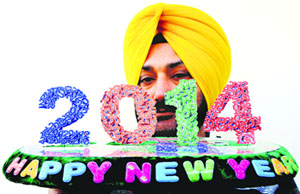 New Year greetings: Artist Harwinder Singh Gill prepares a paper model to welcome the New Year in Amritsar on Monday. Tribune photo: Vishal Kumar

PIMS staff strike enters Day 19
Jalandhar, December 30 Firm on their stand, doctors, nurses and paramedical staff of the Punjab Institute of Medical Sciences (PIMS) held a dharna to press their demands on the 19th day of their strike, here today.
CPI protests against govt's 'failure' to provide foodgrain
Fatehgarh Sahib, December 30
A day-long protest rally was organised by members of the Leftist parties near the district administrative complex against the "failure of the state government to provide foodgrain to the poor in December" in the district.
Survey on dropouts is teachers' bane
Faridkot, December 30
A survey under the Sarva Shiksha Abhiyan (SSA) to identify children (6-14 age group) who have dropped out of school or are out of school is proving to be a bane for teachers of government primary and elementary schools here.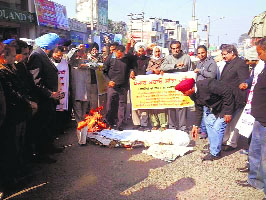 For their rights: Activists of the Punjab Bachao Sanjha Front burn the state government's effigy to oppose the tax regime, in Nawanshahr on Monday. tribune photo

Indian artistes not welcome in Pak: Playwright
Abohar, December 30
The kind hospitality extended to Pakistani delegations on their visit to India is not reciprocated when Indian artistes cross over, says Punjabi playwright Pali Bhupinder Singh. He had recently led a troupe of artistes to Pakistan and his experience was bad. "Our hosts did not make proper lodging and boarding arrangements. The worst part was that journalists there talked only about Kashmir. Only politicians or businessmen might find everything rosy in Pakistan," Pali Bhupinder said during a function here yesterday.
3 months after man's death in Saudi Arabia, body cremated
Faridkot, December 30
About three months after a 26-year-old Punjabi youth died in a road accident in Saudi Arabia, his body was cremated at his native village Dhurkot in the district yesterday. A month after he reached Saudi Arabia, Shailinder Singh, son of a small farmer, died in a road accident on October 6. After learning about Shailinder's death, his family tried to contact the transport company in Saudi Arabia, the victim was working with, to get the body back, but they failed.
Show will to end drug menace, Dal Khalsa tells Badal
Amritsar, December 30
Dal Khalsa has urged Chief Minister Parkash Singh Badal to show political will to deal with drug menace by exposing the unholy nexus of politicians, policemen and smugglers.
Clear stand on Dhuna Sahib's possession: Hindu bodies to govt
Amritsar, December 30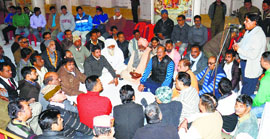 Various Hindu organisations under the banner of Hindu Nyaye Peeth have asked the state government to clear its stand over the possession of Dhuna Sahib located in the ancient Ram Tirath Temple.
Representatives of various Hindu organisations hold a meeting at Durgiana Temple in Amritsar on Monday. Photo: Sameer sehgal

PSEB body opposes move to raise CMD's retirement age
Chandigarh, December 30
The PSEB Engineers Association has opposed any deviation from rules in terms of age and qualification for making appointments to top posts in the Punjab State Power Corporation Limited (PSPCL) and the Punjab State Transmission Corporation Limited (PSTCL).


Faridkot prisoners threaten jail official over mobile phone
Patiala, December 30
Criminals lodged in Punjab prisons are now openly threatening senior jail officials with "dire consequences" using mobile phones allegedly available to them inside jails. A senior Punjab cadre jail official has officially brought a threat to his life by a jail inmate — presently lodged in Faridkot Jail — to the notice of the district police for the registration of an FIR.
2013 Review | Crime
Biggies in drug trade kept police engaged
Patiala, December 30
The year remained productive for the Punjab Police so far as exposure of drug rackets is concerned. Earlier this year, following leads from NRI drug kingpin Ranjit Singh alias Raja Kandola who was arrested in August 2012 in connection with a drug smuggling case worth Rs 200 crore, the police zeroed in on some NRI drug smugglers. In March, the name of high-profile drug lord Jagdish Singh Bhola, a former DSP, surfaced when the Fatehgarh Sahib police arrested an NRI, Anoop Singh Kahlon, and seized 26 kg of drugs worth Rs 130 crore.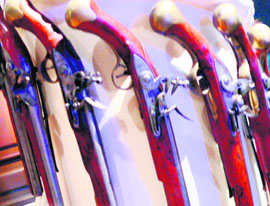 3 gunhouse owners sell fake arms, booked
Fatehgarh Sahib, December 30
The police have booked three gunhouse owners for allegedly duping their customers by selling duplicate weapons of Italian make. Among the accused are Karmaveer Singh of Rajpura, Kamaljeet Singh Sardul of Fatehgarh Sahib and Sampooran Singh Chawla of Amritsar.
The accused used to procure weapons from other states and sell these to customers for Rs 2 lakh to Rs 3 lakh

Six injured in bus-canter collision
Fatehgarh Sahib, December 30
Six persons, including a woman, were injured when a private bus in which they were travelling collided with a canter near Harbanspura village in Mandi Gobindgarh on National Highway 1 this morning.
Man robbed of Rs 20,000 in Abohar bank
Abohar, December 30 A teenaged girl allegedly robbed a representative of an industrialist of Rs 20,000 inside a branch of Punjab National Bank here today.