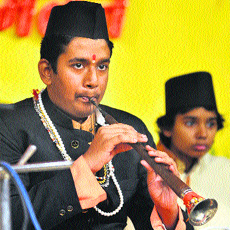 harivallabh sangeet sammelan
Young music maestros win hearts
Jalandhar, December 21
The strains of shehnai and sitar marked the day one of the Harivallabh Sangeet Sammelan on Friday. Huddled in massive pandals, the crowd witnessed the skills of largely young but talented artistes. The soulful sitar rendition by Anupam Bhagwat and the mesmerising compositions of Mohammed Amaan (21) delighted all.



Soulful: Shehnai virtuoso Bhaskar Nath performs at the Harivallabh Sangeet Sammelan in Jalandhar on Friday. Tribune photo: Malkiat Singh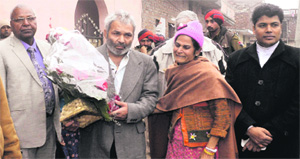 Six years on, man united with family
Jalandhar, December 21
A six-year-long wait of Somnath on Saturday when he was united with his family by a Kerela-based charitable organisation. Somnath, 46, had left his house following a tussle with his employer in 2007.

Somnath with his wife Kamlesh Rani at his residence in New Ratan Nagar, Jalandhar, on Saturday. A Tribune Photograph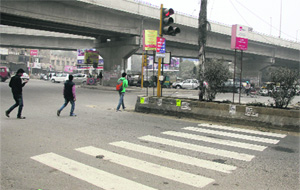 Pedestrians face trouble on roads
Jalandhar, December 21
After Jalandhar was chosen by the World Health Organization (WHO) for a pilot project on road safety in 2011, commuters were hoping for the end of traffic woes.


Several road dividers like this one at BMC Chowk in Jalandhar prevent pedestrians from using zebra crossings. Photo : Sarabjit Singh

Tobacco vendors outside school challaned
Jalandhar, December 21
DC Varun Roojam paid a surprise visit to Government Elementary School, Garha, a school troubled by the kiosks selling tobacco products outside its premises for the past seven to eight years. The DC also reviewed the arrangements for mid-day meal at the school. Medical as well as police personnel accompanied the DC for immediate the challaning of the vendors selling tobacco products near the school.
suwidha centre
After strike, applicants a harried lot
Jalandhar, December 21
Even as the strike of the Suwidha Centre staff ended yesterday and the work at the centre began today, most of the applicants remained at the receiving end and were a harassed lot. Though the staff was on present on duty, neither the Executive Magistrate nor the Medical Officer were on duty to attest or certify various documents, which included affidavits and licence applications, as it was Saturday today.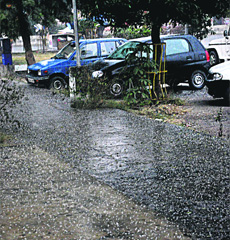 Mercury goes down after hailstorm strikes city
Jalandhar, December 21
Hailstorm in the evening increased cold here. The cold wave is likely to continue as rain with thunderstorm may occur on Sunday too. The sky will remain partly cloudy to cloudy. Meanwhile, fog continued to throw normal life out of gear. According to the meteorological department, the minimum temperature was recorded at 8.5 degree Celsius whereas the maximum was recorded at 13.2 degree Celsius in and around Jalandhar today.

A view of the hailstrom in Jalandhar on Saturday evening. Tribune photo: malkiat Singh

Another accused in bank fraud case held
Phagwara, December 21
The police have arrested the sixth accused in an infamous bank fraud case. The other accused, identified as Vikram Seth, Anil Goel, Janak Nandan, Subhash Mandal and Raj Gill, were arrested earlier. The sixth accused, Kuldip Singh, a former bank manager, surrendered before the court and was sent to two days' police remand. Meanwhile, Vikram Seth, a renowned industrialist and the alleged mastermind of the fraud, was granted bail. He in connivances with the former bank manager and four others cheated Bank of Baroda of Rs 3.60 crore by taking loans after showing fake documents.
Rs 1.2 lakh scholarship for theatre artiste
Jalandhar, December 21
The Union Ministry of Culture has awarded Puneet Kumar Mishra, a BTech student of Lovely Professional University (LPU), a scholarship of Rs 1.2 lakh for being an ace theatre artiste.