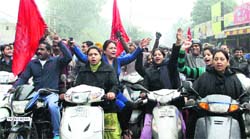 Bank employees' stir hits business
Jalandhar, December 18
Over 4,000 bank employees, working in as many as 670 branches across the district, today remained on strike on a call by the United Forum of Bank Unions.

Bank employees take out a scooter rally during their nationwide strike, in Jalandhar on Wednesday. Photo: Sarabjit Singh
CM lays stone of Adarsh School
Jalandhar, December 18
After laying the foundation stone of a Adarsh School at a Government Arts and Sports College here today, CM Parkash Singh Badal's speech aimed at the 2014 LS polls.
Traders' protest continues
Jalandhar, December 18
Protesting against higher slab of property tax on commercial buildings, the traders continued their protest. Shopkeepers of Sehdev Market and Ladowali Road market kept their shutters down as a mark of protest.
Recruitment drive by Army
Jalandhar, December 18
More than 150 pre-final year engineering students (male) from 10 institutes affiliated to Punjab Technical University (PTU) participated in a special campus recruitment drive organised by the Indian Army at the university.
Suwidha Centre employees' strike enters Day 3
Jalandhar, December 18
As the strike of the Suwidha Centre employees continued for the third consecutive day, the problems of people got aggravated. Unlike the previous two days, few people came to the centre for enquiries. The applicants, who were perhaps aware of the ongoing strike, were seen tracking their files to get their work done.
'Congress forced BJP to postpone rally'
Phagwara, December 18
Former Congress Minister Joginder Singh Maan said Narender Modi's rally, which was scheduled to be held on December 21 in Jagraon, was postponed due to the Congress' stand to oppose the rally. Maan said resentment was prevailing among the Punjabis due to the displacement of the Punjabi farmers in Gujarat.
Student dies in mishap
Phagwara, December 18
Ranbir Singh, a BTech student at Lovely Professional University died in a mishap at the local Chadha Market here last night. The police has registered case and sent the body for autopsy. Ranbir hailed from Muzaffarnagar in Uttar Pradesh
GNDU poll results
Amritsar, December 18
Renu Puri from the Meeting Branch has been elected as the president of the Officer's Association of Guru Nanak Dev University, the elections of which were held last evening. Dr Jaspal Singh from the Law Department was the returning officer.
Acid attack victim doctor seeks security, justice
Jalandhar, December 18
While the demand for strict action against the perpetrators of acid attacks and help for victims gets intense with every passing day, in Jalandhar, an acid attack victim's plea for protection and justice remains unheard for the past six years.
Dog's death: 4 booked for cruelty
Jalandhar, December 18
The city police have booked four persons for allegedly killing a German Shepherd dog of their neighbours at the Kot Kishan Chand locality late last night.
Harivallabh Pratiyogita: Young musicians come calling
Jalandhar, December 18
Much as they might have avoided it, the mist has religiously arrived to build the mood for the 138th Harivallabh Sangeet Sammelan which will start from the December 20.



(From left) Satinder Singh, Rupinder Kaur, Kamaljit Kaler and Neha perform at Harivallabh Sangeet Pratiyogita on Wednesday.
Kabaddi tourney from Dec 27
Jalandhar, December 18
The Sant Bhag Singh and Sant Hardial Singh Memorial Gold Cup Kabaddi and Football Tournament will be organised at Sant Baba Bhag Singh Educational Complex, Khiala, from December 27 to 31. To review the preparations for the tournament, a meeting was organised at the seminar hall of the complex today.— TNS