Urban Estate market shooting incident: Sixth accused arrested
Jalandhar, December 10
The city police have arrested the sixth accused and the one to have reportedly arranged a gang of contract killers for shooting at Karanvir Singh at his office in the Urban Estate market here last month.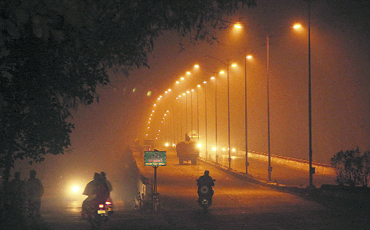 Picture perfect: A road near DAV College ROB engulfed in fog in Jalandhar on Monday night. Photo: Sarabjit Singh

SAD, BSP rift: Police on high alert
Jalandhar, December 10
The city police are on a high alert ever since the SAD and BSP leaders have been on loggerheads over the issue of arrest of Akali councillor Balbir Singh Bittu. The Akali leaders have been reportedly upset with the BSP using pressure tactics on the police in the arrest first by jamming the traffic at PAP Chowk and then gheraoing the councillor at Phagwara during the visit of claims commission for post-Vienna violence on December 7. They are reportedly more upset at the police succumbing to the pressure of the BSP leaders.
DAV National Sports for girls
Punjab zone emerges overall champion
Jalandhar, December 10
Punjab zone emerged as the overall champion while Haryana zone got the second position in the DAV National Sports for Girls that concluded at DAV University today. In athletics, Jharkhand zone won overall trophy while Orissa got the second position. Jenifer Nanci from Jharkhand zone was adjudged the best athlete and fastest runner.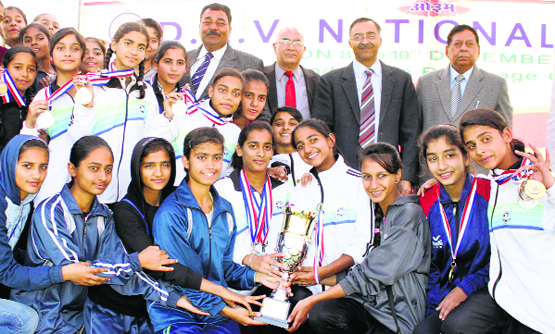 Punjab players in a jubilant mood after winning the overall trophy of the DAV National Sports Meet at DAV University in Jalandhar on Tuesday. Photo: Sarabjit Singh
Rights day has no meaning for this 8-yr-old
JALANDHAR, DECEMBER 10

While the world was busy celebrating International Human Rights Day across the globe, eight-year-old Raju was busy preparing meals for around 150 players in the State Government School of Sports in the city. He had come to the city a few months ago with his uncle and since then is working along with him in the school kitchen at a meagre monthly salary of Rs 3,000.
Rajkumar Raju, a minor boy from Uttar Pradesh, working in the kitchen of Govt Sports School, Jalandhar, on Tuesday. Tribune Photo: Malkiat Singh

Cops yet to lodge FIR in assault case
Jalandhar, December 10
The city police are yet to lodge an FIR in the case wherein a 24-year-old youth was illegally confined and beaten up at the behest of local travel agents. Even as the family, along with the badly injured victim Mandeep Singh, had gone to meet the police at the Division Number 5 police station with a copy of complaints, the cops have said that they were yet to lodge a complaint.
5 of family booked for fraud
Kapurthala, December 10
The Kapurthala police have booked five members of a family for duping a villager of Rs 5.50 lakh on the pretext of sending him abroad. Daljit Kaur, a resident of Khassan village, in a complaint, alleged that she gave Rs 5.5 lakh to Balbir Singh, his wife Neeru and their relatives (Gopal Singh, his wife Baljit Kaur and Balkar Singh), all residents of Fateh Singh Kalke village March 27, 2013. "They promised to send my son to Canada within a period of one month When the above-mentioned persons failed to send my son abroad, I requested them to refund my money, but they refused," she claimed. A case under Sections 420/406 of the IPC against the accused. — OC
Patwaris threaten to stage protest on Dec 19
Kapurthala, December 10
The Revenue Patwari Union, Punjab, staged protest against the non-acceptance of their pending demands. Under the leadership of its president Narinder Kumar and general secretary Makhan Singh, the union members raised slogans against the state government. "During the past six months, our union has sent several representations to the government about their demands, payment of 30 per cent of their pending arrears and filling the vacant post of patwaris," said Narinder and Makhan. Revenue Patwar union warned the state government to concede their demands by December 19 failing which they would again stage a protest on December 20. — OC
Missing boys found in Amritsar
Jalandhar, December 10
Bringing relief to their families, the city police today found two boys who had been missing for the past eight days from Amritsar. Amar (11) of Santokhpura and Ankit (13) of Ambika Colony, both friends, had gone out to play on December 2 when they went missing. The police had formed a search team under ACP (North) Gurnam Singh. They got the clue that the boys had been seen in Amritsar. After a prolonged search, the police found the boys and restored them to their respective families. The boys have said that they stayed in Golden Temple and Durgiana Temple all this while. They have not clearly spelt out any reason for leaving their homes. No one has been booked in the case, said SHO Division Number 3. — TNS
demand for regularisation
Suwidha employees wear black badges
Jalandhar, December 10
Members of the Punjab State Suwidha Employees' Union today held a protest by wearing black badges. They were protesting as their demand of regularisation has not been fulfilled by the government. Some representatives of the staff even went to the residence of MLA KD Bhandari to press him for their demand of getting their jobs regularised. The employees have planned to go on mass casual leave on December 16 to lodge a protest outside the office of Information and Technology Department, Punjab. — TNS
Seminar marks Human Rights Day in Kapurthala
Kapurthala, December 10
District Legal Services Authority, Kapurthala, organised a seminar at Guru Hari Gobind Senior Secondary School, Nadala, to celebrate Human Rights Day. Manila Chugh, Civil Judge (Senior Division-cum-Secretary), District Legal Services Authority, Kapurthala, presided over in the seminar. During the seminar, the school students were told by Chugh that all the human beings born in any part of the world are equal in dignity and rights. — OC