DAV National Sports for girls
Day 1: Jharkhand, Uttarakhand dominate events
Tribune News Service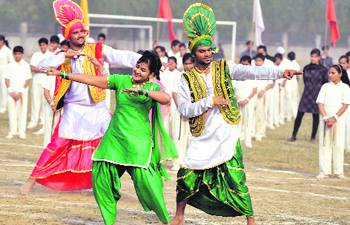 Students perform bhangra during the inaugural function of the DAV National Games at DAV University in Jalandhar on Sunday. A Tribune Photograph.

Jalandhar, December 8
Athletes from Jharkhand marked their supremacy in 100m and 800m race events while the girls from Uttar Pradesh and Uttrakhand led the judo competition in various weight categories at DAV National Sports for Girls near here today.
In athletics, Jenifer Nanci, Jharkhand, won the 100m race while Madhu Chhanda Mishra from Orissa and Yashaswi Shetty from Maharashtra and Gujarat zone got the third position. In 800m race, Nisha from Jharkhand, M Monika from Andhra Pradesh and Pooja from Jharkhand secured first, second and third positions, respectively.
More than 150 teams from 14 DAV clusters from across the country are participating in the event hosted by DAV University on its campus.Earlier, Dr SK Sama, senior vice-president, DAV College Managing Committee (DAVCMC), New Delhi, declared the sports event open Dr R K Kohli, Vice-Chancellor of the university, presided over the function.
While boosting the morale of the participants, Dr Sama said they had a long way to go and many of them would emerge as Olympians and national sport stars.
Over 700 girls are participating in the sports events, including volleyball, handball, basketball, kho-kho, table-tennis, badminton, hockey, swimming, lawn tennis, judo, roller-skating, air rifle pistol, races and gymnastics.
Results
Pistol shooting: 1. Priya Rani (Haryana Zone), 2. Rifle shooting: Khushboopreet (Punjab Zone),
Kho-kho: Himachal beat Gujarat zone, Andhra Pradesh beat Chhatisgarh
Volleyball: Haryana beat Bihar, Himachal beat Punjab 3-1
Basketball: Punjab beat Delhi, UP beat Bihar;
Judo (36 kg category): 1. Sheel Negi, UP+UK, 2. Kajal, Punjab, 3. Sanchi, Haryana; 48kg category: 1. Shvangi Pandey, UP+UK, 2. Ananya, Hatyana, 3.Arushi Prasad, Delhi; 40kg category: 1. Shikha, UP+UK, 2. Riya Singh, Jharkhand, 3. Anisha, Jharkhand; 52kg category: 1. Sonam, UP+UK, 2. Amandeep, Punjab, 3. Neha, Haryana; 44kg category: 1. Unnati Sharma, UK+UP, 2. Jigyasa, Delhi, 3. Muskan, Punjab; 56kg category: 1. Harmeet, Punjab, 2. Vartika Mishra, Chhatisgarh, 3. Jyoti Rawat, UP+UK.