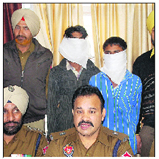 Abducted minor sisters recovered, two arrested
Jalandhar, December 4
The city police have arrested two persons, including a juvenile, for allegedly abducting two minor sisters from Kishanpura locality here. The abduction reportedly took place on December 2 while the police were informed about the incident the next day, said Naresh Dogra, Additional Deputy Commissioner of Police (ADCP-I).

The two accused in police custody in Jalandhar on Wednesday. A Tribune Photograph

Hoardings advertising tobacco products to be pulled down
Jalandhar, December 4
The district health authorities have decided to pull down hoardings, banners and placards advertising tobacco products. Moreover, the vendors will also have to face the music for offering the consumers lighters and match boxes.
Expectant woman referred to Amritsar medical college
Jalandhar, December 4
Detecting high-risk pregnancy and premature delivery, the doctors at the Civil Hospital today referred Anita to the Government Medical College and Hospital, Amritsar. Anita had lost her baby last year as well due to the alleged negligence of the doctors. She faced great difficulty at the maternity ward yesterday when she came to the hospital last morning.
This raider from Denmark is a part-time bartender at world's one of finest bars
Jalandhar, December 4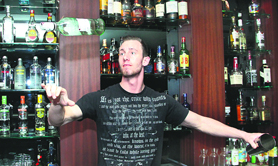 Mikkel, the youngest kabaddi player from Denmark, is a bartender by profession. He is working with ZEN, considered one of the finest bars in the world. A student of marine engineering, he is working on part-time basis at the bar and plays kabaddi for hobby.
Denmark kabaddi player Mikkel juggles bottles at a hotel in Jalandhar on Wednesday. Photo: Sarabjit Singh

Hayre selected member of NRIs' commission
Jalandhar, December 4
The selection of former NRI Sabha chairman Kamaljit Hayre as the member of the Punjab State Commission of NRIs has come as a big surprise for many aware of the ongoing politics here.
Preparations under way for VIP weddings
Jalandhar, December 4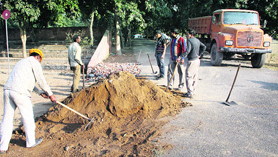 Hectic preparations are on for three gala weddings to be organised in the city in the next few days. The wedding of Mayor's son is slated for this Saturday at the PAP ground. The marriages of the two grandsons of Punjab Minister for Forests and Wildlife Bhagat Chunni Lal are scheduled for December 10 and 12, with ring ceremony of both of them to be held on December 9.
MC staff build a ramp at the entrance to a marriage pandal at the PAP Ground for the wedding of the Mayor's son in Jalandhar on Wednesday. Tribune photo: Sarabjit Singh

Land acquisition
Funds received for compensation
Jalandhar, December 4
The land acquisition officer for the Chandan Nagar railway under-bridge project today received an amount of Rs 16.76 lakh from the Local Bodies Department to be awarded to six persons as compensation for their land.
Three held for mobile theft
Jalandhar, December 4
The city police today arrested three persons for allegedly stealing mobile phones in different cases. The trio was arrested after they had gone to sell the stolen mobile phone sets to a shop near Amritsar bypass. The accused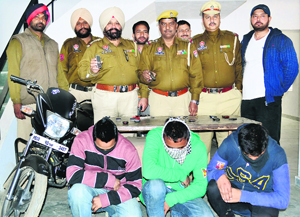 have been identified as Sunil and Ajay of Nurpur while the third accused is Pawan Bhatti, the shopkeeper. Another accused, however, managed to escape. The police had yesterday released a picture of a student who was allegedly involved in stealing of valuables such as gold and silver jewellery from locked houses. Division Number 8 Station House Officer (SHO) Vimal Kant said a bike bearing a temporary number PB-08-BQ-3407 has also been impounded. — TNS
The three mobile theft accused in police custody in Jalandhar on Wednesday. A Tribune Photograph

2 die in road accident
Kapurthala, December 4
An unknown vehicle reportedly hit a motorcycle causing death of two persons last evening near Mehmadwal village in Sultanpur Lodhi sub-division. Complainant Bohar Singh, a resident of Mehmadwal, told the police that his son in-law Sukhdeep Singh, a resident of Veerowal village, was on the way to his house with his friend on motorcycle bearing registration number PB-41-C-1594. He alleged that a fast moving vehicle hit the motorcycle and the duo fell on the road and died on the spot. Police have registered a case against unknown person under Sections 279 and 304-A of the IPC. — OC
fancy numbers
Dept nets Rs 9.94 lakh revenue from auction
Kapurthala, December 4
District Transport Office, Kapurthala, earned a revenue of Rs 9,94,700 from the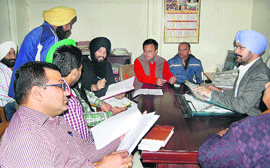 auction of fancy numbers of PB-O9-U series today. SDM-cum-DTO Darbara Singh said they auctioned 31 fancy numbers. "The number 0005 of the series was sold to Malhotra Infocom for Rs 1.51 lakh and number 0007 was purchased by Makhan Singh for Rs 1.20 lakh. The number 0003 was sold for Rs 95,000 and number 0013 for Rs 70,000." — OC
Transport Department officials hold an auction of fancy numbers in Kapurthala on Wednesday. A Tribune photograph

Heroin seized, one held
Phagwara, December 4
The CIA staff of the Phagwara police has arrested a drug paddler, identified as Karan Kumar of Ghumaran Mohalla, and recovered 10 grams of heroin from his possession. The accused was produced before the Judicial Magistrate, who sent him to judicial custody. In another case, the police have arrested one person with 250 grams of intoxicant powder and 1,800 capsules (Proxivon). The accused has been identified as Sarabjit Singh, a resident of Jalandhar. The police have also impounded a vehicle.