Xmas festivities grip residents
Rachna Khaira
Tribune News Service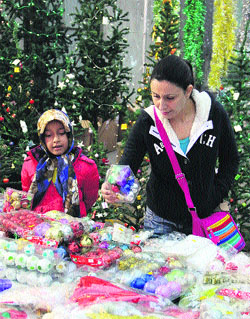 A woman busy in Christmas shopping in Jalandhar on Tuesday. Photo: Sarabjit Singh
Jalandhar, December 17
With Christmas holidays round the corner, hollies and joysticks are up, and candles and Santa Claus masks are intensifying the shopping experience. Christmas is already making its presence felt in busy market places, with eager shoppers making thoughtful buyings.
Shining bells, mini disco balls, snow sticks, stars, triangles, candy bars and an assortment of items are being picked up in bulk to deck up that quintessential Christmas tree. Ranging from Rs 10 to Rs 1,000, these decorations are available in an array of colours, textures, shapes and sizes in various markets and even department stores. Preparations are on in full swing in the city for the celebration of Christmas.
Churches across the city are being decked up for the festivity, while markets are flooded with Christmas trees, stars, jingle bells, stars, lights, music, various types of cakes and bakery items.
Illumination, carol singing and Santa Claus will be the centre of attractions at the churches during the celebration.
Be it the real one or fake, Christmas trees, too, are being ordered in hordes by families. Adding the element of fun and creativity, the tree has many a spirited reveller decorating it innovatively. "Christmas trees are available between 4 and 6 ft, ranging from Rs 1,000-15,000," said a worker at a city based nursery.Items for the Nativity, too, are a must-have on any shopper's list. Baby Jesus in a crib, Mother Mary and the other paraphernalia required to set up the manger are available in sizes, both big and small. "I make an effort to set up the Nativity at home every Christmas. It creates the much-needed festive mood at home," says Carol, a student, busy with her Christmas shopping in the Cantt area.
Those wanting to further slip into the festive mood are booking themselves Santa Claus costumes. Not to forget the huge red Santa caps being sold at signals across the city.