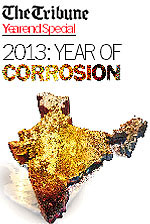 HC breather for MBBS aspirants in Punjab
Chandigarh, January 4
Students with Punjab domicile, who have passed their 10+2 from schools outside the state, are eligible for admission to medical colleges in the state, at least for the time being.
Scientist at top research unit alleges sexual harassment
Serves a notice on ICRISAT management for failing to respond to her grouse
Hyderabad, January 4
A prestigious global research organisation here is caught in an unsavoury controversy with a woman scientist alleging sexual harassment by a senior colleague and serving a legal notice on the management for failing to respond properly to her complaint.
BSF, Pakistan Rangers plan cross-border sporting events
New Delhi, January 4
The Border Security Force and the Pakistan Rangers have planned a series of confidence-building measures (CBMs) along the border for better communication and understanding between the two forces. The measures include visits of school students across the border, conducting sporting events between the BSF and the Pakistan Rangers, setting up telephonic communication between sector commanders and holding fixed meetings between local commanders.
OTHER PAGES

PUNJAB: PPCC 'resignation list' swells


HARYANA: Charges framed against 2 MLAs


HIMACHAL: Cabinet meeting: Homeless to be given land in each dist


CHANDIGARH: MLA's wife, 4 others booked


LUDHIANA: MC violates RTI Act


DELHI: Polish woman raped by taxi driver

OPINIONS: The year to get it all right

SPORTS: Indian colts leading lights of Asia

WORLD: 13 dead as heavy snow blankets US


Lahore Log

The tribune guide to best colleges

Budget
2013-14

INDIA CHINA WAR 50 YEAR LATER

EARLIER FEATURES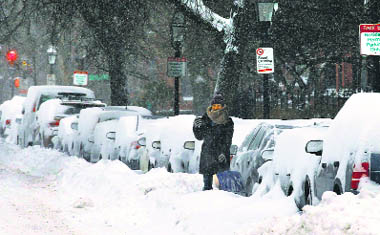 A man clears snow near his car after a blizzard in Boston. REUTERS
Snowstorm in US; 13 dead
Residents across the US northeast braced for a weekend with temperatures plummeting to dangerously cold levels after a massive snow storm dumped several inches of snow from Boston to New York, killing at least 13 persons
Back home: Dense fog
Dense fog in the region hit air, rail and road traffic on Saturday. 16 trains coming from Bihar, Bengal, Assam and Odisha to Delhi were running behind schedule
2 dead in Haryana
Two deaths were reported in Haryana in the last 24 hours. While a middle-aged person was found dead at Ambala railway station, the body of a woman was found near a pond in Ambala city
In Badal land, 'happy hours' for marriage halls
Muktsar, January 4
While marriage palaces run by private individuals in Punjab are reeling under heavy taxes imposed by the government, the ones in the constituency of Chief Minister Parkash Singh Badal and its adjoining areas have been exempted from such levies. Reason: these have been constructed with government funds.

PM says no 3rd term for him, Rahul fit for top job
January 4, 2014
M'rashtra Govt partially accepts inquiry report on Adarsh scam
January 3, 2014
Govt scraps Agusta copter deal
January 2, 2014
After water, power sop for Delhiites
January 1, 2014
Kejriwal keeps free-water promise
December 31, 2013
Kejriwal: We'll deliver in 10 days
December 30, 2013
Kejriwal vows new working style
December 29, 2013
2002 riots: Modi says he was 'shaken to the core'
December 28, 2013
All in a day: Relief, jolt for Modi
December 27, 2013
Army orders court martial of 6 men in Machil encounter case
December 26, 2013