D I A S P O R A N E W S




US court to hear Cong's plea in rights violation suit
New York, January 29
A US court will hear on March 19 a motion filed by the Congress seeking dismissal of a human rights violation lawsuit against it in connection with the 1984 anti-Sikh riots.

Phoolka deserves SAD ticket: NRIs
Vancouver, January 29
A section of the Punjabi diaspora has urged the ruling Shiromani Akali Dal to allot a Lok Sabha ticket to senior human rights lawyer HS Phoolka in the larger interest of the community. The demand has come after there were reports that he was being fielded as an Aam Aadmi Party candidate from Punjab in the forthcoming parliamentary elections.

Murder accused appears in UK court
London, January 29
An Indian-origin woman charged with the murder of her three-year-old son has made a second private appearance in a Scottish court. Rosdeep Kular (33) appeared in a private hearing yesterday at the Edinburgh Sheriff's Court. She is also accused of attempting to defeat the ends of justice in connection with the death of Mikaeel Kular.

sexual assault case
Ex-Jathedar's son deported from Canada
Amritsar, January 28
Ajai Singh, son of former Akal Takht Jathedar Giani Puran Singh, has been deported from Canada after serving a sentence of 90 days for sexual assault on a 13-year-old girl there last year.

Canadians to benefit from India's fast-track visa regime
Toronto, January 27
The Indian consulate here has taken various steps to make its visa regime more transparent and prompt to accelerate air travel, tourism, social, cultural and economic ties between the two countries, Consul General Akhilesh Mishra has said.

Lightning strikes London gurdwara; devotees unhurt
London, January 27
Worshippers had a miraculous escape as a lightning strike destroyed the roof of a gurdwara in the British city of Leicester only 30 minutes after the building had been full of people.

Sonia won't depose in US court: Attorney
New York, January 27
Congress president Sonia Gandhi will not depose here in a human rights violation lawsuit filed against her by a Sikh rights group, her attorney has said. Responding to a demand made by the Sikhs For Justice (SFJ), Gandhi's attorney Ravi Batra said she would not depose in the case.

Punjabi singer bags lifetime award in UK
London, January 27
Punjabi singer and actor Sukshinder Shinda has been presented with the Lifetime Achievement Award by the Punjabi Circle International during a cultural event here.

Britain to scrap turban ban at high-risk workplaces
London, January 25
Britain is set to scrap a ban on turbans at high-risk workplaces next week, a move that some Sikh groups see as a "sweetener" to deal with the fallout of the Margaret Thatcher government's alleged role in Operation Bluestar in 1984.

Two youths to stand trial for rape in Oz
Melbourne, January 24
Two men accused of blackmailing, abducting and raping an Australian woman will stand trial at a court in Canberra.

Faith factor: US military eases regulations on turbans, beards
Sacramento, January 23
The US military has eased its uniform rules giving troops greater freedom to wear turbans, head scarves, yarmulkes and other religious clothing.

immigration fraud
19 suspects held in UK
London, January 22
Nineteen people were arrested on Tuesday in a series of raids with regard to a suspected immigration scam. It is being suspected that Indians are brought to the UK as Sikh religious preachers, who later disappear.

NRIs can apply for LPG connection
Chandigarh, January 22
Following a complaint filed by two Non-resident Indians, the Punjab State Commission for NRIs today said the complainants could avail LPG gas connection as the Ministry of Petroleum & Natural Gas had informed it that foreign nationals, Persons of Indian Origins (PIOs) and NRIs were eligible for the same.



Youth found dead in Philadelphia


New York, January 21
An Indian-American youth, who found his parents shot dead in their home seven years ago, was found dead in Philadelphia.

Woman charged with son's murder on suicide watch
London, January 21
An Indian-origin woman charged with the murder of her three-year-old son is on suicide watch in a prison in Scotland.

NRIs seek visas for political refugees
New Delhi, January 21
Members of the North American Punjabi Association (NAPA) based in United States today met Union Overseas Minister Vayalar Ravi and raised the matter of issuance of Indian visas and passports to those who had sought political asylum in the US.

Sikh mother in UK charged with 3-year-old son's death
London, January 19
In a case that has shaken up the UK, an Indian-origin mother has been charged with the death of her three-year-old son, who mysteriously disappeared from his home in Scotland last week.

Sikh leader killed in Kabul held high posts
Islamabad, January 18
A British politician of Indian origin was among 21 people killed in a Taliban suicide attack on a popular restaurant in the Afghan capital.

special to the sunday tribune
Indian-origin UK leader dead in attack
The Labour Party has confirmed that a UK-born NRI, Dalvinder Singh, is among those killed in a suicide bomb attack in Kabul on Friday night. Dalvinder, popularly known as Del and who had worked for development projects in Asia and Africa, was also a Labour Party candidate for the next European parliament elections.

Another Punjabi youth shot dead in Philippines
Jagraon, January 16
A Punjabi youth was shot dead by unidentified assailants in Manila, capital of the Philippines, yesterday. This is the second such incident this month.


special to the tribune
Cameron rejects conspiracy theory on Operation Bluestar


British Prime Minister David Cameron has rejected any "conspiracy theory" that the prospects of a lucrative commercial deal may have influenced the British government's decision in 1984 to supply specialist military help for the storming of the Golden Temple.


David Cameron, British pm
UK's MI-5 officers visited Golden Temple: RAW officer's book
New Delhi, January 15
Former Additional Director of the Research & Analysis Wing B Raman notes in his memoirs that at the request of the then RAW Chief RN Kao, two officers of the British Security Service (MI-5) had visited the Golden Temple as tourists and advised then Prime Minister Indira Gandhi to be patient and avoid action or use of police force.
Alberta Premier keen on economic ties with state govt
Amritsar, January 15
Canada's Alberta Province Premier Alison Redford has said that her state is keen on strengthening economic ties with India, particularly Punjab, through industry-to-industry linkages, knowledge sharing and increased trade and investment.
special to The Tribune
Cameron orders probe into Thatcher link
Sikh diaspora expresses outrage, presses for full disclosures


British Prime Minister David Cameron has asked his Cabinet Secretary to urgently look into the government's role in the events which led to the military operation at the Golden Temple in 1984 and establish the facts, said a foreign office spokesman. The documents — suggesting that the Margaret Thatcher government helped India plan Operation Bluestar — have proven deeply embarrassing for the British Government.
Student assaulted in Oz undergoes successful surgery
Hoshiarpur, January 13
An Indian commerce student, who was brutally assaulted in Melbourne, Australia, on December 29 last year, underwent a successful jaw surgery today.
Oberoi meets families of youths in Abu Dhabi jail
Hoshiarpur, January 13
Dubai-based businessman SPS Oberoi, who is known for paying blood money for release of Indians sentenced to death in Dubai, today met the families of 16 Indian youths lodged in the Abu Dhabi jail for over a month after being detained for interrogation on November 30.
US Sikh commerce chamber opens centre in Chandigarh
Chandigarh, January 12
The American-Punjabi community opened the India centre of Sikh American Chamber of Commerce (SACC) in the city today.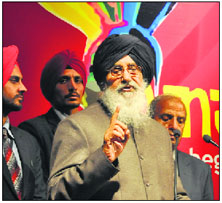 Punjab Diaspora Special: nri sammelan
CM seeks greater partnership
Anandpur Sahib, January 10
With only negligible foreign investment coming to Punjab, Chief Minister Parkash Singh Badal, addressing the NRI Sammelan here today, said the entire exercise would be worth the effort even if one major project came to Punjab every year. As many as 450 delegates from 15 countries participated.
Chief Minister Parkash Singh Badal at the NRI Sammelan at Anandpur Sahib on Friday. Tribune photo: Pradeep Tewari

Soon, platform for US Sikhs keen to invest in state
Chandigarh, January 10
The Punjabi diaspora from North America plans to set up a platform for American Sikhs looking to invest in Punjab. This group of American Sikh businessmen, under the aegis of Sikh American Chamber of Commerce (SACC), will aid Indian youth looking at establishing a foothold in the US.
Deserted wives feel let down
Jalandhar, January 10
Deserted, let down and cash-starved, over 3,500 NRI wives in the state have flayed the NRI Privilege Card Scheme of the state government. Resentful of the elaborate arrangements made to woo NRIs at the NRI Sammelan, they have accused the state government of ignoring them and extending benefits to offenders of the state. They also demanded that the registration for the NRI Special Privilege Card be stopped immediately.
NRI engineer reinvents sewage disposal at his native village
Sanghe Khalsa (Jalandhar), January 10
A qualified civil engineer from the UK, Nirmal Singh, has become a popular figure not just in his native Sanghe Khalsa village but also in nearly 73 villages of Jalandhar and Hoshiarpur.
nri meet
Modi takes a dig at PM
Says good days are just 4-6 months away
New Delhi, January 9
Gujarat Chief Minister and BJP prime ministerial candidate Narendra Modi was clearly the toast of the Indian diaspora on the concluding day of the Pravasi Bharatiya Divas (PBD) today as he mocked at Prime Minister Manmohan Singh for the latter's remark yesterday that the country could look forward to better times.
Hooda wants diaspora to invest in Haryana
New Delhi, January 9
Haryana today showcased its investment potential to Non Resident Indians attending the 12th Pravasi Bharatiya Divas here today. Haryana Chief Minister Bhupinder Singh Hooda called upon the Indian diaspora to become "partners" in the growth model of Haryana. Inviting the Indians living abroad to Haryana to see the development of the state, Hooda said the state was according special facilitation to them.
Meet ends; Prez hails NRIs' contribution
New Delhi, January 9
The 12th Pravasi Bharatiya Divas concluded today with President Pranab Mukherjee hailing the contribution of Non-Resident Indians in the growth and development of the country. "The government will continue to actively engage with the overseas Indian community and explore all possible avenues to make them valued partners in building a strong and prosperous India," Mukherjee said at the concluding ceremony of the three-day meet.
Punjab Diaspora Special
sammelan today
NRIs sceptical of state govt efforts
Chandigarh, January 9
Though most Non Resident Indians (NRIs) from the state appreciate the efforts of the state government to resolve their various problems, they feel much more needs to be done to encourage them to invest here.
philippines murders
Despite direction, govt fails to form probe panel
Jalandhar, January 9
The state government has failed to form a three-member committee to probe the murder of Punjabi NRIs in Philippines even though the state NRI Commission Chairman Justice (retd) Arvind Kumar had recommended it to do so. The NRI Commission had directed the government to form the committee after taking suo motu cognisance of reports of 500 Punjabi NRIs being killed in Philippines in August last year.
Will set up football league at my village: Canadian MP
Jalandhar, January 9
Canadian MP Jasbir Sandhu, who is here to attend the forthcoming NRI Sammelan in Jalandhar, wants to contribute in developing his native village, Rurka Kalan. He has been providing financial support to popular Youth Football Club at the village, where he spent the first 12 years of his life.
Invest in health sector: Chowdhary
Hoshiarpur: At the NRI Sammelan, Minister of State for Health and Family Welfare, Santosh Chowdhary, today urged NRIs to invest in healthcare services in the country. She said the 80 billion dollar healthcare industry in the country, was expected to be worth 160 billion dollars by 2017.
Better times ahead, PM assures diaspora
Opens NRI jamboree, says India's growth rate healthy
New Delhi, January 8
Prime Minister Manmohan Singh today formally launched the 12th edition of the Pravasi Bharatiya Divas, asking the Indian diaspora not to be unduly concerned about the future of Indian economy and social challenges.
NRI court on anvil: Govt
New Delhi, January 8
The state government today announced that it was all set to establish an exclusive court for NRIs. It also asked the Centre to launch a global sensitisation drive to educate the world about the identity of Sikhs to save them from hate crimes.
Khaira asks NRIs to boycott meet
Jalandhar, January 8
Sukhpal Singh Khaira, Congress spokesperson, has urged the NRIs to boycott the NRI Sammelan at Anandpur and Jalandhar as a mark of protest against NRI Minister Bikram Singh Majithia who is facing accusations of drug trafficking.
Toothless NRI police wing has a long way to go
Jalandhar/Mohali, January 8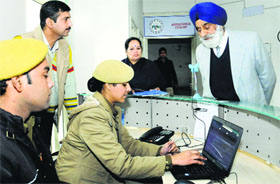 Though the NRI police wing set up by the state government has brought some relief to NRIs, it still has a long way to go. The much publicised project functions on an ad-hoc basis and is yet to be fully institutionalised. In the absence of any international alliance, the wing is not able to work in the extra-territorial jurisdiction, hence failing to bring the NRIs declared as Public Offenders (POs) into its net.
Police personnel at the NRI police station in Mohali on Wednesday. A Tribune photograph

List of POs residing abroad has been pruned, says IGP Deo
Chandigarh, January 8
Updating the list of Proclaimed Offenders (POs) residing in foreign countries, the NRI police wing has deleted at least 184 of the 844 names.
investment initiatives
Red-tape, lack of transparency biggest hurdles for NRIs
Jalandhar, January 8
Even as the state government has all of a sudden started wooing NRIs by promoting its matching grant schemes through the web portal, the NRIs, who have been investing here, rue prevalence of red-tape in government departments, lack of transparency on the part of the administration and the absence of a system to monitor the status of works initiated by them and utilisation of funds through the web.
indians in nigeria jail
Human rights body asks NRI panel to intervene
Hoshiarpur, January 8
The Centre for Human Rights Initiative, Training and Research Association (CHITRA), an NGO dedicated to human rights, has urged the state NRI Commission to intervene in the matter related to the alleged harassment of Indians in a Nigeria jail.
Corruption, atrocities against women, worry NRIs
New Delhi, January 7
The three-day 'Pravasi Bharatiya Divas' (PBD) began here today with some Persons of Indian Origin (PIOs) expressing concern over continuing corruption in India and atrocities against women.
Punjabis in search of their Punjab
NRIs in Punjab face peculiar problems and fear of exploitation keeps expatriate Punjabis from investing in industry in Punjab
Harjap Singh Aujla
Most NRIs are very genuinely reluctant to visit Punjab. According to their perception and actual experiences, the crime as reported abroad in the newspapers and Punjabi television channels, is simply too much in the state and that scares them from visiting their villages.

tribune special
NRI fast-track courts stuck in slow lane
Jalandhar, January 7
Speedy disposal of their legal matters in exclusive courts has been a long-pending demand of the NRIs belonging to Punjab.
Month on, Hayre fails to join as NRI panel member
Jalandhar, January 7
More than a month after his appointment to the Punjab State Commission for NRIs as a member on December 4, former NRI Sabha chairman Kamaljit Hayre is yet to assume charge.
NRI projects under RTS Act soon
Chandigarh, January 7
To expedite clearance to proposals from NRIs for developmental projects in their native villages, the Punjab Government has decided to cover all such cases under the Right to Service (RTS) Act.
Canadian minister visits Pingalwara
Amritsar, January 7
Canadian Minister Tim Uppal along with his family visited the main branch of the Pingalwara Charitable Society here today. He said it was his second visit and that he was impressed with the services being provided by the society to vulnerable persons.
tribune special
NRI fraud marriages still a knotty affair
Chandigarh, January 6
Getting runaway NRI grooms back to Punjab for any settlement with victim brides continues to be the biggest unfinished agenda for the Punjab State Commission for NRIs more than two years after it started functioning in November 2011.
Humiliation at IGI: Months on, doc in US awaits justice


Jalandhar, January 6
Memories of his detention and humiliation by Immigration and police officials continues to haunt California-based Dr Harmandeep Rai (38). He is scared of revisiting India for fear of being implicated in a false case.
Prominent invitees at Sammelan
Chandigarh, January 6
At least three Union Ministers from Canada, including Tim Uppal, Bal Gosal and Manmeet Gosal, will be participating in the NRI Sammelan, an official press release said here today.

Portal for NRIs launched
Chandigarh, January 6
On the pattern of NRI police stations working independently of normal policing in districts, the Punjab Government has initiated the process of instituting separate courts for handling civil cases of NRIs.
tribune special
Amend rent Act, demands NRI body
Says only then can the community members expect speedy resolution of their property disputes
On the eve of the two-day NRI Sammelan being organised by the Punjab Government on January 10 and 11, The Tribune takes a look at some of the issues concerning the NRIs from the region. The Tribune reporters find out if the promises made by the government last year have been fulfilled. Here is the first report of the series.
Jalandhar, January 5
A few days ahead of the two-day NRI Sammelan, the Punjab NRI Sabha has demanded further amendments in the existing laws to ensure speedy resolution of property disputes of the community members.

Indian on Interpol list for wife's murder
Singapore, January 4
An Indian, the husband of a beautician whose decapitated body was found in a canal in Singapore, is now on Interpol's wanted list.
Attack on student: Oz teen gets bail
Melbourne, January 3
A 16-year-old boy, who was charged with attacking a Sikh youth in Australia, was granted bail after he briefly appeared in a court on Friday. The boy, who cannot be named for legal reasons, was granted bail a day after a 17-year-old was remanded in custody in connection with the attack on Manriajwinder Singh in Melbourne on December 29.
Sikh family injured in accident in NZ
Melbourne, January 3
Eight persons of a Sikh family, including a six-month-old boy, were injured when their van plunged 15 metres down a cliff in New Zealand yesterday morning, turning their "celebration" trip into a tragedy. The family was going to Hawke's Bay from the Auckland Airport when the accident took place.
Indians lodged in Nigerian jail being 'harassed'
Hoshiarpur, January 2
Indians lodged in a Nigerian jail are on the verge of dying. They hardly get meal once a day and there is no medication in case anyone falls ill. The abject misery that befell on 10 Indians, including two Punjabis, have been laid threadbare in a letter by Capt Shailesh Kumar Singh, captain of the Indian crew, to the Indian Government. He has sent the letter to the family of Gagan Kumar of Hoshiarpur, one of the two Punjabi lodged in the Nigerian jail. The other youth is from Gurdaspur.
Smartphones enhance attention: US Sikh scientist
New York, January 2
Smartphones, often billed as distractors, can actually help enhance attention and mindfulness, claims an Indian-American researcher. Jasprit Singh, professor of electrical engineering and computer science at University of Michigan, has suggested that smartphones can enhance mindfulness, help users stay attentive and achieve particular goals while at work or home.
Grief, shock at killed NRI's village
Phagwara, January 2
The native village of NRI Jaspal Singh (45), who was shot dead in Bakersfield by the California police officer on Sunday, was in mourning on Thursday. Relatives and family friends of the NRI were in a state of shock at Bharo Majra village.
Former Babbar Khalsa leader hauled before Canadian refugee board
Toronto, January 1
A former leader of the banned Babbar Khalsa terrorist group has been ordered to appear at an immigration hearing to decide whether he should be admissible into Canada. Gurmej Singh Gill arrived in Vancouver to visit relatives in late November and was to return to his home in the British city of Birmingham December 22.
Six Indian tourists die in Nepal mishap
Kathmandu, January 1
Six Indian tourists were killed and five others injured when a jeep carrying them plunged into a river in Tanahun district in Nepal on New Year's Eve. The incident occurred last night when the jeep carrying 10 Indian tourists, all from Kolkata, was heading for Kathmandu from tourist city of Pokhara.