PPP: Probe minister's role
Tarn Taran, January 9
Seeking Majithia's removal, PPP workers held a protest here on Thursday. Led by district president Vijay Paul Chaudhry, the protesters held a march in the town which culminated near the Deputy Commissioner's office. They handed over a memorandum to the district authorities demanding a CBI probe into the minister's alleged role in the drug racket.
Investigate Bhola's charges against Majithia: AAP
Jalandhar, January 9
The Aam Aadmi Party (AAP) today attacked the SAD-BJP alliance over its silence on state Cabinet Minister Bikramjit Singh Majithia's alleged involvement in the drug trade and demanded a CBI probe into the matter.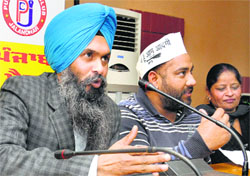 AAP begins campaign with Pathankot rally
Pathankot, January 9
After tasting electoral success in the New Delhi elections, a buoyant Aam Aadmi Party (AAP) is all set to make a foray in Punjab politics with its senior leaders today declaring that the party would field its Lok Sabha candidates in the state.
Kamaldeep Singh (left), media adviser to AAP, at a press meet in Jalandhar on Thursday. A Tribune photograph


Chatrath to head Cong disciplinary panel
New Delhi, January 9
Senior Congress leader and former MLA from Batala Gopal Krishan Chatrath was today appointed chairman of the Punjab Pradesh Congress Committee's (PPCC) disciplinary panel which will have four more members.


Gurkanwal Kaur has been appointed member of the disciplinary panel


PIMS docs call off stir, paramedics adamant
Jalandhar, January 9
Doctors of the Punjab Institute of Medical Sciences (PIMS) finally called off their strike after almost a month here today. The striking doctors took the decision after Sunil Kapoor, a newly inducted member of the management from Fortis Healthcare Limited, assured the protesters of releasing a month's salary.
open school exam
Pvt schools resent PSEB move to shift exam centres
Faridkot, January 9
Classes 10 and 12 students under the Punjab open school system are in for some trouble, so it is said, as the Punjab School Education Board (PSEB) has shifted the examination centres from private to government schools. The reason being given is to curb cheating. "There have been complaints of rampant cheating during the examinations," said PSEB chairperson Tejinder Kaur Dhaliwal.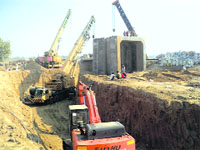 Work on rail bridges picks up pace
Abohar, January 9
Expecting that the Sriganganagar-Hanumangarh broad gauge, 67-km rail link in Rajasthan, would be commissioned by the month-end, the Railways have fast tracked the construction work of railway underbridges (RuBs).

The work on a railway underbridge in progress at Chak Badal village in Sriganganagar district of Rajasthan. Tribune photo


68 contractual staff relieved by Punjabi varsity


Patiala, January 9
Punjabi University has issued relieving letters to 68 contractual non-teaching employees, including 39 clerks and 29 laboratory attendants, working in the university since years. The decision came in the wake of the directions from the Punjab and Haryana High Court.

SGPC no to computerised Granth Sahib record
Amritsar, January 9

The SGPC has expressed its inability to adopt an innovative technique to keep the computerised record of Guru Granth Sahib script. To give a distinct identity to every manuscript of Guru Granth Sahib, an Australian team today demonstrated a software before Akal Takht Jathedar Giani Gurbachan Singh and SGPC president Avtar Singh Makkar.
Sukhbir Singh from Australia (right) explains the functioning of a software to Akal Takht Jathedar Gurbachan Singh and SGPC president Avtar Singh Makkar in Amritsar on Thursday. Photo: Vishal Kumar

The Punjab Public Service Commission (PPSC) will be holding the preliminary examination of the Punjab State Civil Services Combined Competitive Exams, 2013, on March 16. The mains are likely to begin in the third week of July.
Youth organisations seek employment policy, meet Guv
Chandigarh, January 9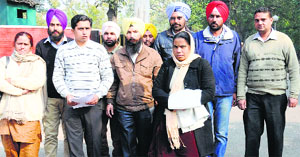 Representatives of various organisations comprising unemployed youth today submitted a memorandum to Governor Shivraj Patil urging him to direct the state government to put an employment policy in place. Dinesh Chadha, RTI activist, who led the delegation, sought a "right to employment" policy.


Members of various organisations comprising unemployed youth in Chandigarh on Thursday. Tribune photo: Manoj Mahajan

'Land to landless' rent the air at farm workers' meet
Barnala, January 9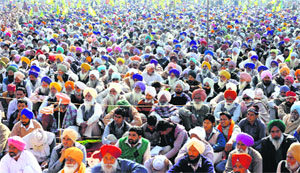 To put pressure on the Punjab Government to accept their long-pending demands thousands of members, including women, of the Bharatiya Kisan Union (Ugrahan) and Punjab Khet Mazdoor Union (PKMU) today called for a three-day state-level agitation.
Farmers and agricultural workers at a state-level conference of the Bharatiya Kisan Union (Ugrahan) and the Punjab Khet Mazdoor Union in Barnala on Thursday. Tribune photo

Punjab Diaspora Special
sammelan today
NRIs sceptical of state govt efforts
Chandigarh, January 9
Though most Non Resident Indians (NRIs) from the state appreciate the efforts of the state government to resolve their various problems, they feel much more needs to be done to encourage them to invest here.
decked up: Virasat-e-Khalsa at Anandpur Sahib where the inaugural session of the NRI Sammelan is to be held on Friday. A Tribune photograph

Despite direction, govt fails to form probe panel
Jalandhar, January 9
The state government has failed to form a three-member committee to probe the murder of Punjabi NRIs in Philippines even though the state NRI Commission Chairman Justice (retd) Arvind Kumar had recommended it to do so. The NRI Commission had directed the government to form the committee after taking suo motu cognisance of reports of 500 Punjabi NRIs being killed in Philippines in August last year.
Will set up football league at my village: Canadian MP
Jalandhar, January 9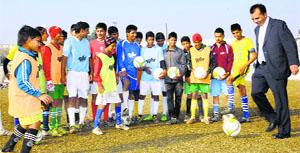 Canadian MP Jasbir Sandhu, who is here to attend the forthcoming NRI Sammelan in Jalandhar, wants to contribute in developing his native village, Rurka Kalan. He has been providing financial support to popular Youth Football Club at the village, where he spent the first 12 years of his life.

Candian MP Jasbir Sandhu at the Youth Football Club in Rurka Kalan village in Jalandhar on Thursday. Tribune photo: Malkiat Singh

Invest in health sector: Chowdhary
Hoshiarpur: At the NRI Sammelan, Minister of State for Health and Family Welfare, Santosh Chowdhary, today urged NRIs to invest in healthcare services in the country. She said the 80 billion dollar healthcare industry in the country, was expected to be worth 160 billion dollars by 2017.
Complaint centre not set up, Chief Secy gets contempt notice
Chandigarh, January 9
The chief secretaries and home secretaries of Punjab and Haryana are in contempt loop. Taking up two petitions alleging willful disobedience of Punjab and Haryana High Court orders on setting up police complaint authorities in each district, Justice Mahesh Grover today issued contempt notice to Punjab Chief Secretary Rakesh Singh and Principal Secretary, Home Department, DS Bains.
drug trafficking case
Accused moves HC, seeks CBI probe
Chandigarh, January 9
Adding a twist to the drug trafficking case, accused Jagjit Singh Chahal today moved the Punjab and Haryana High Court for a CBI probe alleging "shady, biased and malicious investigations" aimed at shielding bigwigs "enjoying the patronage of the state".
HC sets aside performance review report of PSPCL
Chandigarh, January 9
The Punjab and Haryana High Court has cautioned the "executive authority" against yielding to the "temptation of wielding the pen, without displaying a mind of reason".
On HC order, Legal Literacy Clubs to be set up in Fazilka
Fazilka, January 9
On a direction of the Punjab and Haryana High Court, all higher education and technical institutions in the district have been asked to set up Legal Literacy Clubs to bring legal awareness and fight social evils among the students.
Patiala ex-Mayor's son booked for attacking man
Patiala, January 9
President of the Youth Akali Dal (Patiala urban) and son of former Mayor Jaspal Pardhan, Capt Preetinder Singh and others, including his close relatives, have been booked for allegedly attacking city resident Tarwinder Singh.