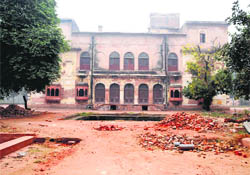 MC's proposal to denotify Ram Bagh sparks row
Amritsar, December 31
The move of the Amritsar Municipal Corporation to apply for denotification of the historic Ram Bagh Garden, barring the Summer Palace of legendary Sikh ruler Maharaja Ranjit Singh, has again stirred a hornet's nest.



The Summer Palace at Ram Bagh. A Tribune photograph

HC's New Year resolve: Justice to kids, poor on priority
Chandigarh, December 31
The doors of justice will open on priority for children, juveniles and the marginalised in the New Year.

Steeped in devotion:

Devotees throng the Golden Temple on New Year's Eve in Amritsar. Photo: Vishal Kumar
AAP mulls contesting all 13 LS seats in state
Jalandhar, December 31
Buoyed by the people's response to the membership drive of the Aam Aadmi Party (AAP) in Punjab, the Arvind-Kejriwal-led party is mulling to contest all 13 Lok Sabha seats in the state.

Modi's rally in Jagraon now on Feb 23
Chandigarh, December 31
BJP Kisan Morcha national secretary Sukhminderpal Singh Grewal today said the SAD-BJP alliance's 'Fateh Rally' at Jagraon in Ludhiana would now be held on February 23.
Kejriwal sought support of 'corrupt' Cong: Ramdev
Jalandhar, December 31
Yoga guru Ramdev today criticised Delhi Chief Minister Arvind Kejriwal, who is also AAP chief, for forming government with the support of Congress, "the most corrupt political party", in Delhi.
Cong leaders oppose Bangar's appointment
Nawanshahr, December 31
The appointment of Dharam Pal Bangar as the Nawanshahr District Congress Committee chief has seemingly united the warring factions led by party leaders Satvir Singh Palli Jhkki and Gur Iqbal Kaur Babli.



Cop in California shoots Phagwara man dead
Sacramento (California), December 31
A Punjabi, Jaspal Singh (45), was shot dead by a California police officer in Bakersfield following a call about a domestic dispute. The police received the call at 8 in the morning. When two police officers arrived on the spot, Jaspal was reportedly outside his car, holding a firearm.
racial attack on punjabi youth
Oz govt soft on hate crimes: Activist
Bathinda, December 31
A human rights activist in Australia, Jayanta Dagore, who has been fighting to seek justice for racial attack victims, has accused the Australian government for not being strict in dealing with such cases. He has also blamed the Indian Government for not doing enough to support such victims.
Seniority list: Panic grips lecturers as govt puts them on notice
Nawanshahr, December 31
Panic and resentment prevails among school lecturers promoted in May last year as the state education department has started sending show-cause notices as part of its proposed move to revert those whose names did not figure in the fresh seniority lists of master cadre. Discrepancies had been found in some of the lecturers' cases, which were cleared by the Department Promotion Committee in December 2011. The affected school lecturers have started exploring legal remedy against the proposed move of the state government.
Prof accuses college principal of harassment
Jalandhar, December 31
An Assistant Professor of the DAV Institute of Engineering and Technology, Jalandhar, has lodged a police complaint accusing the college principal of harassing her and using foul language at workplace.
Income Tax Sewa Kendra inaugurated in Phagwara
Phagwara, December 31
The Income Tax Department (IT) opened an "Income Tax Sewa Kendra" in Phagwara here today.
Finding good match uphill task for border residents
Ferozepur, December 31
Wedged in-between the Sutlej and our hostile neighour, Pakistan, border residents feel they are caught between the devil and the deep blue sea. Bereft of basic amenities such as drinking water, roads, education and healthcare, people here struggle to find a suitable matrimonial match.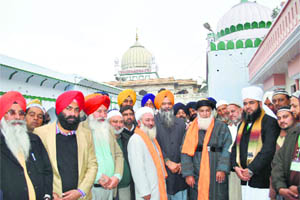 Focus on people-to-people contact, say Pak pilgrims
Fatehgarh Sahib, December 31
The district administration today welcomed a Pakistani delegation of 200 pilgrims that came to pay obeisance at Roza Sharif here during the annual festival Urs at Sirhind Railway Station.

Prof Prem Singh Chandumajra honouring the leader of Pakistani pilgrims' delegation at Roza Sharif in Fatehgarh Sahib on Tuesday. A Tribune photograph

Public assets worth Rs 1,000 cr sold: RTI
Chandigarh, December 31
Congress spokesman Sukhpal Singh Khaira today said the sale of government properties worth around Rs 1,000 crore under the OUVGL (Optimum Utlisation of Vacant Government Lands) scheme belied the Punjab Government's claims of "progressive Punjab".
Funds not spent, Jairam writes to CM
Abohar, December 31
Union Rural Development Minister Jairam Ramesh has written to the Punjab Government for faring badly in availing funds for a Central welfare project.
PIMS docs hold candlelight vigil
Jalandhar, December 31
Striking doctors of Punjab Institute of Medical Science (PIMS) today held a candlelight procession on the institute premises.



5 jawans get 3 months' RI for being absent from duty
Patiala, December 31
About a year after 10 soldiers of an armoured regiment stationed in Patiala left the unit without leave, alleging that their superiors forced them to do "menial tasks", the Army's Summary Court Martial held five of them guilty and sentenced them to three months' rigorous imprisonment.





on warpath:

Villagers stage a dharna in front of Bilga police station in Phagwara on Tuesday. Tribune photo

Villagers protest against sand mafia




Hundreds of villagers sat on a dharna in front of Bilga police station for three hours on Tuesday in protest against sand mafia allegedly working in connivance with police
A rally was organised by the villagers, which was addressed, among others, by Jamoohari Kisan Sabha president Kulwant Singh Sandhu
Sandhu alleged that the sand mafia was charging higher than the fixed government rates for sand and gravel, an allegation declined by SHO Daljit Singh
The dharna was lifted after an assurance of looking into the matter by Nakodar DSP Harinder Pal Singh Parmar