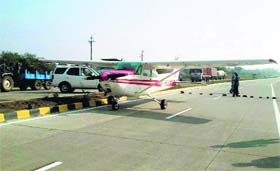 Runway on the highway: A four-seater private aircraft made an emergency landing on a highway at Beitul in Madhya Pradesh after it got caught in rough weather on Tuesday morning, bringing traffic to a halt and startling motorists. PTI
LS polls: NCP to go it alone in Gujarat
Ahmedabad, December 31
The Nationalist Congress Party has given an indication of severing its ties with the Congress in the coming Lok Sabha elections by taking a unilateral decision to contest all 26 seats in Gujarat on its own.
news analysis
To counter AAP, Cong woos Anna Hazare
New Delhi, December 31
Facing an electoral challenge from Aam Aadmi Party which has successfully pulled the anti-corruption plank from under every political party's feet, the Congress is now openly wooing social activist Anna Hazare in the run-up to 2014 Lok Sabha polls.
Coal scam: CBI to register more FIRs
New Delhi, December 31
The Central Bureau of Investigation is likely to register more cases to investigate the alleged irregularities in allocation of coal blocks to certain private companies, mainly between 2006-09. "The agency may register two to three FIRs soon," a senior official said.
gujarat riots
Nanavati panel gets 6-month extension
Ahmedabad, December 31
The Gujarat Government has granted yet another six-month extension to the Nanavati Commission, probing the 2002 post-Godhra riots, officials said today. The extension, given to the commission for the 21st time, is valid up to June 30, 2014.


Arup Raha takes over as IAF Chief
New Delhi, December 31
Air Chief Marshal Arup Raha took over the command of the Indian Air Force today becoming its 24th Chief of the force. He replaced Air Chief Marshal NAK Browne. After assuming charge, Air Chief Marshal Raha said he expected sustained effort from the air warriors to maintain high operational readiness.
Outgoing Air Chief Marshal NAK Browne (left) shakes hands with his successor Arup Raha at the Air Force Headquarters in New Delhi on Tuesday. Tribune photo: Manas Ranjan Bhui
105 more districts under LPG cash subsidy from today
New Delhi, December 31
Domestic cooking gas consumers in Delhi and Mumbai will get cash subsidy for buying cooking gas refills from tomorrow as the Direct Benefit Transfer (DBTL) for LPG Scheme will be extended to 105 more districts.
pravasi bharati divas
Rahul Gandhi to interact with NRI achievers
New Delhi, December 31
In a first, Congress vice-president Rahul Gandhi is scheduled to inaugurate a session of the Pravasi Bharati Divas (PBD) celebration a day before Prime Minister Manmohan Singh is to formally declare the January 7-9 meet open. Rahul's address at a function organised by the UPA government is not an everyday occurrence.
M'rashtra to free veggies, fruits from marketing committees
Mumbai, December 31
The Maharashtra Government is all set to free vegetables and fruits from the clutches of traders at Agriculture Produce Marketing Committees across the state. After Congress vice-president Rahul Gandhi asked Congress-party led governments to remove vegetables and fruits from the purview of the APMCs, the Maharashtra Government is expected to revive a notification for the same, sources said.
New land Act effective from today
New Delhi, December 31
The new Land Acquisition Act, enacted by Parliament this year to replace a 120-year-old legislation, will come into force from tomorrow. The historic Act to provide just and fair compensation to farmers was passed by both Houses of Parliament with overwhelming majority during its Monsoon Session.
Maldivian President in India today
New Delhi, December 31
Maldivian President Abdulla Yameen Abdul Gayoom will arrive in India tomorrow, his first overseas visit after assuming office last month, indicating the importance the new leadership attaches to its multi-faceted ties with India.
Rape victim dies a week after suicide bid
Kolkata, December 31
A 16-year-old girl, who was gangraped twice in a day around two months ago in the northern fringes of the city and had attempted suicide on December 23, died in a city hospital today.
Communal tension grips Assam hills
Guwahati, December 31
Tension continued to grip Karbi Anglong hill district in Assam following the killing of at least 10 Rengma Naga villagers by the Karbi People's Liberation Tiger (KPLT). Violence erupted on Friday morning when about 15 armed KPLT ultras targeted some villages.
RJD chief meets Sonia
New Delhi, December 31
RJD chief Lalu Prasad today met Congress chief Sonia Gandhi and later vowed not to repeat the 2009 mistake of snapping alliance with the party. After the meeting, Lalu said Sonia has called him again to discuss the issue of alliance.
CBSE exams to start on March 1
New Delhi, December 31
The Central Board of Secondary Education today announced the date sheet for Classes X and XII board exams to be held in March and April 2014. The board examinations will commence on March 1, 2014, similar to the last year.
Fake degree: Annamalai varsity official sacked
Chidambaram (TN), December 31
The Special Officer of Annamalai University's Tiruvannamalai Centre, appointed in 2011, is being sacked after it was found he had submitted fake degree certificate to get the post.