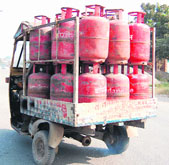 State gaining indirectly in Centre's direct benefit plan
Faridkot, January 2
With the start of the Centre's LPG direct benefit subsidy transfer scheme in five districts of Punjab from January 1, the state government's earning as VAT (value added tax) on each domestic gas cylinder has shot up from Rs 19.22 to Rs 55.27, an extra earning of Rs 36.05. Faridkot, Jalandhar, Ludhiana, Fatehgarh Sahib and Barnala were part of the 105 districts across the country where the second phase of the scheme was implemented yesterday.
Indians lodged in Nigerian jail being 'harassed'
Hoshiarpur, January 2
Indians lodged in a Nigerian jail are on the verge of dying. They hardly get meal once a day and there is no medication in case anyone falls ill. The abject misery that befell on 10 Indians, including two Punjabis, have been laid threadbare in a letter by Capt Shailesh Kumar Singh, captain of the Indian crew, to the Indian Government. He has sent the letter to the family of Gagan Kumar of Hoshiarpur, one of the two Punjabi lodged in the Nigerian jail. The other youth is from Gurdaspur.
16 linemen booked for hurting religious sentiments
Fatehgarh Sahib, January 2
As many as 16 linemen, who had disrupted the Chief Minister's speech at SAD's conference at Shaheedi Jor Mela in Fatehgarh Sahib, were booked for rioting and hurting religious sentiments. After being presented in a court at Fatehgarh Sahib, they were sent to police remand till January 3.
6 run over by truck near Jalandhar
Jalandhar January 2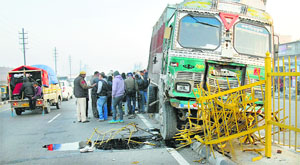 Six persons were run over by a speeding truck near Kahnpur village on the Jalandhar-Jammu national highway early this morning. The deceased included two couples, a seven-year-old boy and an auto driver. A two-year-old child and a youth sustained fractures.
The truck that ran over six persons before crashing into a divider on the Jalandhar-Jammu national highway near Kahnpur village on Thursday. Tribune photo: Sarabjit Singh

Dissent high in Gurdaspur BJP
Gurdaspur, January 2
Going by the thin presence of party workers at recent Bharatiya Janata Party (BJP) functions in the Gurdaspur parliamentary constituency, it seems that the party will find the going tough in the Lok Sabha elections. The constituency, comprising Gurdaspur, Pathankot and Batala districts, has been allotted to the BJP under the seat-sharing agreement with its ally, the Shiromani Akali Dal (SAD).
CPI to decide poll strategy tomorrow
Chandigarh, January 2
A meeting of the Central Secretariat of the CPI will be held in New Delhi on January 4 to decide a political strategy with regard to the Lok Sabha elections. In Punjab, the CPI may tie up with the Congress, say insiders. As of now, the CPI is a part of the Sanjha Morcha, including the CPM, the Shiromani Akali Dal (Longowal) and the Peoples' Party of Punjab.


Smartphones enhance attention: US Sikh scientist
New York, January 2
Smartphones, often billed as distractors, can actually help enhance attention and mindfulness, claims an Indian-American researcher. Jasprit Singh, professor of electrical engineering and computer science at University of Michigan, has suggested that smartphones can enhance mindfulness, help users stay attentive and achieve particular goals while at work or home.
Ludhiana gets new MC commissioner; 12 officers shifted
Chandigarh, January 2
The Punjab government today transferred seven IAS (Indian Administrative Service) and five PCS (Punjab Civil Service) officers. Rahul Tiwari has been given the charge of Commissioner, Municipal Corporation, Ludhiana; Chairman, Improvement Trust, Ludhiana, and Chief Administrator, Greater Ludhiana Area Development Authority.
Sarpanch framed at Rakhra's behest, say protesting villagers
Patiala, January 2
Residents of Nijamniwala village in Samana are up in arms against state Cabinet Minister Surjit Rakhra after Youth Akali Dal vice-president and village sarpanch Jajjpal Singh alias Jajj Nijamniwala was arrested for allegedly carrying an illegal case a fortnight ago. Rakhra has denied any involvement in the case.
Delivering 'parshad' at your doorstep
Amritsar, January 2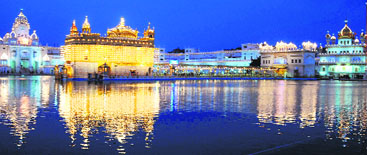 If you do not want to get stuck in long queues for 'parshad' at the Golden Temple or have constraints to visit the shrine physically, onlineprasad.com will suit you best. The service is being appreciated by devotees, with orders coming from as far as Canada and Australia.
Violation of 'maryada'?
SGPC secretary Dalmegh Singh has opposed the idea of selling 'parshad' through courier but expressed "helplessness" in check the move. "It is just not possible to observe 'maryada' while sending 'parshad' through courier like any other goods. We cannot detect the dispatcher because counters of 'pinni parshad' are open for all.
Won't walk out of PIMS: Rakhra
Patiala, January 2
Two days ahead of the crucial emergency meeting of the Punjab Institute of Medical Sciences (PIMS) governing body convened by Chief Minister Parkash Singh Badal at Chandigarh on Saturday, Cabinet Minister Surjit Singh Rakhra today made it clear that he and other members had no intentions to quit PIMS. Instead, they were thinking of inducting new members.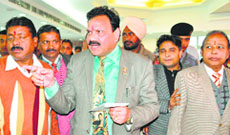 Act against erring policemen: Verka
Chandigarh, January 2
The Vice-Chairman of the National Commission for Scheduled Castes and Scheduled Tribes, Raj Kumar Verka, today gave a week's ultimatum to the Punjab Police for initiating action against policemen involved in parading a Dalit girl nude at a Bathinda police station and torturing a Dalit youth in Amritsar.
Patiala gets 50 buses under JNNURM
Patiala, January 2
In a bid to improve the public transport system here, the Centre has sanctioned 50 buses for the city under its Jawaharlal Nehru National Urban Renewal Mission (JNNURM) Scheme.
Finally, grant for panchayats elected unopposed
Ropar, January 2
Panchayats elected unanimously will finally get Rs 3 lakh grant as announced by Chief Minister Parkash Singh Badal in 2008. SAD spokesman and local MLA Daljeet Singh Cheema said the money had been released and the panchayats had been asked to submit their projects for spending the amount.
Anti-encroachment drive falls flat in Abohar
Abohar, January 2
The local administration's anti-encroachment drive launched on Tuesday fell flat today as encroachers again occupied footpaths. Policemen were present at the crossings, but they were silent spectators. Cars blocked the timber market (east circular road), causing traffic jam.
Grief, shock at killed NRI's village
Phagwara, January 2

The native village of NRI Jaspal Singh (45), who was shot dead in Bakersfield by the California police officer on Sunday, was in mourning on Thursday. Relatives and family friends of the NRI were in a state of shock at Bharo Majra village.

Manjit Kaur and Avtar Singh, sister and brother-in-law of the deceased NRI, Jaspal Singh (inset), at Bharo-Majara village on Thursday. Tribune file photo


Cong slams govt for issuing notices to teachers
Nawanshahr, January 2
Congress spokesperson Sukhpal Singh Khaira has condemned the Punjab Government for issuing show-cause notices to lecturers promoted in May 2012. The notices are part of the government's proposed move to revert the promotions to cover up its "misdeeds".

Govt to release more funds for cancer treatment
Chandigarh, January 2
The Punjab Government's decision to withdraw sin tax on cigarettes will not have any impact on funding for treatment of poor cancer patients. The state government will now make additional provisions from the state's consolidated Budget.

Over 1,200 patients examined at free camps


Nawanshahr, January 2
In all, 1070 people were examined during a mega free medical check-up camp at Tapparian Khurd village in the district today.



ASI murder accused allowed to be handcuffed
Amritsar, January 2
After a failed jailbreak attempt yesterday, Ranjit Singh Rana, a SAD leader and an accused in the murder of Assistant Sub-Inspector Ravinderpal Singh in December 2011, was produced in a local court today. The court of Additional Sessions Judge Atul Kasana allowed the jail authorities to handcuff Rana while being brought for a hearing.





Fraudsters targeting those with ATM cards
Jalandhar, January 2
Pretending to be RBI officials, unscrupulous elements are making phone calls to those with ATM cards (credit and debit), asking them to furnish details of their card for verification or else their cards would be blocked. In this way, they are able to skim vital card data.

4 held in dowry case
Abohar, January 2
The police have arrested four people in a dowry case. In all, nine people have been booked in the case. Gurcharan Singh of Tootwala village alleged that the accused — Surinder Singh, his father Harbans Singh, mother Taro Bai and brother Tarsem Singh of Sardarpura village — had, on August 1, thrashed him and his sister, Surjit Kaur, to settle a dispute over dowry. She was married to Surinder, who used to allegedly harass her for bringing insufficient dowry. The accused have been booked under Sections 498A, 325, 323, 148 and 149 of the Indian Penal Code (IPC).