Probe charges of complainant in case against Sukhbir: Governor
Faridkot, January 6

Punjab Governor Shivraj K Patil has directed the Principal Secretary, Home Affairs and Justice, to conduct a probe into the allegations levelled by a Kotkapura resident, Naresh Sehgal, against Deputy Chief Minister Sukhbir Badal.
The picture that Naresh Sehgal had sent to the Governor with his complaint, showing the police picking up a youth before his death at the Dasehra Ground in Kotkapura. Tribune photo

Notice to state for CBI probe into Bhola's disclosures
Chandigarh, January 6
Acting on a petition filed by senior Congress leader Jagmeet Singh Brar for a CBI probe on the basis of disclosures made by alleged druglord Jagdish Bhola, the Punjab and Haryana High Court today put the State of Punjab on notice.
First meeting of recast PPCC a smooth affair
Chandigarh, January 6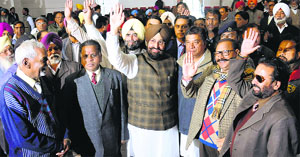 The storm over Punjab Pradesh Congress Committee's (PPCC) office-bearers' list seems to be over for now with 27 district Congress committee presidents, 32 of the 35 general secretaries, 49 of the 61 secretaries and 12 of the 14 vice-presidents attending the first meeting of the new PPCC here today.

PPCC president Partap Singh Bajwa (centre) waives at party workers on his arrival at the Congress Bhawan in Chandigarh on Monday. Tribune photo: Manoj Mahajan

11 school kids injured as van overturns near Fazilka
Fazilka, January 6
At least 11 schoolchildren, including seven girls, were injured as a van ferrying them overturns on the outskirts of the town today. Two of the injured children suffered fractures.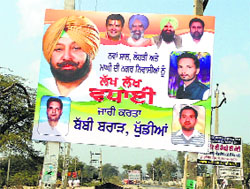 maghi mela
Bajwa's photo missing from party hoardings
Muktsar, January 6
Facing a near-revolt, Punjab Pradesh Congress Committee president Partap Singh Bajwa's photographs have disappeared from hoardings installed by party workers in Muktsar to greet people on the occasion of Maghi Mela.
A hoarding with picture of former Chief Minister Capt Amarinder Singh at Lambi village in Muktsar district. A Tribune photograph

On subsidised power, AAP has followed SAD model, claims Sukhbir
Chandigarh, January 6
Deputy Chief Minister Sukhbir Singh Badal today said he saw no similarities in the ideology of the Aam Adami Party( AAP) and that of the People's Party of Punjab (PPP). He was commenting on the possibility of an electoral pact between these parties at a function here today.
Humiliation at IGI: Months on, doc in US awaits justice


Jalandhar, January 6
Memories of his detention and humiliation by Immigration and police officials continues to haunt California-based Dr Harmandeep Rai (38). He is scared of revisiting India for fear of being implicated in a false case.
State hikes allowance for gallantry awardees
Chandigarh, January 6
Gallantry awardees from Punjab have got a New Year gift from the state government: A 20 per cent hike in monetary allowance. Under the revised policy, a recipient of Param Vir Chakra (PVC), the highest award for gallantry in the face of the enemy, will be entitled to an annuity of Rs 23,100 per month while a recipient of Ashok Chakra (AC), the highest award for gallantry other than in the face of the enemy, will be entitled to Rs 18,480 per month. They were earlier being paid Rs 19,250 and Rs 15,400, respectively.
Villagers panic as Bhakra canal banks erode
Fatehgarh Sahib, January 6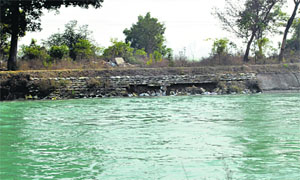 Breaches in a 100-feet-long portion of the embankment along the Bhakra Main Line Canal near Thablan village Nogawan, Bassi Pathana, which were earlier plugged, have surfaced again. This is causing panic among residents of the nearby villages. They expressed apprehension that if the embankment gave away, there would be a huge loss of life and property.
Breaches in the embankment along the Bhakra Main Line Canal near Thablan village resurface as water in the cavities erodes soil. A Tribune photograph

Cops lathicharge protesters on Patiala highway
Patiala, January 6
The police today lathicharged protesting villagers at Bahardurgarh, who had blocked the Patiala-Rajpura highway in support of their demand for better civic amenities in their area. The protesters alleged that the district administration had been ignoring their demand for a proper drainage and sewerage system. They said the situation was so bad that stagnant water entered their houses but the authorities were apathetic towards their problems.
Inauguration of two hospitals on hold
Fatehgarh Sahib, January 6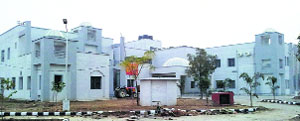 The inauguration of two hospitals in the district built at a cost of Rs 5.5 crore has been put on hold. The construction work of these hospitals, one at Chanarthal village and the other at Khera village, has been completed.
The hospital at Chanarthal village in Fatehgarh Sahib is awaiting inauguration for the past six months. A Tribune photograph

State to host National Youth Festival
Chandigarh, January 6
Deputy Chief Minister Sukhbir Singh Badal today said Punjab would host the 18th National Youth Festival from January 12 to 16 at Punjab Agricultural University, Ludhiana.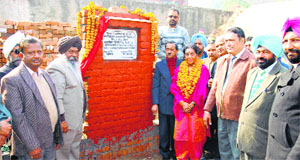 new chapter:

Union Minister of State for Health Santosh Chowdhury at the foundation stone laying ceremony of classrooms at Government Senior Secondary School for Girls in Phagwara on Monday. Tribune photo
Youth's family accuses his in-laws of murder
Fatehgarh Sahib, January 6
The parents and relatives of Jasdev Singh (25), whose body was fished out from the Bhakra mainline canal, today alleged that his in-laws had murdered him and thrown him into the canal.
Entries open for Dhahan lit prize
Chandigarh, January 6
Dhahan International Punjabi Literature Prize has invited entries for the awards to be given to a book in either Gurmukhi or Shahmukhi. The last date for the submission of entries is February 15. The prize has been founded to celebrate the rich history of Punjabi language and literature around the globe.
Another no-show at PIMS: Classes fail to resume
Jalandhar, January 6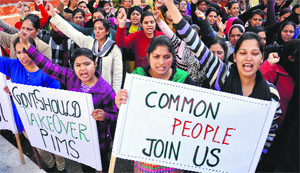 For yet another day, the Punjab Institute of Medical Sciences (PIMS) management's promise of starting classes and disbursing salaries to the staff proved hollow. Several members of the management, including Managing Director Jaspal Singh Dhesi, visited the institute, and met parents and doctors today.
Employees of the Punjab Institute of Medical Sciences protest against the state government in Jalandhar on Monday. Tribune photo: Sarabjit Singh

One more health facility inaugurated in Abohar
Abohar, January 6
Punjab Health Minister Surjit Kumar Jyani on Monday inaugurated a Community Health Centre (CHC), constructed at Rs 5.95-crore, at Ramsara village on the Abohar-Hanumangarh road.
Cong protests shortage of docs
Lehragaga (Sangrur), January 6
Congress workers led by Rahul Inder Singh Sidhu, son of Lehragaga legislator Rajinder Kaur Bhattal, today forced their way through police barricades put up near bus stand here today, demanding the appointment of doctors at the sub-divisional hospital.
Health Dept starts probe into 'harassment' of patients
Muktsar, January 6
The Punjab Health Department has initiated an inquiry into the alleged harassment of pregnant women coming to the Civil Hospital, Malout. Dr Tejvir Singh, Deputy Director, Health Department, and officials from Chandigarh today visited the civil hospitals in Malout and Muktsar and recorded the statements of the staff.
2 held for duping car agency of Rs 16 lakh
Sangrur, January 6
Two persons have been arrested for duping a car agency of Rs 16 lakh. Those arrested have been identified as Rajwinder Singh, a salesman of a local car agency, and Narinderpal Singh, who had taken home a car worth Rs 17 lakh after paying just Rs 1 lakh from the agency. Manjit Singh, another accused in the case, is yet to be arrested.
Amritsar trader booked for Rs 62 lakh excise fraud
Patiala, January 6
The Excise and Taxation Department has lodged an FIR against Amritsar resident Harish Kumar for evading Rs 62.62 lakh tax He had allegedly imported cement worth Rs 4.4 crore from Pakistan in the name of a Delhi firm.
Seven booked for attacking BJP leader
Abohar, January 6
The police today booked seven people on the charge of thrashing BJP youth wing vice-president Gurjit Matharu, who had yesterday attempted suicide.