Washed away 25 yrs ago, village continues to get grants
Ferozepur, January 3
A village that was washed away in floods 25 years ago and whose inhabitants permanently migrated to an adjoining village continues to not only figure in official records but also receive government grants.
PPP to begin membership campaign
Hoshiarpur, January 3
The People's Party of Punjab (PPP) will start a membership drive in the district. The decision was taken during a meeting of the party's district unit here on Friday under the chairmanship of Sandeep Saini. "The SAD-BJP Government has failed on every front and people will teach them a lesson in the Lok Sabha elections," Saini said. He urged people to support the PPP to end "hooliganism of the Punjab Government". — OC


Extension in joining time to Medical Officers arbitrary: HC
Chandigarh, January 3
The Punjab Government's "appoint now, join later" policy for medical officers has been virtually junked by the Punjab and Haryana High Court. It has not only set aside orders granting extension in joining time to Medical Officers (Dental), but has also categorically asserted that the action smacked of arbitrariness.
Muktsar dons festive look ahead of Maghi Mela
Muktsar, January 3
The historic town has started gearing up for the annual Maghi Mela to be held here on January 14. Infrastructure for the fair is being installed at the site, which has been changed this year to the Barkandi road from the Malout road. A number of traders selling cloth and other merchandise have already reached the town.
Stamp duty revenue dips for second year in row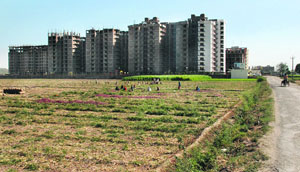 Chandigarh, January 3
The Punjab Government may have great expectations from real estate projects worth Rs 25,000 crore that were okayed during the Progressive Punjab Investors Summit recently, but the ground reality is quite different. Recession has firmly gripped the realty sector, and the government's target has taken a hit with its stamp duty collections witnessing a downfall.
Attack on student: Oz teen gets bail
Melbourne, January 3
A 16-year-old boy, who was charged with attacking a Sikh youth in Australia, was granted bail after he briefly appeared in a court on Friday. The boy, who cannot be named for legal reasons, was granted bail a day after a 17-year-old was remanded in custody in connection with the attack on Manriajwinder Singh in Melbourne on December 29.
Sikh family injured in accident in NZ
Melbourne, January 3
Eight persons of a Sikh family, including a six-month-old boy, were injured when their van plunged 15 metres down a cliff in New Zealand yesterday morning, turning their "celebration" trip into a tragedy. The family was going to Hawke's Bay from the Auckland Airport when the accident took place.
Bajwa aide Darshi leaves Congress
Pathankot, January 3
Peeved at the newly comprised PPCC list, former acting president of the Pathankot District Congress Committee (DCC) Davinder Darshi today resigned from the primary membership of the party.
Villagers told to deposit part of land acquisition money
(Nalas) Rajpura, January 3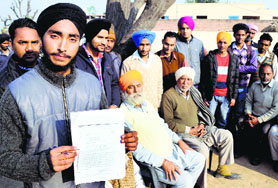 Instead of providing relief to farmers whose land was acquired for the Rajpura thermal plant, the Punjab Government has issued them notices through the Rural Development and Panchayats Department, asking them to deposit 20 per cent of the land acquisition money with the department.
Members of the Sangharsh Committee hold a meeting in Rajpura on Friday. Tribune photo: JS Virdi

Charge-sheeted officer seeks Guv's intervention
Chandigarh, January 3
Punjab's senior IAS officer Himmat Singh has, in a letter to Governor Shiv Raj V Patil, challenged the charge-sheet issued to him by the Punjab Government for alleged irregularities. Terming the SAD-BJP Government "vindictive", he has in a 125-page letter, alleged that the charge-sheet issued to him was arbitrary and illegal. The Governor had vide a communication dated November 28, 2013, asked the Punjab Government to examine the case.
Home Dept told to step up vigil on jailed militant
Amritsar, January 3
The Counter Intelligence wing of the Punjab Police has reportedly written to the Home Department telling them they had inputs suggesting that a militant lodged at Amritsar Central Jail, Narain Singh Chaura, was planning to escape.
Docs resent govt's move to close AYUSH dispensaries
Nawanshahr, January 3
Doctors and paramedical staff of the AYUSH (Ayurveda, Yoga and Naturopathy, Unani, Siddha and Homoeopathy) Department are resenting the Punjab Government's move to close the AYUSH dispensaries for implementing the Rashtriya Bal Swasthya Karyakram (RBSK) in the state.
PIMS fiasco: Charity hospital owner to go on fast today
Jalandhar, January 3
In protest against Tata running Mullanpur cancer institute, Baba Kashmira Singh, founder chairman of the SGL Charitable Hospitals and the Baba Sewa Singh Jan Sewa Trust (a group running several 800-bed hospitals in the district) declared he go on an indefinite fast from tomorrow.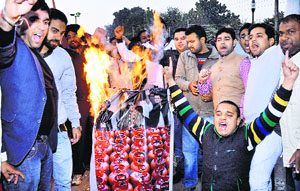 Up in arms: BJP workers hold a protest against LPG price hike and burn an effigy of the UPA Government in Jalandhar on Friday. Tribune Photo: Sarabjit Singh

2 die in house collapse
Faridkot, January 3
Two members of a family died and four others were injured as the roof of their house came crashing down today morning in Kotkapura town of the district. Naib Singh (45) and his 10-year-old son died in the collapse, while his wife, two daughters and another son were injured. The neighbours pulled out the injured people from the rubble.
Changes sought in medical college MoU
Abohar, January 3
By proposing changes in the Memorandum of Understanding (MoU) for a medical college at Sriganganagar in Rajasthan, the ruling BJP has put itself in the dock in less than a month of forming the government.
NGO spreads awareness about eye donation
Abohar, January 3
A women's wing of non-government organisation (NGO) Marwari Yuva Manch today urged people to donate eyes. 'Prerna' activists covered their eyes to spread awareness about eye donation.
Rights body seeks report on poor state of bus stand
Sangrur, January 3
The Punjab State Human Rights Commission (PSHRC) has taken cognisance of a complaint filed by state BJP secretary Jatinder Kalra with regard to the poor condition of the PRTC bus stand in Sangrur.
Takht, SGPC object to online 'parshad'
Amritsar, January 3
The idea of ordering Golden Temple 'pinni parshad' online has not gone down well with Akal Takht Jathedar Giani Gurbachan Singh, SGPC president Avtar Singh Makkar and Chief Khalsa Diwan president Charanjit Singh Chadha.
30,000 apply for 120 posts
Patiala, January 3
More than 30,000 applications have been received for 120 posts in various government departments advertised by the Punjab Public Service Commission (PPSC) on December 9.
Anganwadi centres to get food items worth Rs 1.29 crore
Fatehgarh Sahib, January 3
The Zila Parishad will provide wheat and other food items worth Rs 1.29 crore to all the anganwadi centres besides weighing scales to weigh the new-born babies and pregnant women.
Woman takes charge as Fazilka Zila Parishad chief
Fazilka, January 3
Sukhandeep Kaur Mann has assumed charge as the maiden chairperson of the Zila Parishad of the newly carved district today. Punjab Health Minister Surjit Kumar Jyani, Deputy Commissioner Dr Basant Garg and several leaders of the SAD and the BJP, and bureaucrats were present. Jyani said Kaur would contribute to the district's development.
No Sangat Darshan in SC villages so far
Bathinda, January 3
Sangat Darshan has not been held at any of the 37 villages in the state comprising Scheduled Caste population. It seems that those tasked with planning the CM's programme may be nursing a caste bias. There are 3,788 villages in the state with a population of more than 40 per cent SCs. "Ironically, none of these villages have attracted the attention of the CM, his party leaders or babus.
Vidhu Jain case with CBI, says Dhindsa
Sangrur, January 3
The Punjab Government has handed over the Vidhu Jain case to the CBI. The 13-year-old boy was burnt alive on September 30 in Malerkotla. Rajya Sabha member and SAD secretary general Sukhdev Singh Dhindsa today said the Home Secretary, Punjab, had written to the CBI to investigate the case. Dhindsa appealed to Malerkotla residents to maintain peace and communal harmony. He asked members of different communities not to organise any protest in the town on the issue. Earlier, five teams comprising senior police officers, were formed to investigate the case. — TNS
e-panchayat staff not paid salary for 18 months
Hoshiarpur, January 3
The e-Panchayat Employees' Union held a protest against the Punjab Government over the non-payment of their salaries for the past 18 months. Union president Inderjit Singh said that besides doing their regular work of uploading online records and expenditure of development projects of the Central and state governments, the e-panchayat employees were forced to do more work related to registration of new voters and the atta-dal scheme. He threatened the government that if employees' salaries were not paid immediately, they would go on a hunger strike outside Vikas Bhawan in Mohali. — OC


Youth found dead in Lambi, kin allege honour killing
Muktsar, January 3
The family members of a youth whose body was recovered from the Rajasthan Feeder Canal near Fattakera village in Lambi today have alleged he was killed for honour. On their complaint, the police have booked the girl with whom the deceased reportedly had an affair, her father, brother and one of their aides.
2 arrested with heroin worth Rs 40 crore
Tarn Taran, January 3
The police have arrested two notorious smugglers after recovering 8 kg of heroin, estimated to be around Rs 40 crore in the international market, from their possession. The accused, Parmod Kumar and Kashmir Singh of Guruwali village in Amritsar, had allegedly smuggled the contraband from Pakistan, the police said.