Jyoti murder case
Father resumes fight for justice
Panchkula, January 3


In a major twist to the Jyoti murder case, the father of the victim, Buti Ram, who had turned hostile, resumed his battle against Doon MLA Ram Kumar Chaudhary today. He said he was held at gunpoint while on the way to Panchkula on the day of evidence in the court and made to say that he doesn't know Chaudhary.



Buti Ram, the victim's father. Tribune photo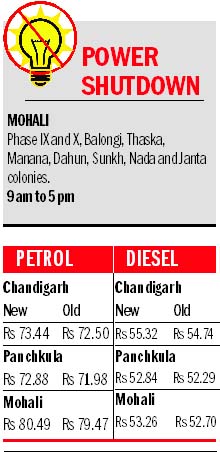 Jyoti murder case: A helpless father narrates his ordeal
Panchkula, January 3
A tailor by profession, Buti Ram kept fighting alone in the face of alleged threats of elimination by MLA Ram Kumar Chaudhary's men, but no one came to his rescue. Buti had complained to the local police at Bhunga village in Hoshiarpur on December 12, but to no avail. Despite kowing well that Buti is a key witness in the Jyoti murder case, the police failed to provide him security. A helpless Buti, who alleged that he was thrashed and held at gunpoint before appearing on the day of evidence in court, did not know how to face his family after turning hostile.
Officer's security cover withdrawn
Chandigarh, January 3
The Punjab Police has with immediate effect withdrawn the special security cover of two constables provided to IAS officer KBS Sidhu, whose gunman suffered a gunshot wound in his temple while he was accompanying his son at the 5-Degrees restaurant here on New Year's Eve. Interestingly, the third policeman, who was present on the spot, is not even on the rolls of security duty.




Cut in power tariff sought
Chandigarh, January 3
Asking the UT Administration to take a cue from the Aam Aadmi Party government in Delhi, city residents want a reduction in power tariff.
PUDA staff resort to pen-down strike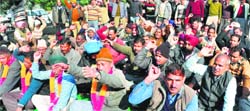 Mohali, January 3
Members and supporters of the PUDA Mulazam Talmel Sangharsh Committee resorted to a pen-down strike here today in support of their long-pending demands.
PUDA employees stage a protest in support of their demands in Mohali on Friday. Tribune photo: Parvesh Chauhan
LPG price hike unjustified, says federation
Mohali, January 3
Condemning the steep rise in the price of LPG cylinders, the local Consumers' Protection Federation demanded a rollback.
Residents yet to get Aadhaar cards
Kalka, January 3
Resentment prevails among residents of Kalka and Pinjore and the surrounding areas towards the negligent attitude of a private company that is responsible for the preparation of Aadhaar cards. They have not got their cards even after nine months.
Police still clueless
Panchkula, January 3
As pressure is mounting on the police to probe the circumstances leading to the firing incident in which a Punjab Police gunman, Jaipal, was critically injured, a three-member team of police officials today landed at the 5 Degree restaurant to get hold of circumstantial evidence from the spot.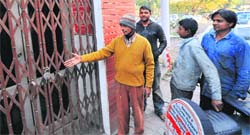 A public 'inconvenience'
Chandigarh, January 3
The public toilet at the Sector 38 motor market has remained shut for past several months, causing inconvenience to the shopkeepers.

Workers show the closed public toilet at the motor market in Sector 38, Chandigarh. Tribune Photo: Pradeep Tewari
Taking loan from subordinate not advisable: MHA panel
Chandigarh, January 3
A committee set up by the Union Ministry of Home Affairs (MHA) to review the suspension of services of SP Desraj Singh, who was accused of graft, had pointed that taking a loan from a subordinate is not advisable especially in the circumstances prevailing in the Chandigarh police. The observation by the committee was put up before the CBI court during the resumed hearing of the bribe case today.
JERC draft regulations shock residents
Chandigarh, January 3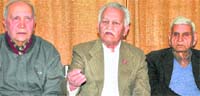 In its draft regulations for Multi Year Distribution Tariff, the Joint Electricity Regulatory Commission (JERC) has apparently adopted double standards.

Air Marshal Randhir Singh (retd), flanked by residents, addresses mediapersons at his residence in Sector 35, Chandigarh, on Friday. Tribune photo: S Chandan
Civic amenities absent in southern sectors
Chandigarh, January 3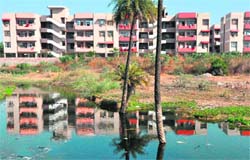 The southern sectors in the city that have always been meted out a step-motherly treatment paint a picture of neglect. Garbage and debris dumped on the roadsides and stray cattle are common here. The Tribune team visited Sectors 47, 48 and 49 to see the ground realities.

Stagnant water near residential areas of Sector 49, Chandigarh, plays a perfect breeding ground for mosquitoes. Tribune photo: Parvesh Chauhan
Community centre gets lift
Chandigarh, January 3
Soon, community centres in Chandigarh will have a provision of lifts to make it more user-friendly. The community centre at Sector 22 is the first in the city where a lift has been installed at the cost of around Rs 20 lakh. The centre was inaugurated in 2012.
'Make arrangements to facilitate delegates'
Mohali, January 3
Deputy Commissioner Tejinder Pal Singh Sidhu today directed officers to make necessary arrangements to facilitate foreign delegates and others who would be coming to Chappar Chiri for the Progressive Punjab Agriculture Summit.
NSS volunteers hold cleanliness rally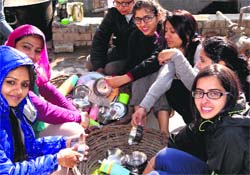 Chandigarh, January 3
An awareness and cleanliness rally for highlighting "youth for healthy and clean India" was today organised by Panjab University NSS volunteers.





NSS volunteers of Panjab University clean utensils after having community lunch during a camp on Friday. A Tribune photograph

what's on
Chandigarh
Conference: Second World Punjabi Media Conference at Randhawa Auditorium, Kala Bhawan, Sector 16 at 10am
APNI MANDI: Apni Mandi will be held at Mandi ground in Sector 43.

For "WHAT'S ON" please send email to [email protected]




Devotees take part in a nagar kirtan on the eve of the birth anniversary of Guru Gobind Singh in Chandigarh on Friday. (left) and Players in action during a match of the 24th Atya Patya Championship held at BMD Public School, Sector 63, Chandigarh, on Friday. Tribune photos
PUTA opposes proposal to appoint civil servant
Chandigarh, January 3
The Panjab University Teachers Association (PUTA) today opposed the proposal to appoint civil servant for the post of PU registrar.
Teachers knock DPI's door
Chandigarh, January 3
Today, a delegation of the Joint Action Committee of teachers, Chandigarh, met Kamlesh Kumar, DPI (Schools), to discuss its various long-pending demands.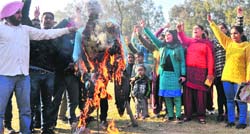 Dept rejects teachers' claim
Chandigarh, January 3
The UT Education Department today clarified that the major claim made by computer teachers, who are protesting for the past 10 days, is not justified.

Computer teachers burn an effigy of UT Adviser KK Sharma at Sector 20 in Chandigarh on Friday. Tribune photo: S Chandan
Gharuan varsity gets global recognition
Mohali, January 3
Chandigarh University, Gharuan, has been conferred the membership of the International Association of Universities (IAU) making its education and degrees globally acceptable and recognised.
350 medicinal saplings planted at SD College
Chandigarh, January 3
The valedictory function of the NSS special camp was held at GGDSD College, here. The camp was organised under programme officer Harender Kumar and Ruchi Sharma where NSS volunteers pledged support to the causes concerning society.