The imbalance in India's sex laws
Should criminal law be the primary domain where matters of sex are addressed? In the amended rape laws and the re-invocation of Section 377, the basic human rights of people are transgressed by punitive sexual security apparatus
Ramesh Thakur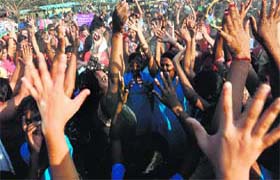 Reinvoking Section 377: Criminal law should not target and vilify practices of minority groups that the majority dislikes.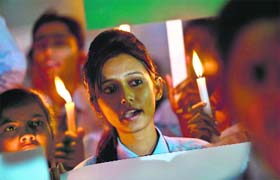 IN the unresolved diplomatic spat over the conduct, arrest and treatment of an Indian consular officer in New York, India has been angered that allegations by her Manhattan maid are treated as facts. Yet its own rape laws come dangerously close to sanctifying this conflation of charges as proof. In turn, some Indians have suggested subjecting gay US officials to India's penal code that criminalises same-sex relations. Is this any less "barbaric" for millions of Indian citizens than the unconscionable treatment of one Indian official by New York's finest?
The Universal Declaration of Human Rights begins with the affirmation that "the inherent dignity and of the equal and inalienable rights of all members of the human family is the foundation of freedom, justice and peace in the world." Rape is an assault on the dignity of a woman and unwelcome sexual advances rest on the presumption of a degradation of her dignity. Equally, criminalisation of same-sex intimacy is a denial of the inherent dignity and inalienable rights of some members of the human family based on sexual preferences.
Rape is a horrific problem in India. Much of it is hidden as victims are subjected to structural coercion in a traditional patriarchal society and rape carries a strong social stigma. As the stigma weakens in urban settings, more victims are prepared to report it and seek justice.
Laws can be abused
For justice to be done, contested facts must be investigated and established, conflicting evidence and testimony sifted and evaluated, and guilt or innocence pronounced accordingly. Neither all men nor all women are criminals by virtue of gender; most relations of authority do pit women in an unequal power relationship with senior colleagues; but in some cases it is possible for wrongful or maliciously false charges to be levelled as well, for whatever reason (including coercion by male relatives wanting to settle scores with property disputants, social rivals or political opponents). Any law that can be abused, will be, under certain circumstances.
Prem Shankar Jha points to some telling features of the law meant to accommodate public anger on rape. The burden of proof has been reversed such that it invites miscarriage of justice. This, because of four interlinked steps in the chain of evidence, each of which makes sense in isolation but whose combined effect can be pernicious. The definition of rape includes any penetration by any object to any extent; there is no time limit within which the charge must be laid by the victim; this inevitably means that physical evidence to confirm an act of forcible penetration is not mandatory; and in the event that the accuser and the defendant swear on oath to coercion versus consent respectively, the judge is legally obligated to believe the woman. That is, judges must base their "verdict upon the premise that, in matters pertaining to sex, women cannot lie under oath!"
Towards reverse sexism
Dr Ratna Kapur argues that the new Criminal Law (Amendment) Act of 2013 "has taken us dangerously in the direction of a sexual security regime rather than toward more rights"– a pathology clearly evident in the Supreme Court's verdict on December 11, 2013, upholding the criminalisation of conduct that should be left to personal preferences. Section 377 of the Indian Penal Code was enacted by the British in 1860 to impose Victorian public morality on Indian society. The Delhi High Court delivered a famous verdict in 2009 on a case brought before it by the Naz Foundation in 2001 to repeal Section 377. It held Section 377 to be incompatible with the fundamental principles of equality, dignity and non-discrimination of India's constitution. The Supreme Court reinstated it on appeal, arguing that repeal was a matter for the legislature.
In a curious ruling, Justices G.S. Singhvi and S.J. Mukhopadhyaya held that "those who engage in carnal intercourse against the order of nature" cannot claim equal protection under the constitution. The use of language such as "so-called rights" of lesbians, gays, bisexuals and transgender people who constitute "a miniscule fraction of the country's population" and practise sexual relations "against the order of nature" suggests that the ruling is based on prejudiced private morality more than constitutional and legal scholarship and reasoning.
Constitutional vs social morality
The UN High Commissioner for Human Rights, Navi Pillay, a South African of Indian descent, responded to the Supreme Court decision within a day to deplore it as a violation of international human rights. The 1966 International Covenant on Civil and Political Rights, to which India is party, enshrines rights to privacy and non-discrimination; criminalising private, consensual same-sex sexual conduct violates this, she said.
The international covenant is unlikely to resonate widely among Indian citizens. The more relevant benchmark is its own constitution. Fundamental rights are enumerated in the Constitution precisely because the legislature cannot be trusted to deal with the problem in a principled, just and equal way. The Supreme Court of India has a considerable international reputation for defending and expanding the protection of human rights enshrined in the constitution against encroachments by the executive and arbitrary violations by the police.
At heart, the judicial verdict comes down to resolving the competing imperatives of constitutional morality and socio-political morality. The former cannot be collapsed into the public morality of the majority, for down that route lies the tyranny of the majority. Liberal democracy instead is the art of the right balance between majority preferences and minority rights. This is particularly pertinent in a country as diverse as India where every citizen is likely to constitute a minority of one sort or another. Conversely, if prevailing social practices are to be sanctified by the judiciary, they would end up reinstituting dowry and untouchability.
Liberal democracy
In other words a counter-majoritarian role is part of the job description of India's judges under the constitution. An important feature of India's constitution is the chapter on the fundamental rights of citizens. The guiding principle behind inscribing certain rights as fundamental was to withdraw them from the political arena, remove them from political controversy, and put them safely beyond the reach of political majorities. Else the entire constitutional philosophy underpinning the balance between core political values and moral majority values is undermined.
Laws reflect the social beliefs and values of the majority of people, or of the ruling elite, at the time of enactment. As values and practices change, some laws become obsolete and are no longer enforced. A good example is the miscegenation laws in the US which criminalised sexual relations between different races. Generally there is a lag between non-enforcement and repeal. A failure to prosecute is no immunity from police persecution and public vilification.
It is not the social purpose of criminal law to target and vilify activities and practices of groups that the majority dislikes. The consensus of modern medical and psychiatric opinion holds that homosexuality is not a disease or a disorder but one among different expressions of human sexuality. Leaving Section 377 on the statute books because it is politically too difficult to repeal it reduces all homosexuals to the status of "unapprehended felons." This turns their lives into one of misery, fear and apprehension. It opens the door to discrimination in employment and housing; social and police harassment; blackmail in a context where police extortion is a national pastime; and private violence rooted in publicly legitimised bigotry.
Rights of the gay minority
As a shield against being criminalised in law and stigmatised in society, the affected people may agree to enter into heterosexual marriages, with adverse consequences for the emotional health and wellbeing of partners and children. Another unintended and perverse but predictable consequence is the reluctance to seek medical help for suspected sexually transmitted diseases, including HIV/AIDS, with detrimental flow-on implications for public health. And they are more vulnerable to recruitment by foreign intelligence services.
The Supreme Court ruling was hailed by conservative religious leaders but condemned by most media commentators for targeting members of a minority for who they are. While the ruling Congress party appeared open to considering an urgent repeal of Section 377, the opposition Bharatiya Janata Party seemed divided on the issue.
Thus the decision pushed the issue and fate of same-sex relationships firmly at the vortex of religious, social, political and judicial beliefs and cross-currents. It is particularly surprising that the BJP, as the self-proclaimed custodian of Indian cultural nationalism, would privilege the social morality of Victorian England above both pre-colonial indigenous social practices (as depicted in any number of temple imagery) and the constitutional morality of independent India. Part of the superior appeal of Hindu society also is the long unbroken tradition of pluralism and tolerance. The antique law should be swiftly repealed on review by the full bench of the Supreme Court or, failing that, by Parliament with all-party support.
The writer is professor in the Crawford School of Public Policy, the Australian National University.
Dichotomy
The Criminal Law (Amendment) Act of 2013 liberates women from the burden of proof in case of a rape or sexual assault.
But, their complaints are viewed with suspicion by the courts. Delhi High Court advocated extreme caution to judges who should "cautiously examine the intentions of the girl to find out whether the rape complaint is genuine or has mala fide motives."
Justice Kailash Gambhir said rape cases are being used as "a weapon for vengeance and vendetta" to harass and even force a boy to marry.
Justice G P Mittal and Justice Suresh Kait in separate judgments quashed FIRs relating to rape of a minor and gang-rape of a private executive respectively, citing too many contradictions in victims' statements.