BSF officers shift base to border
Jalandhar, January 21
With druglords based in Pakistan stepping up operations, senior BSF officers have shifted their base to the border.
Hope for 12 death row convicts
Patiala, January 21
With the Supreme Court ruling that death row convicts who are mentally ill cannot be hanged, there could be respite for more than 12 convicts, including Beant Singh assassin Balwant Singh Rajoana, Vikram Singh, Jasbir Singh, Jasbir Singh alias Jaswinder, Suraj Ahluwalia, Resham Singh, Gurnayab Singh, Kulbir Singh, Gurmukh Singh, Saleem, Judge Singh and Gurwail Singh. Most of these convicts are awaiting a response to their mercy petitions.
Now, pay more for fancy vehicle numbers in state
Muktsar, January 21
The Punjab government has increased the reserve price of fancy vehicle registration numbers manifold, causing a setback to people who bid for such numbers.


Tax sops to hill states began during NDA regime: Bajwa
Chandigarh, January 21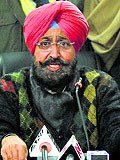 Punjab Pradesh Congress Committee (PPCC) chief Partap Singh Bajwa today said the state government's complaint against tax concession to the industry in the hill states was "unfounded" as these sops were doled out during the NDA regime. Speaking on the sidelines of the party's ongoing hunger strike here, Bajwa said, "It was former BJP Prime Minister Atal Behari Vajpayee who announced these concessions in 2003. The Akalis too were part of that government at the Centre."

Partap Singh Bajwa, ppcc chief
Sukhbir tells Cong to learn protest tactics from Kejri

Mohali, January 21
Deputy Chief Minister Sukhbir Badal today hit out at the Centre for extending incentives to Himachal and Uttarakhand while ignoring a similar demand by Punjab. "The Centre has once again meted out a step-motherly treatment to Punjab," said Sukhbir. He was here to felicitate Barjinder Singh Brar, who assumed the charge of Chairman, Punjab Health Services System.



Sukhbir Badal with Barjinder Brar, who took over as the Chairman, Punjab Health Services System, in Mohali on Tuesday. Tribune photo: Vicky Gharu

Khaira flays Badal for drawing 'huge' salary
Chandigarh, January 21
PPCC spokesperson Sukhpal Singh Khaira, in a press release here today, said it was "shameful for an ultra rich politician" like Chief Minister Parkash Singh Badal to draw Rs 1 lakh salary per month at a time when Punjab was facing "its worst financial crisis".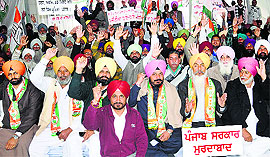 day 3 of cong protest: Punjab Congress leaders on a relay fast at the Congress Bhawan in Chandigarh on Tuesday. They have been demanding a CBI probe into the alleged involvement of Revenue Minister Bikram Majithia in the drug racket. Tribune photo: Manoj Mahajan


Race for Amritsar seat hots up
Amritsar, January 21
With hardly a few months left for the Lok Sabha elections, the race for the BJP candidature from Amritsar Lok Sabha seat has hot up. While incumbent MP Navjot Singh Sidhu hasn't lost hope despite odds against him, his arch rival Rajinder Mohan Singh Chhina too is pulling out all stops to secure the BJP ticket.

SAD forms 12-member manifesto panel
Chandigarh, January 21
Shiromani Akali Dal president Sukhbir Singh Badal has constituted a 12- member election manifesto committee under party secretary general Sukhdev Singh Dhindsa.




Now on, DEOs, principals to ensure safe school buses
Faridkot, January 21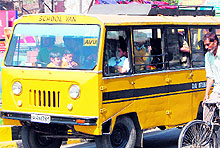 The school education and transport departments with police assistance have started a "safe school vehicle" scheme in a bid to check roads accidents involving schools buses. As a majority of vehicles used for transportation of schoolchildren are in a poor condition, the head of the school will be made responsible for the transportation of children. The District Education Officer (DEO) will be the nodal officer to supervise the safety and condition of these buses with the help of the district police and the transport department.

NDA selections: Kapurthala Sainik School students shine
Chandigarh, January 21
With greater emphasis on personality development and communication skills, there has been an increase in the number of cadets from Sainik School, Kapurthala, (SSK) joining the National Defence Academy (NDA).

Belgian expert takes stock of ancient 'beri' at Golden Temple
Amritsar, January 21
An expert from Belgium, Sonian Hablox, today met the Shiromani Gurdwara Parbandhak Committee (SGPC) officials here and put forth her suggestions for upkeep of the ancient 'ber' trees in the Golden Temple Complex.

Inspector accused of conniving with drug dealers
Chandigarh, January 21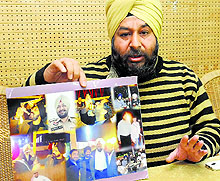 A Jalandhar businessman, Avonjot Singh, has accused the Economic Offence Wing (EOW) in charge, Inspector Amrinder Singh, of misappropriating Rs 11 lakh and investing it in the drug business in connivance with drug dealers. Avonjot Singh, son of Jathedar Jagdev Singh, former Chairman of the Jalandhar Improvement Trust, has written to the Home Secretary, state DGP, Commissioner of Police, Jalandhar, and Director, CBI, alleging that the Inspector was working in tandem with Manmohan Singh and Jatinder Singh Raju, who ran a finance firm.

Jalandhar businessman Avonjot Singh at a press conference in Chandigarh. Tribune photo: Manoj Mahajan

PAU staff protest against non-payment of salaries
Ludhiana, January 21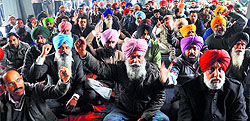 The Punjab Agricultural University staff today held a protest against non-payment of salaries. Pensioners, too, rued that they didn't get their dues this month.




PAU staff hold a protest in Ludhiana on Tuesday. Tribune photo: Himanshu Mahajan


NRIs seek visas for political refugees
New Delhi, January 21
Members of the North American Punjabi Association (NAPA) based in United States today met Union Overseas Minister Vayalar Ravi and raised the matter of issuance of Indian visas and passports to those who had sought political asylum in the US.

Sangrur mushroom grower scripts success story
Sangrur, January 21
A mushroom grower of the district has come up with a method to increase production and, as a 'byproduct', his income.

Govt 'indifferent' to homoeopaths
Nawanshahr, January 21
The National Rural Health Mission (NRHM) Homoeopaths' Association, Punjab, allege that the Punjab Government is "indifferent" towards the homoeopathy doctors.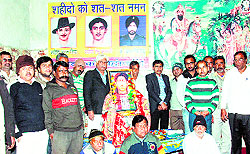 'Sher-e-Sindh' remembered
Abohar, January 21
The martyrdom day of "Sher-e-Sindh" Hemu Kalani, revolutionary who was hanged to death on January 21, 1943, by the British, was observed here and neighbouring towns in Rajasthan today.




Representatives of NGOs during a function on the martyrdom day of freedom fighter Hemu Kalani in Sriganganagar district of Rajasthan on Tuesday. A Tribune photograph





Youth found dead in Philadelphia


New York, January 21
An Indian-American youth, who found his parents shot dead in their home seven years ago, was found dead in Philadelphia.

Woman charged with son's murder on suicide watch
London, January 21
An Indian-origin woman charged with the murder of her three-year-old son is on suicide watch in a prison in Scotland.



Relief for 'Raam Leela' team till March 24
Chandigarh, January 21
The Punjab and Haryana High Court today extended till March 24 stay on the arrest of "Raam Leela" director Sanjay Leela Bhansali along with cast Deepika Padukone and Ranveer Singh.

Give Henry's revised plea copy to RTI activist: HC
Chandigarh, January 21
The Punjab and Haryana High Court today directed the Union Home Secretary to hand over a copy of revision petition filed by Punjab's former minister Avtar Henry against termination of his Indian citizenship to RTI activist Ajay Sehgal to enable him submit his written arguments.

Former Coop Bank MD convicted
Amritsar, January 21
A local court yesterday convicted Surinder Pal Singh Chhina, former Managing-Director, Central Cooperative Bank, in two cases- for amassing wealth disproportionate to his known sources of income and in a cash-for-job scam.



2 of musical group held for molesting constables
Tarn Taran, January 21
Five members of a Jalandhar-based musical group have been booked for molesting woman constables of the district police.

Minor held for indecent calls
Hoshiarpur, January 21
The police arrested a minor youth on the charge of harassing a Mukerian woman by making indecent and threatening calls. The woman had complained to police the helpline number 181.