Manpreet: Space for political alternatives
Muktsar, January 14
Written off by his rivals, PPP chief Manpreet Badal today held an impressive rally of the Sanjha Morcha at the Maghi Mela here today.
High drama as Bhola produced in court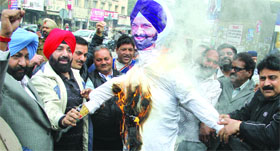 Jalandhar January 14
High drama prevailed at the district courts today when the Jalandhar rural police produced druglord Jagdish Bhola in court.





Congress workers burn an effigy of Bikram Majithia in Jalandhar on Tuesday. Tribune photo

Yellow rust spreads tentacles beyond kandi
Chandigarh/Jalandhar, January 14
With yellow rust attack on the wheat crop spreading beyond the 'kandi' (marshy) belt along the Shivalik foothills, farmers as well as officials in the Agriculture Department are a worried lot.
Sher Shah Suri's birthplace falls prey to official apathy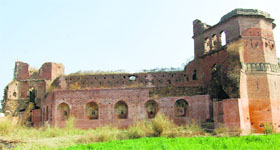 Hoshiarpur, January 14
The birthplace of ruler Sher Shah Suri is in a shambles at Bajwara village, 4 km from here. Two 'burjs' (observation posts) and a wall that connects them are the only remains of the fort that was once a glorious building.


The fort where ruler Sher Shah Suri was born is a picture of neglect. Tribune photo

Project for thalassaemia patients soon: Jyani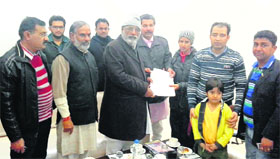 Fazilka, January 14
Punjab Health Minister Surjit Kumar Jyani has announced that a project for thalassaemia patients in the state would be prepared on the pattern of cancer patients. The minister got the idea for the project after meeting a social worker, Sukhi Brar (28), who works for the welfare of thalassemia patients.

A social worker presents a memorandum to Health Minister Surjit Jyani, seeking help for thalassaemia patients, in Fazilka. A Tribune photo

Govt assures Patiala MC Rs 4.5 cr for road repair
Patiala, January 14
The state government has assured release of funds for patch work on roads in the city, giving a breather to the cash-strapped Patiala Municipal Corporation (MC).
Ganda nullah to be covered in Sangrur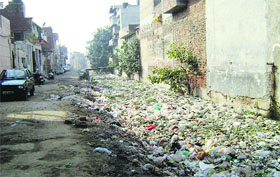 Sangrur, January 14
The local municipal council has passed an order to cover the 200-yard-long uncovered portion of a ganda nullah passing through a residential area outside Sunami Gate here.




The uncovered ganda nullah, which passes through a residential area, in Sangrur. A Tribune photograph
On first day as DPI, officer shifted to another post
Chandigarh, January 14
In an embarrassment for the Punjab Government, Gurpal Singh today moved the Punjab and Haryana High Court alleging that he was posted as the Punjab State University Textbook Board director on the date of his joining as the Director Public Instructions (Colleges) even though he was ineligible to hold the post.
NRI Sammelan served no purpose: NAPA
Phagwara, January 14
The two-day NRI Sammelan organised by the Punjab Government failed to address issues faced by NRIs, claimed Satnam Singh Chahal, executive director, North American Punjabi Association (NAPA), who is here on a government invitation. He attended the NRI Sammelan at Anandpur Sahib and Jalandhar recently.
Makkar flays UK's role in Operation Bluestar
Amritsar, January 14
Referring to media reports on the UK collaborating with the Indian Government in planning Operation Bluestar, SGPC president Avtar Singh Makkar today said it was sad that the UK, that claimed to be a watchdog of human rights, had conspired with the Indian Government to "suppress a handful of Sikhs and target their holiest shrine".
undervalued sale deeds
Audit puts state's loss at Rs 100 cr
Chandigarh, January 14
The Punjab Government is estimated to have lost over Rs 100 crore in stamp duty revenue because of undervaluation of property being registered, misclassification of property and property being transferred on the basis of power of attorney.
Now, Verka opposes CBI probe into drug racket
Amritsar, January 14
In a move that may further widen the rift in the Punjab Congress, National Commission for Scheduled Cates Vice-Chairman Rajkumar Verka has opposed the demand for a CBI probe into the drug racket. Verka is also the Congress MLA from Amritsar (West) constituency. He is the second Congress leader after former Chief Minister Capt Amarinder Singh to have come out in the open against his own party leaders on the issue.
SGPC panel to submit report today
Amritsar, January 14
The five-member SGPC panel constituted to probe the violent clash at Takht Sri Patna Sahib on Gurpurb recently will submit its report to SGPC president Avtar Singh Makkar tomorrow.
Capt ready with book on WW-I
Chandigarh, January 14
Former Chief Minister Capt Amarinder Singh, who has written a number of books, especially on military, is ready with another book.
Armyman killed in grenade blast
Abohar, January 14
An Armyman, Gauri Shanker Rai, was killed while two others sustained injuries when a misfired grenade exploded during a defence exercise in Mahajan Field Range on the Sriganganagar-Bikaner stretch of the highway here today.
25 hurt as school bus hits tree
Fatehgarh Sahib, January 14
Twentyfive schoolchildren were hurt, five of them seriously, when a school bus (PB-23M-1655) carrying 31 students from Bassi Pathana hit a tree today.


HC: Build flats for Ludhiana colony dwellers
Chandigarh, January 14
The Punjab and Haryana High Court today directed the State of Punjab and the Punjab State Power Corporation Limited (PSPCL) to explore the feasibility of constructing multi-storied flats for accommodating 600 families in Ludhiana's Power Colony.
Panel formed to retrieve encroached land, HC told
Chandigarh, January 14
Facing allegations of maintaining double standards on investigation in land grab matters, the Punjab Government today tried to defend its action of setting up a second panel by claiming it was constituted to suggest a strategy for retrieval of encroached land.
Principal Secy out of contempt loop in mining case
Chandigarh, January 14 Punjab Principal Secretary (Industries and Commerce) Karan Avtar Singh is out of the contempt loop. The Punjab and Haryana High Court today discharged the rule against him, meaning the closure of contempt proceedings against him.