Fearing for Bhola's life, father moves HC
Chandigarh, January 13
Alleged druglord Jagdish Singh Bhola's father today moved the Punjab and Haryana High Court expressing apprehensions regarding his son's elimination in fake encounter to prevent him from naming another politician allegedly involved in the racket.

SAD-BJP govt can't influence probe: Capt
Chandigarh, January 13
Sticking to his stand, former Chief Minister and senior Congress leader Capt Amarinder Singh here today said the SAD-BJP government was not in a position to influence the probe in the drug racket.
Bir Devinder for CBI probe
Patiala, January 13
Demanding a CBI probe into the multi-crore drug racket, former Deputy Speaker Bir Devinder Singh today said the issue seemed to have lost in the hullabaloo of internal squabbles of the Punjab Congress.
SAD, Cong not to organise Takhtupura rallies
Moga, January 13
Contrary to past traditions, both the ruling Shiromani Akali Dal (SAD) and the main opposition Congress have decided not to hold political conferences at Takhtupura in the district on the occasion of Maghi on Wednesday.
Congress rally to test Rana Sodhi's mettle
Bathinda, January 13
The Congress rally at the Maghi Mela is not just a litmus test for PPCC chief Partap Singh Bajwa to put up a united show but also for Guruharsahai MLA Rana Gurmit Sodhi to substantiate his claim for party Lok Sabha ticket from Ferozepur.
CM reluctant on quota to Jats: Amarinder
Chandigarh, January 13
Former Chief Minister Capt Amarinder Singh, who is president of the All-India Jat Mahan Sabha, today said Chief Minister Parkash Singh Badal would be responsible in case Jat Sikhs and Jaats in the state were not included in the list of Other Backward Classes (OBCs).
Muktas memorial a picture of neglect
Muktsar, January 13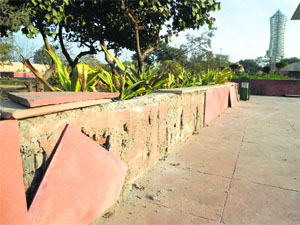 Devotees from across the state and other parts of the country have started arriving in this historic town to take a dip in its holy "sarovars" on Maghi, which falls on January 14. The occasion is observed in memory of 40 Muktas who sacrificed their lives fighting against the Mughals in 1705. Ironically, the monuments built in their memory are lying in a poor condition. The Mukt-e-Minar, having the tallest "khanda" (81-ft), is in a state of neglect. Neither the SGPC nor the district administration has bothered to maintain it.
The Mukt-e-Minar in Muktsar.
A Tribune photograph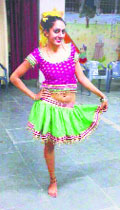 Differently abled dancer clears audition of TV talent show
Sangrur, January 13
Twenty seven-year-old differently abled dancer Subhreet Kaur Ghumman of Jhunda village, near Amargarh, Sangrur district, became popular overnight by clearing the audition of a television talent show, India's Got Talent, telecast last night. Talking to The Tribune over phone this evening, Subhreet said she had been dancing from her childhood days but a chance given to her by a TV channel through its programme had changed her life.
Textbook board director in a spot
Chandigarh, January 13
In clear violations of the norms, the state government has allegedly posted a new Director for the Punjab State University Textbook Board.
PIMS reopens, over 400 patients get registered
Jalandhar, January 13

With the end of the over month-long strike at Punjab Institute of Medical Sciences (PIMS), over 400 patients got registered at the OPDs that reopened today. Students and patients heaved a sigh of relief as the employees resumed their duties after having been paid their due wages. The employees had not been paid for the past over seven months.
A doctor attends to a patient at the Punjab Institute of Medical Sciences in Jalandhar on Monday. Tribune photo: Malkiat Singh

patna clash
Set norms for appointing jathedars: Sikh leaders
Amritsar, January 13
With Takht Sri Patna Sahib management committee suspending Takht Jathedar Giani Iqbal Singh, the demand for formulating norms for the appointment, removal, tenure and working sphere of Sikh high priests has been renewed.
Kiratpur Sahib resident digs up hillock 'illegally'; officials unaware
Ropar, January 13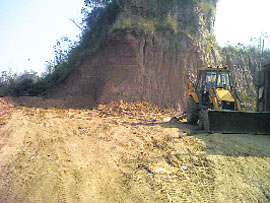 A Kiratpur Sahib resident reportedly dug up a hillock three days ago without getting a clearance from the Punjab Mining Department. Locals brought the matter to the fore and approached the police in this regard, following which digging was halted. No official from the Forest or Revenue Departments noticed the "illegal" activity. On January 8, Jatinder Singh of Bharatgarh near Kiratpur Sahib sough permission from the Mining Department to level his 3 kanal and 10 marla land in Bhatoli village and dump the removed earth in the lower areas of grain market in Kiratpur Sahib.

A JCB machine digging up a hillock at Bhatoli village in Ropar district on Sunday. Tribune photo
Govt teachers to protest on January 18
Patiala, January 13
Nearly 4,200 teachers working in government-aided schools will hold a rally at Rampura Phul in Bathinda district on January 18 in protest against the non-payment of salaries for the past three months.
BSF launches op to check intrusion during nights
Ferozepur, January 13
With the mercury level falling and visibility reduced to a few meters, it has become arduous for the Border Security Force (BSF) to man the 553-km-long India-Pakistan border along Punjab.
FESTIVE FERVOUR: College girls wearing traditional Punjabi dress perform "gidha" during Lohri celebrations in Amritsar on Monday. Photo: Vishal Kumar
Amritsar to have hi-tech surveillance network
Amritsar, January 13
The state government's proposal to install CCTV cameras and sensors at a cost of Rs 135 crore in Amritsar as well as Ludhiana may soon become a reality. This surveillance network will help the police keep a close eye on anti-social elements in the city. The project that has been hanging fire for the past several years has been shifted to the Safe City Project.
Finally, construction of Fazilka administrative complex begins
Fazilka, January 13
The construction work of the district administrative complex (DAC) started here today, two and a half years after Fazilka got the status of district headquarters. In a formal ceremony in this regard, Fazilka Deputy Commissioner (DC) Dr Basant Garg initiated the work in a symbolic gesture.
Adarsh students stare at uncertain future
Faridkot, January 13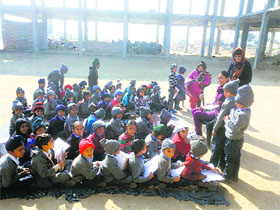 The fate of 1,500 students at two Government Adarsh Schools in Faridkot district hangs in balance as the schools are yet to get affiliated to the Central Board of Secondary Education (CBSE). The government had set up these schools three years ago to impart quality education to poor students from rural areas.
Students of Government Adarsh School, Middumaan, in Faridkot sit in the open in front of a partially constructed building on Monday. A Tribune photograph

Student assaulted in Oz undergoes successful surgery
Hoshiarpur, January 13
An Indian commerce student, who was brutally assaulted in Melbourne, Australia, on December 29 last year, underwent a successful jaw surgery today.
Oberoi meets families of youths in Abu Dhabi jail
Hoshiarpur, January 13
Dubai-based businessman SPS Oberoi, who is known for paying blood money for release of Indians sentenced to death in Dubai, today met the families of 16 Indian youths lodged in the Abu Dhabi jail for over a month after being detained for interrogation on November 30.
PTU Board, VC get contempt notice
Chandigarh, January 13
Justice Mahesh Grover of the Punjab and Haryana High Court today issued contempt notice to PTU Vice Chancellor Dr Rajnish Arora and Board of Governors chairman SK Munjal on a contempt petition filed by Jalandhar-based Anti-Corruption Society, through its president JK Anand.
Notice to state on plea seeking SAD leader's arrest
Chandigarh, January 13
The Punjab and Haryana High Court today issued notice to the State of Punjab on a petition seeking arrest of SAD Barnala councillor for his alleged involvement in criminal cases.
Onus for accident compensation rests on state, rules HC
Chandigarh, January 13
The Punjab and Haryana High Court has made it clear that the state cannot steer clear of its liability to compensate a victim or his kin in case of a motor accident by shifting the onus on the driver.
Woman booked for killing husband
Abohar, January 13
A woman and her paramour have been booked for killing her husband in Burajmuhar village, about 5 km from here. Tarsem's brother Satpal Singh told the police that Tarsem had been working as a contract worker with landlord Tek Singh. He alleged that Tek had developed illicit relations with Tarsem's wife Manpreet Kaur during his frequent visits.
Youth booked for rape
Phagwara, January 13
The Rawalpindi police on Sunday booked a village youth, Karamjit Singh, on the charges of raping a teenager in Bhabhiana village on the night of January 7.