| | | |
| --- | --- | --- |
| | TOP STORIES | |
Punjab Diaspora Special: nri sammelan
CM seeks greater partnership
Sanjeev Singh Bariana and Arun Sharma
Tribune News Service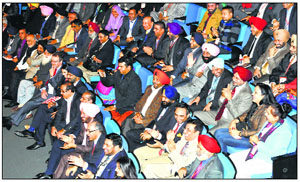 Delegates listening to the CM's speech at Anandpur Sahib on Friday. Tribune photo: Pradeep Tewari

Anandpur Sahib, January 10
With only negligible foreign investment coming to Punjab, Chief Minister Parkash Singh Badal, addressing the NRI Sammelan here today, said the entire exercise would be worth the effort even if one major project came to Punjab every year. As many as 450 delegates from 15 countries participated.
Appealing for greater participation in state affairs by NRIs, he said: "Punjabis abroad invest very little here. Earlier they came only to settle land disputes. Then they began to build big houses. Like the enterprising NRIs from Gujarat and South India, Punjabis too need to invest more back home."
Badal said efforts towards "goading" the NRIs into making investments in their home state would bear fruit only if they inculcated in their children pride for their heritage. "The Punjab Government is raising memorials to its heroes so that future generations can connect with their roots". In a lighter vein, he remarked: "We have NRI Commission , NRI Police and NRI Courts. The only thing lacking is NRI Jail ".
Earlier, Deputy Chief Minister Sukhbir Badal made a presentation inviting investment, as he had done during the Progressive Investment Summit in Mohali recently. He said the total investment worked out at 10 billion dollars and results would show in three years.
Sukhbir said single-window clearance and tax incentives had led to several more companies showing interest in setting up ventures in Punjab. "The airport at Bathinda is waiting to be inaugurated by a Central Minister.
The Centre is not allowing any new international flights from Amritsar. But after four months, we will have all clearances," he claimed, hinting at a change of government at the Centre.
Minister for NRI Affairs Bikram Singh Majithia said: "We have to make efforts on educating foreigners about Sikh identity to prevent attacks on Sikhs." Speaking on the occasion, Tim S Uppal, Canada's Minister of State for Multiculturalism, said that the state government's efforts at "attempting a change are appreciable".
"We will like to invest. The government only needs to assure us greater security," he said.
Bal Gosal, Minister of State (Sport), Canada, said: "We are talking with the Punjab Government to work out possibilities of investment landing here".
New Zealand MP Kanwaljit Singh Bakshi, said: "The judicial system here needs to be faster. Long delays are disheartening".
Pakistan member of Privincial Assembly Ramesh S Arora said the Central Government needs to ensure easier visa norms for Pakistani nationals.
Among others who addressed the gathering were Darshan Singh Kang from Canada, Prof Gurnihal Nagra from the US, Sachin Gupta, Ruby Dhaliwal, Peter Sandhu, Harpal Singh Mann, Lord Diljit Rana, Harinder Takhar and Daljit Dhaliwal.
Protest bid foiled
Congress workers led by DCC president Harbhag Singh Saini tried to stage a protest against NRI Affairs Minister Bikramjit Singh Majithia at the sammelan. They were stopped on the way to the venue, following which they burnt an effigy of the minister at Naina Devi chowk.
—Arun Sharma
Gherao planned
Congress workers from Jalandhar and Phagwara will gherao minister Bikram Majithia at Jalandhar on Saturday. They will march to Bath Castle from the District Congress Committee office at 10.30 am. The Congress is seeking a CBI probe into druglord Bhola's charge that Majithia was involved in the drug trade in Punjab.
— Varinder Singh
Preparations for Day 2
All set for NRI Sammelan at Bath Castle, Jalandhar on Saturday
13 committees headed by IAS/PCS officials to ensure business stalls, food arrangements and seating plans are in place
50 registration counters set up for NRIs. Teams of officials to receive the NRIs at the reception and escort them to their seats
NRIs told to get their ID proof like passport and green card
Arrangement for parking over 1,000 made at adjacent vacant plots
Over 350 policemen on duty. Mounted PAP police personnel deployed at the entrance
On the platter
On the menu is Murg Hyderabadi, Nizami Biryani, Murg Khas Biryani, Paneer Makhan Masala, Hing Dhania ke Chatpate Aloo, Sarson ka Saag, Matar Methi Malai, Punjabi Pakora Kadi, Dal Makhni, Ginger Chicken, Chilli Garlic Noodles, Live Grilled Fish, Cottage Chicken Steak and pastas
The Tribune Web TV
To watch a special video report on the inauguration of NRI Sammelan at Anandpur Sahib, click at www.tribuneindia.com. On day one, over 400 delegates gathered at the Virasat-e-Khalsa auditorium. Day two, at Bath Castle in Jalandhar on Saturday, will be an open house.
In another video report, Manipal Dhariwal, chapter president of Sikh American Chamber of Commerce, speaks to The Tribune on a host of issues.