AAP replaces 'I' with 'we', clamours for change
Chandigarh, January 10
From a rickshaw-puller to an NRI and an IT professional to a Merchant Navy officer, people from all walks of life are campaigning for the Aam Aadmi Party (AAP) in the city.



Amanjot replaces Harbhajan
Mohali, January 10
Amanjot Kaur, daughter of SAD leader Balwant Singh Ramoowalia, was today appointed the chairperson of the Mohali District Planning Committee.

Amanjot Kaur is the new chairperson of the planning panel.
3 more drug stores to come up at GMCH-32
Chandigarh, January 10
For purchasing medicines, patients will no longer have to shuttle between blocks at the GMCH-32. The hospital will soon have three more medical stores. At present, there are two stores in Block A.
Clean admn my priority, says Singhal
Panchkula, January 10


I have observed the problems faced by a common man and now I would be on the other side of the line, managing things, said Ajay Singhal, who assumed the charge of Panchkula-Ambala Commissioner of Police today and convened a meeting of all the police officials.



The new Panchkula-Ambala Commissioner of Police, Ajay Singhal, at his office in Panchkula on Friday. Tribune photo: Nitin Mittal
Panchkula police post in-charge suspended
Panchkula, January 10
Sub-Inspector (SI) Atma Ram, the in-charge of the Sector 19 Police Post, has been placed under suspension.
VB team raids sewage treatment plant
Mohali, January 10 The Punjab Vigilance Bureau (VB) today conducted a raid on a sewage treatment plant project, which is under construction at Kharar.
Bansal gets bigger role in Cong
Chandigarh, January 10
Former Union Railways Minister and local MP Pawan Kumar Bansal, who resigned from the Railway Minister's post due to the railgate scam, is now back with a larger role as he has been made the head of the screening committee for Gujarat, Rajasthan, Dadar Nagar Haveli and Daman and Diu.
Tricity LPG auto-rickshaw owners hold chakka jam, condemn hike in LPG prices
Chandigarh, January 10
The Tricity LPG Auto-rickshaw Union (affiliated with Janata Dal United ) observed a chakka jam in the city today. At the mass protest rally, an effigy of the UPA Government was also burned to show their anguish over the increase in LPG fuel price, which had crippled the auto-rickshaw owners.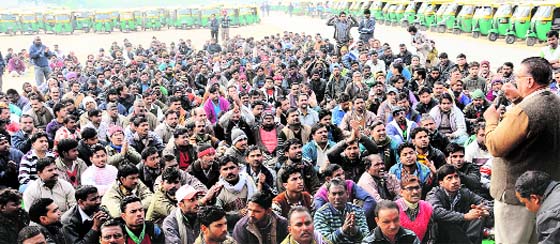 The Tricity LPG Auto-rickshaw Union protests at the Rally Ground in Sector 25, Chandigarh, on Friday. Tribune photo: Manoj Mahajan
Mercury to dip further
Chandigarh, January 10
The city received light rainfall in the evening, which resulted in further dropping of temperature.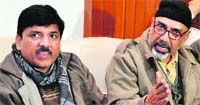 AAP to come out with national agenda
Chandigarh, January 10
The National Executive member of Aam Admi Party (AAP), Sanjay Singh, today said the party was coming out with its national agenda.
Sanjay Singh, senior leader of AAP(left) with former Punjab DGP Shashikant address a press conference at Sector 18, Chandigarh, on Friday Tribune photo: Parvesh Chauhan
Condemns Congress, BJP's move
Chandigarh, January 10
The Aam Aadmi Party (AAP) which is ready to fight the Lok Sabha elections in Chandigarh, today, condemned the move of the BJP and the Congress, in which a probe was marked by the Municipal Corporation (MC).
UT gets go ahead from Centre for UNESCO heritage status
Chandigarh, January 10
On the issue of getting prestigious UNESCO heritage status for certain building designed by French architect Le Corbusier, the UT Administration has received a positive response following an inter-ministerial meeting between the representatives of the Ministry of Home Affairs, the Ministry of External Affairs and the Ministry of Culture.
Inspector suspended
Chandigarh, January 10
The Chandigarh Police has suspended Inspector Tarsem Rana for not reaching on time at a spot during night duty.
Encroachments removed
Mohali, January 10
As many as 22 commercial premises, which had unauthorisedly come up on a land acquired by the Greater Mohali Area Development Authority (GMADA), were demolished by the enforcement wing of the authority here today.
Visitors seek tips on staying slim and fit
Chandigarh, January 10
The right diet for staying slim and fit, this was the query on the mind of most patients and residents visiting the exhibition on Dietetics Day organised at the PGIMER today. Visitors aged between 25 and 60 sought tips on short-meals from dietitians.
High drama at Sec 18
Chandigarh, January 10
High drama was witnessed at Sector 18 when a resident smashed the windowpane of the neighbour's house and snatched the mobile phone of another. The accused managed to flee from the spot when the police arrived.
Draw of lots begins in city schools
Chandigarh, January 10


The last leg of the admission process in the city-based schools began today with the draw of lots at Strawberry Fields School, Sector 26.


Manya, who got selected through the draw of lots, in a jubilant mood with her mother at Strawberry Fields School, Sector 26, in Chandigarh on Friday. Tribune Photo: Parvesh Chauhan
P'kula schools to open on Jan 15
Panchkula, January 10
Giving some respite to students from the prevailing cold weather, the Director of Secondary Education has extended the winter vacation at Panchkula-based schools till January 14.
Confusion prevails over joining AAP
Chandigarh, January 10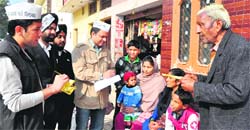 Confusion prevails among teachers at Panjab University over joining the Aam Aadmi Party (AAP). The interested teachers are busy leafing through the PU calendar to find if they are allowed to join any political party while retaining their jobs.

Volunteers campaign for the Aam Aadmi Party at Dadu Majra in Chandigarh on Friday. Tribune Photo: Parvesh Chauhan
PU makes online submission mandatory
Chandigarh, January 10
The postgraduate students appearing for exams at Panjab University will have to fill their forms online. To start with, forms of the second and fourth-semester examinations, to be held in May-June this year, will be submitted online.
Staff, students get health tips
Chandigarh, January 10
Ryan International School, Sector 49, organised a workshop on preventive health for women.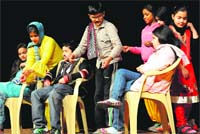 A play-ful affair at Tagore Theatre
Chandigarh, January 10
Around 80 students participated in six short plays staged at Tagore Theatre this evening. The plays were the result of a two-week-long theatre workshop for children that concluded today.


Children stage a play on child labour at Tagore Theatre in Chandigarh on Friday. Tribune photo: Vicky Gharu