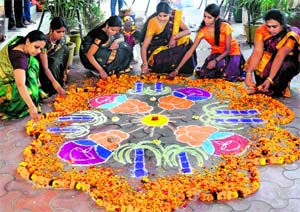 Women design a rangoli during the Pongal celebrations organised by Chandigarh Tamil Sangam in Sector 31 on Tuesday. Tribune photo: Manoj Mahajan
Cops not to be repatriated; tribunal disposes of petition
Chandigarh, January 14
Following a stand taken by the UT Administration not to repatriate 69 police personnel to their parent states till a new policy is framed, the Central Administrative Tribunal (CAT) today disposed of a petition seeking quashing of the orders of repatriation of the police personnel. As many as 32 Chandigarh police personnel, who are on deputation, had moved CAT in December 2012 seeking quashing of their repatriation orders.
SBI's SMS gives PU staff the jitters
Chandigarh, January 14
A number of Panjab University employees, including professors, woke up to a sudden shock this morning when they received an SMS stating that money (amounting to lakhs of rupees) was debited from their salary accounts in the SBI's Sector 14 branch.



MEA issues fresh guidelines
Chandigarh, January 14
The Regional Passport Office, Chandigarh, will now only accept passbooks and account statements issued by 26 public sector banks as a proof of residence.
It was a challenging tenure, says outgoing Finance Secy
Chandigarh, January 14


UT Finance Secretary VK Singh, who was relieved today from the UT Administration, said his three-year tenure was challenging. He, however, termed his stint in Chandigarh "quite satisfactory". VK Singh said he along with his team of officers did a good job in the fields of finance, education, technical education and health. Also, the work was well-appreciated by his seniors, said Singh.
VK Singh
CHB to come out with general housing scheme
Chandigarh, January 14
After a gap of four years, the Chandigarh Housing Board (CHB) is coming out with a general housing scheme in the southern belt of the city. An exercise to identify the land in Sectors 53 and 54 has already been carried out by housing board.
In Mohali, PCR helpline staff get lessons in courtesy
Mohali, January 14
The PCR telephone operators are being trained in courtesy and professionalism while responding to calls received on the helpline numbers.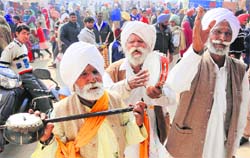 Mohan Singh of Graanga village (centre), Lal Singh (left) and Gurdev Singh, both from Chanjehri village, perform during the Maghi Mela at Dau village in Kharar on Tuesday. Tribune photo: Vicky Gharu
Mohali DC's directive to travel agents
Mohali, January 14
The travel agents in the district have been asked to get themselves registered with the office of the Deputy Commissioner (DC) by January 31.
IT Department all set to go paperless
Chandigarh, January 14
In a move towards creating a paperless environment, the Information Technology (IT) Department is all set to implement the e-Office solution. The e-Office aims at achieving a simplified, responsive, effective and transparent working in government offices and is a giant leap towards implementing one of the major objectives of the IT and the Electronic Policy of the Chandigarh Administration.
BJP takes AAP route on seeking donations for campaign


Chandigarh, January 14
Apparently inspired by the Aam Aadmi Party (AAP), the Bharatiya Janata Party (BJP) also launched a website www.Donate.bjp.org today for the BJP's 'Donate for Modi' campaign. The website was launched by BJP national president Rajnath Singh in Delhi and in Chandigarh, Sanjay Tandon, city BJP president, also registered himself on the website.
Sanjay Tandon, city BJP chief
Traffic police organise cultural night
Chandigarh, January 14
Traffic Awareness Programme and a laughter and cultural night was organised at Lubana Bhawan, Sector 30, Chandigarh. Indian Idol finalist Amitabh Narayan gave an enthralling performance. Sunil Sawara of the laughter challenge fame also performed in the event. Another singer Mandakini, regaled the audience. Senior UT and police officials were present on the occasion.



(From left to right in front row) Satish Kumar Aggarwal, District and Sessions Judge, Chandigarh; Alok Kumar, DIG, UT; KK Sharma, Adviser to UT Administrator and RP Upadhyay, IG, Chandigarh, share a light moment during the laughter and cultural night organised by the Chandigarh Traffic Police at the Baba Makhan Shah Lubana Bhawan, Sector 30, Chandigarh, on Tuesday; and (right) policemen explain traffic rules to a rickshaw-puller during Road Safety Week. Tribune photos: Pradeep Tewari and Manoj Mahajan
| | | |
| --- | --- | --- |
| | | |

Lohri celebrated at Panjab varsity
Chandigarh, January 14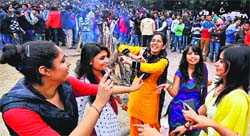 The Panjab Univeristy (PU) today organised a function to celebrate Lohri. Excitement among the students grew as Radio Jockey (RJ) Manav from 94.3 My FM joined the celebrations. The celebrations were followed by a bonfire and a dance party.

Students of Panjab University celebrate Lohri at the Students' Centre on Tuesday. Tribune photo: Pradeep Tewari
Celebrations in Mohali schools
Mohali, January 14
The AKSIPS celebrated Lohri with great zeal and religious fervour. A special assembly was organised where students shared their views and highlighted the significance of the day. AKSIPS executive director Jasdeep Kalra lighted the bonfire and students enjoyed tossing popcorns, peanuts and rewari on the bonfire.
Annual convocation held
Chandigarh, January 14
The Doaba Group of Colleges held its annual convocation on its Mohali campus. The degrees awarded included MTech, BTech (ME, CSE, ECE & IT), MBA, BBA, BCA, and BPharma. Besides, 19 students were awarded for their meritorious performance. Jaspreet Kaur (BTech IT), who reached the finals of the Femina Miss India contest was given a special medal.
PU launches examination grievance monitoring system
Chandigarh, January 14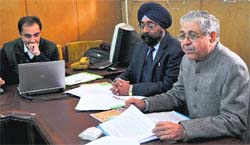 Registering your examination-related grievances with Panjab University is now just a click away. The step will benefit those students who used to visit the University for their petty issues.


PU Vice-Chancellor Arun Kumar Grover addresses the media after the launch of the examination grievance monitoring system at the PU in Chandigarh on Tuesday. Tribune photo: Pradeep Tewari