| | | |
| --- | --- | --- |
| | OPED — Defence | |
Battling antiquity: The Army's siege within
The Indian Army, which is observing its 65th Army Day today to mark the appointment of an Indian as the country's first post-Independence Army Chief, is facing a grave crisis that involves serious deficiencies in equipment and a decline in internal health.
Dinesh Kumar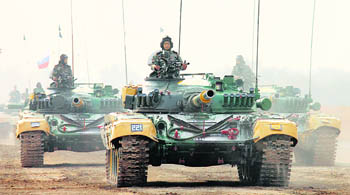 In a private conversation during the late 1990s, a Defence Attache posted in an embassy of an advanced western democracy in New Delhi, who had also previously studied at India's Defence Services Staff College in Wellington, remarked that the Indian Army is 'a first class antiquated Army'.
For the Army as also the other services, the 1990s was a severely difficult decade. There had been minimal modernisation of the armed forces due to a combination of factors that had comprised a severe resource crunch (that had subsequently led to the liberalising of the economy) and the disintegration of the Soviet Union, which had been India's long standing traditional supplier of defence equipment. This had been compounded by a simultaneous atrophy through much of the 1990s in India's decision making for purchase of armaments following the black listing of Bofors, a Swedish company that had paid kickbacks to middlemen for selling 155 mm howitzer guns to the Indian Army in the mid-1980s.
The resource crunch of the 1990s is since long over. Due to some pragmatic foreign policy changes, India is now sourcing weapons from alternative suppliers, notably Israel, the United States and Europe. Then again, Russia has since managed to re-assemble and re-integrate its military industrial complex that had earlier got fragmented with the breakup of the Soviet Union.
Yet, there has not been much change in the Indian Army's 'antiquity' notwithstanding that following the 1999 Kargil War New Delhi has embarked on a major defence modernisation programme that entails purchase of armaments and weapon platforms worth billions of dollars, mostly from foreign vendors. Rather, if anything, there seems to have been a steady and gradual decline in both the Army's conventional capability and its internal health both of which are a cause for serious concern.
Severe equipment deficiencies
The Indian Army's war fighting capability remains adversely affected by serious equipment deficiencies – from big ticket items such as artillery guns and ammunition to smaller but vital items like bullet proof jackets. Bringing out the gravity of the problem in his letter addressed to Prime Minister Manmohan Singh on 12th March 2012, former Army Chief, General Vijay Kumar Singh, had described the state of the artillery, air defence, infantry and even the armoured corps – all key fighting arms of the Army– as 'alarming'. Tanks, he had written, were 'devoid of critical ammunition to defeat enemy tanks';'the air defence was 97 per cent obsolete';'the infantry lacked night fighting capabilities' and 'the Special Forces were woefully short of essential weapons'. Worse, he referred to the 'lack of urgency at all levels' on matters of national security and the 'hollowness' in the system arising from the procedures and processing time for procurements as well as legal impediments created by vendors.
Tragically for India's national security, General VK Singh is not the first Army chief to have pointed out grave deficiencies in the Army's war fighting capabilities, nor is he likely to be the last. Corruption, indecisiveness, lengthy procurement procedures, lack of indigenous capability leading to overdependence on foreign vendors along with several other factors have combined to ensure that the litany of complaints and deficiencies in defence equipment will continue to grow in equal measure.
Successive reports prepared by the parliamentary standing committee on defence have served as a reality check on the Army's preparedness. In one such report tabled in parliament in April 2013, the Ministry of Defence has conceded that armoured (tank) regiments had been supplied with defective ammunition thereby forcing the government to purchased 66,000 rounds of 125 mm Fin Stabilised Armoured Piercing Discarding Sabot (FSAPDS) along with transfer of technology. What is disconcerting is that 23 items of ammunition have been given perpetual trouble and there have been 200 accidents since 1985 due to low quality of just one type of ammunition. This, according to the Army's then Vice Chief as recorded in the report, had made soldiers afraid to fire 'even if it sees the enemy'.
In Jammu and Kashmir, where soldiers have been embroiled in counter-insurgency operations for almost two-and-a-half decades, and in insurgency affected parts of the north east, the Army continues to lack bullet proof jackets. In April 2013, the Army suffered a deficiency of 186,138 bullet proof jackets (estimated cost per jacket Rs 50,000) even four years after it had been sanctioned.
The issue here is of apathy as much as it is about deficiency. India's second-largest arm, the Regiment of Artillery is among the most obsolescent considering that the Army's 'latest' artillery gun, the Bofors 155 mm FH77/B howitzer, was purchased almost three decades ago. The numbers of these guns have fallen to just 200 from the original 410. With almost every major firm selling artillery guns having been black listed by the government, the artillery, which plays a crucial role in supporting both the infantry and armour regiments by softening the enemy through brute firepower from a distance of an average 40 km, is among the Army's most obsolescence arm. Another disconcerting example is that of a large number of soldiers getting killed or maimed while laying defective mines during Operation Parakram, which involved the large scale mobilisation of the Army along the border with Pakistan that lasted from December 2001 to October 2002 following the attack by Pakistani sponsored terrorists on the Indian parliament on 13th December 2001, The list of such examples of deficiencies in the 21st century Indian Army are just as endless as they are frightful.
Poor internal health
Another equally unsavoury dimension is the state of the Army's internal health and, on occasions, it's questionable professional competence. Armament and equipment takes a secondary position if an Army is suffering from serious qualitative and quantitative manpower issues. The Indian Army, known for its high traditions and apolitical character, has been rocked by several incidents that reflect poorly on its internal functioning. And for this it only has itself to blame.
The issues are multiple as they are complex. Deficiency in character in sections of the officer cadre has seen several incidents of financial, moral and professional corruption and impropriety. The Adarsh scam is one such shocking case in point. Poor management, deficiencies in training, leadership, lapses in command and control and professional competence has led to an increase in the incidence of indiscipline. There have been five such high profile publicised incidents since 2010. What is disturbing is that all these incidents have occurred in units, most of them in field areas, where cohesion between officers and jawans is of paramount importance.
The most shocking of these incidents occurred in an artillery regiment in May 2012 which involved manhandling between officers and other ranks that resulted in some officers getting beaten up by soldiers at the Mahe field firing ranges in Nyoma, Ladakh. Subsequently disciplinary action was taken against four officers, 17 junior commissioned officers (JCOs) and 147 other ranks. Three months later in August of that year some soldiers agitated against the commanding officer and other officers in a unit in Samba (J&K). This led to disciplinary action being taken against three JCOs and four ORs, Administrative action against four officers and five JCOs and termination of service of five ORs.
It would be unfair to paint the entire officer cadre and the soldiers they command in a million-strong Army with the same brush. Some would argue that a few incidents should not matter. The fact remains that such incidents reflect poorly on an Army with its otherwise high professional standing and accomplishments.
The Army has been plagued by infighting and differences among lieutenant generals, including those in the running for Army chief, which has come out in the open. This has sullied the image of the Army's top leadership which is considered sacrosanct by the troops they command in a hierarchy conscious organisation such as the Army where discipline is paramount.
Then again, in the past one year, Army soldiers in Jammu and Kashmir (J&K) have been subjected to several humiliating attacks by both the Pakistani Army and Pakistani trained terrorists at a cost of human life and loss of image to the Army and the country alike. Pakistani soldiers have beheaded Indian soldiers while patrolling the Line of Control. Pakistani trained and armed terrorists have attacked and killed Army officers and soldiers in J&K after breaching supposedly high security cantonments. Furthermore, curiously the Army has claimed incursions by and encounters with terrorists in J&K when there have actually been none. The incident gives rise to serious questions about the Army's professional competency.
Yet, at the same time, the Army is also faced with problems over which it has no direct control and which have an indirect bearing on some of its internal dysfunctions. In arguably no other democracy has the Army been so badly misused as it is in India. In some ways the infantry has been reduced to a central reserve police force pushed into quelling insurgencies and anti-terrorist operations in states which have a long history of political and administrative mismanagement. The Army has been ordered to conduct several questionable operations by the political executive, notably Operation Bluestar (Golden Temple in Punjab) and Operation Pawan in Sri Lanka.
The Army continues to suffer officer shortages (9,590 which tantamount to 20 per cent of the Army's sanctioned officer strength as of April 2013) while as many as 4,605 cases involving grievances by mostly officers is pending before the specially constituted Armed Forces Tribunal that was created because of the high pendency of cases in various high courts around the country. The figure sums up the level of dissatisfaction in the Army's officer cadre.
It is necessary that the Army's senior leadership address issues related to the organisation's internal health just as it is imperative for the government to address issues related to procurement and modernisation so that the country's war fighting capability does not remain a casualty.


Prime concern


Corruption, indecisiveness, lengthy procurement procedures, lack of indigenous capability leading to overdependence on foreign vendors along with several other factors have combined to ensure that the litany of complaints and deficiencies in defence equipment will continue to grow in equal measure.


Poor management, deficiencies in training, leadership, lapses in command and control and professional competence has led to an increase in the incidence of indiscipline.


Although the Army's budget at Rs 99,003 crore in FY 2013-14 is 48.61% of the total defence budget, as much as Rs 81,119 crore has been allocated for revenue which is primarily spent on pay and allowances. The Army's capital allocation at Rs 17,883 crore in 2013-14 is far less than Rs 25,528 crore that was originally sought.